"Dancing With the Stars" pro Valentin Chmerkovskiy is blogging about his experiences and thoughts on his fifth quest for the mirror ball trophy on TODAY.com throughout the season. The 14-time US champion in dance is paired with former "Saved by the Bell" star Elizabeth Berkley.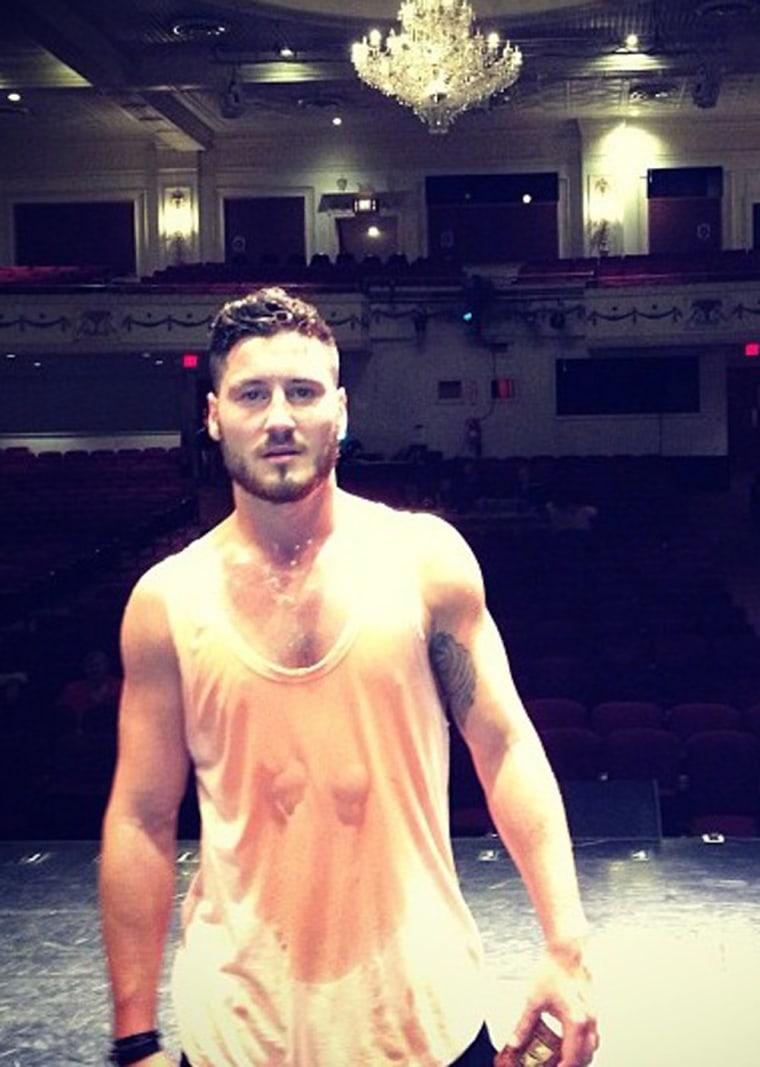 After Nicole "Snooki" Polizzi was voted off Monday night, Bill Engvall, who was part of our team Spooky Bow Bow, said he couldn't let this happen. He felt it was wrong that Nicole was leaving and so he was going to go over to Tom Bergeron and volunteer to leave the competition in her place. 
Imagine what Bill was feeling. The whole ballroom is maybe upset because he's safe and Nicole has to go home. That's a lonely feeling. I talked to Nicole briefly after the show, but I'm concerned about Bill, too. He's a great guy who works really hard. I told Bill that it wasn't his fault and it had nothing to do with him. I said to Bill, "You volunteering to leave is not going to change anything. This is your journey. People want to see you do your thing. You're here to grow and inspire people. It'd be more wrong for you to leave than it is that Nicole is going."
Derek Hough and Amber Riley picked Corbin Bleu first for their group dance. They clearly went for the best. In my head, I automatically wanted to pick Bill because he's the underdog, the person nobody expects anything to come out of. I made it my agenda to make sure he did well. He gave our group dance its heart. I didn't want him tucked away in the back. I wanted to challenge myself and him and leave him with an incredible memory.
Elizabeth and I came into Monday night's show with a perfect score of 30 from last week. I was very happy for Elizabeth, but I'm not going to lie to you: I don't care about the scores. I care about Elizabeth's accomplishments. I just want to make sure that the dance is good, that it's as good as she can do it and that it's entertaining for our fans. I want the pre-dance package to be great and reflect the energy that we are feeling. 
Those are the things that make me happy. The scores are just a plus. So while I was happy about the 30, I'm even happier about her progress. She's constantly challenging herself and she's so disciplined. A few months ago, she was this actress who may have been at some professional crossroads. Now, she's back. She looks great. Elizabeth does her thing. Her energy is right. When you give people who are as beautiful as she is some confidence, there's a huge glow that can start to show and that's what's happening with Elizabeth.
I'm really excited about Cher coming on as a celebrity judge next week. It's an opportunity to meet and perform for a legend and to be acknowledged by somebody as a dancer, but most importantly as a teacher and choreographer. I stopped looking at this show as strictly a dance/ballroom show a long time ago. This show is so much more than that. I can't wait for her input.