An anonymous attempt to shame him online has instead turned British man Sean O'Brien into the guy everyone — including Meghan Trainor — wants to dance with.
In February, an anonymous 4chan user uploaded a picture of O'Brien, writing "spotted this specimen trying to dance the other week. He stopped when he saw us laughing." The shaming had the opposite effect, as many online came to his defense, including several celebrities.
Cassandra Fairbanks has since organized a big dance party for O'Brien, now nicknamed "Dancing Man,'' this weekend at LA Memorial Coliseum that will feature a DJ set by Moby and more.
Friday on TODAY, O'Brien got a surprise visit from Meghan Trainor, who was on the plaza to kick off our summer concert series.
She had an impromptu dance party with him right on the plaza stage before her performance.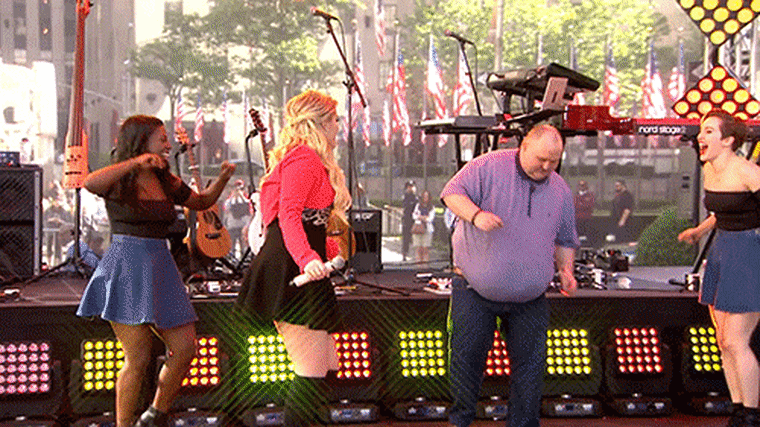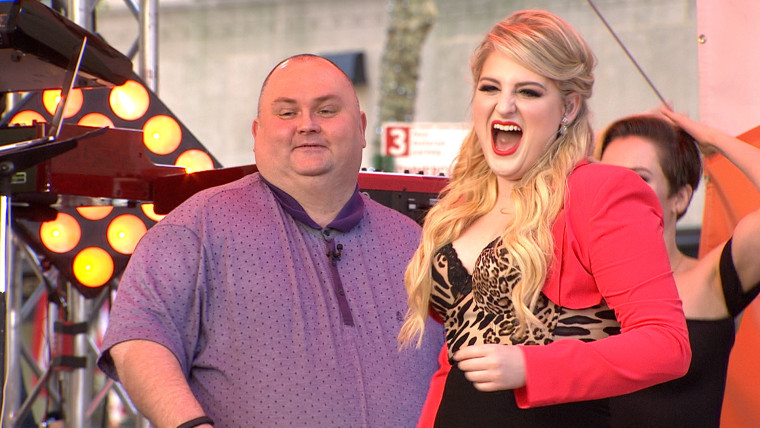 "You're amazing,'' Trainor said while giving O'Brien a hug.
"It's completely surreal,'' O'Brien told Matt Lauer and Savannah Guthrie. "It's something I never thought would happen to me. It's completely amazing. There's so many good people out there in the world, and what did happen to me, it touched a lot of nerves. The more we can do and the better we can do [against] cyber-bullying is fantastic."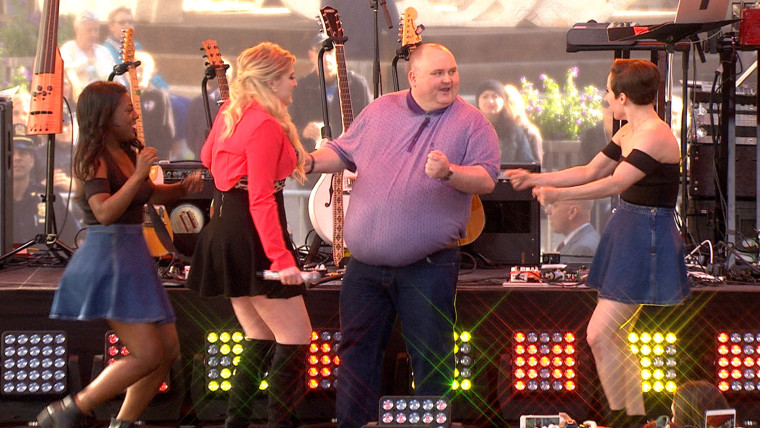 When Fairbanks saw the initial photo of O'Brien online, she started a search for him and eventually tracked him down on Twitter using the hashtag #FindDancingMan to throw him a dance party.
"I thought it was so horrible," Fairbanks told TODAY in March. "I mean, anybody with any sense was horrified by this. It is wrong. My first thought was, 'Wow, we've got to throw the best party ever!'''
The dance party for O'Brien has also raised more than $70,000 online for The Cybersmile Foundation in London, an anti-cyber-bullying organization.
"We raised some money for charity, we got some more money coming in, and we're just really trying to help people know there is support out there,'' O'Brien said. "There will always be bad in the world, but there's far more good people."
O'Brien joked that he dances "a lot, but badly. Very, very badly." This will be his first trip to Los Angeles, where he will get to thank the organizers in person.
"Meeting [the] girls, that's what I look forward to the most is meeting the four people that made it all possible,'' he said. "It's all because of them. They saw the picture, sent out the message and here we are."