When the "Roseanne" reboot was announced, fans wondered how the new episodes would address the controversial events of the show's 1997 finale.
The original series wrapped its nine-season run with a surprising revelation: Most of the show was really a story Roseanne had been writing based on the Conners' lives — and beloved patriarch Dan had actually died a year before.
Fortunately, the revival's premiere, which aired Tuesday night, simply gives a winky nod to the finale while keeping John Goodman's character very much alive — and Goodman's TV kids couldn't be happier.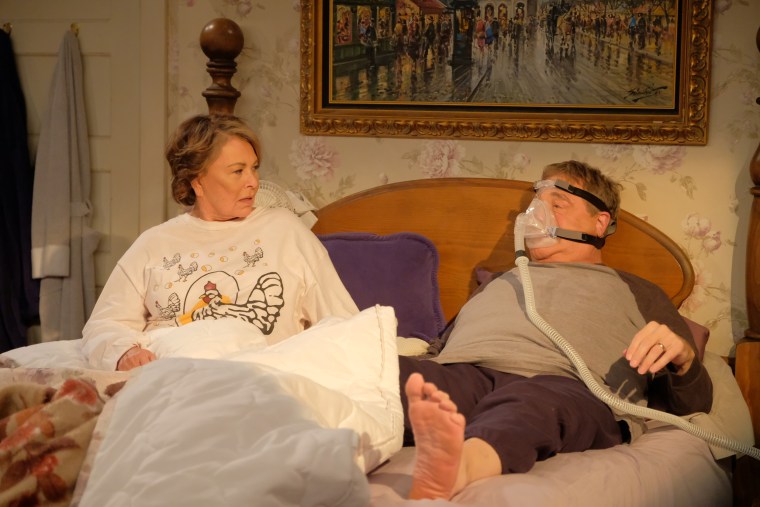 "I think it's funny everyone asks, 'How do you feel about the idea of John Goodman coming back?' or, 'How are they going to bring him back?' And I think the truth is, none of us care," Michael Fishman (aka D.J. Conner) told TODAY. "We just want Goody. We want Dan Conner alive, because we want that whole family unit. So as long as he was going to be there, we were kind of OK with whatever writers came up with. We'll just trust them."
"I was pretty sure that he was not going to be a ghost or a zombie — but I wanted my dad back, dammit, and I got him, so that's pretty cool," Lecy Goranson (Becky No. 1) told TODAY.
The reboot's writers also had to figure out how to include Goranson and Sarah Chalke, who famously took turns playing Becky Conner. While Goranson reprises the part of Becky, Chalke steps into a new role as a wealthy woman who hires her to be her surrogate.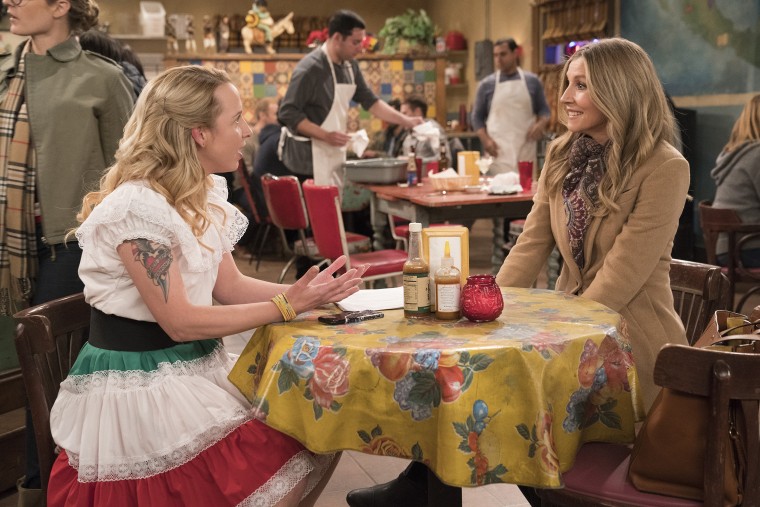 "I wanted them to bring back both of us — not as Becky," Goranson said. "But I thought it would be fun for the fans to see us together. I mean there was that one episode where we did a Patty Duke thing together and dressed alike. But we didn't get a chance to be in the same place on the same stage, and it was really, really fun. I mean Sarah's a trip. She's good times. And we both have a lot of energy and we both like to laugh. It was a sheer delight working with her."
Fishman added, "I think it's a really interesting dynamic because Sarah Chalke wanting a surrogate and picking Becky is such a great dynamic and the two of them together are fantastic. But they never got to work together before, so it's like watching a new relationship where you know the people, but now you're meeting them in this new, unique way."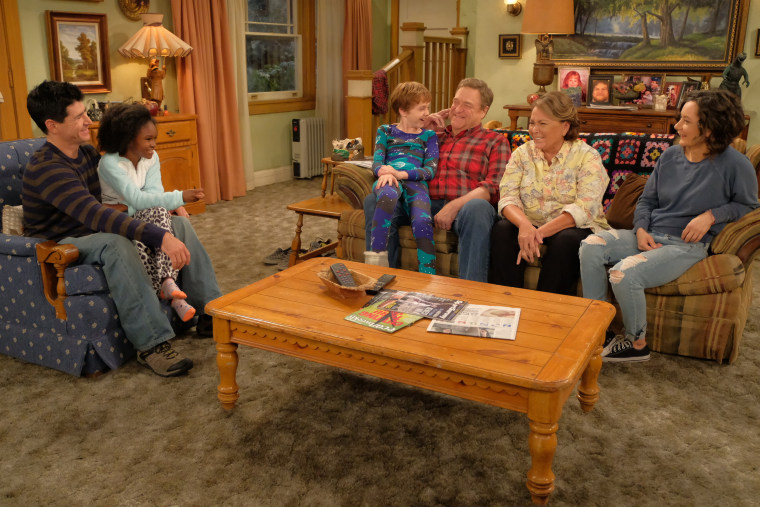 D.J. is now married to Geena, whom viewers remember as the classmate he once refused to kiss in a school play because she was black.
"It's funny because Roseanne and I have talked for years, and we always talked about D.J. potentially being in an interracial marriage," said Fishman. "And I think that's really important because that's what families look like now. They're diverse. They're really complex. It's not this static thing that you see on most shows on television, so I was really excited for that. And I think it's a good callback to the show. I feel so lucky to be gifted that from the writers because I think it gives us so much depth to play with and a whole new series of interactions and complex character traits."
Now that the Conner kids are grown up, there's a new group of child actors making their debut as Roseanne and Dan's grandchildren. Emma Kenney and Ames McNamara play Darlene's daughter and son, and Jayden Rey plays D.J.'s daughter.
"It is reflective for me and Sara Gilbert and Michael Fishman to see the young kids," Goranson said. "It reminds us of ourselves at that age. They're Darlene and D.J.'s kids, respectively, but they also have these big brothers and sisters in us who are looking after them, trying to make sure they're OK and staying grounded and happy. They're just really great people, too."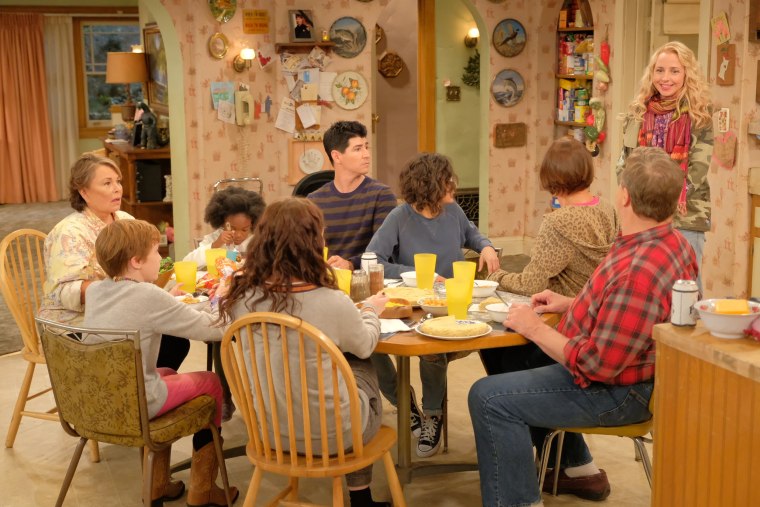 But neither Goranson nor Fishman feels the need to give them acting pointers.
"I think when you watch Roseanne and John Goodman and Laurie Metcalf work on a day-to-day basis, and then you watch how good Sara Gilbert is, and Lecy Goranson, there's just so much talent," Fishman said. "The best thing you can do is watch. Most of my advice is about how to handle what comes next and how to handle dealing with the pressure and publicity and the crew and trying to be a professional, trying to teach these kids to have fun and be a kid but still get your job done."
So, what's the best part about being back on the show?
"It's being together with the people you love," Fishman said. "They say you can't go home again, but in a way we kind of all did go home. And we all feel so comfortable together."
For Goranson, it's been "a combination of reminiscing and remembering so many great memories and inside jokes and fun things and not fun things that happened, and then just being able to re-establish our relationships and to hang out as a family again."
She added, "It's a blessing every single day that we're together."