/ Source: TODAY contributor
It's good to be a famous author, Dan Brown has discovered. After the phenomenal success of his previous novels, including "The Da Vinci Code" and "Angels and Demons," Brown now has people coming to him eager to spill the secrets of such mystery-shrouded organizations as the Freemasons.
But, the best-selling author told Matt Lauer in a rare interview at the home he calls "the Fortress of Gratitude" that aired Tuesday on TODAY, the freedom he's gained is "a double-edged sword."
"One of the great luxuries of having written 'The Da Vinci Code' is that it gave me access to all kinds of things I never had access to before," Brown said. "You have access, and simultaneously, you often need to do your research in other ways, under other names or through other routes." At such times, he explained, he may pull a baseball cap on and merge with the crowd in an ordinary tour group.
The pressure is on
Brown's latest blockbuster, "The Lost Symbol," starring Brown's familiar hero, Harvard symbologist Robert Langdon, is being released today. An enormous first printing of 5 million copies is something every author dreams of, but it's also a lot of pressure for Brown. When a publisher prints that many books, it can't afford not to sell them.
The author told Lauer that after six years of working on "The Lost Symbol," he thinks he's succeeded with another 600-page page-turner that transpires in just 12 hours of real time.
"There's some pressure. And I have delivered again, I believe," Brown told Lauer in a home filled with books and memorabilia from the blockbuster movies starring Tom Hanks that have been made from his books. "I'm thrilled with this book. This is a book that I would love to read."
The writing process was marred by charges filed in England by two men who claimed Brown stole the idea for "The Da Vinci Code" from them. The suit was dismissed as being without merit in 2006. But it left its mark.
"It was terrible," the 45-year-old Brown told Lauer. "As J.K. Rowling says, it's like somebody showing up at your door and pointing at your child and saying, 'That's mine.' It's not a pleasant thing to go through, to have all of your work called into question. I think everybody on the outside had a pretty good idea what that was about. And we just got through it."
Secret society
In "The Lost Symbol," the central organization with the secrets and clues is the Freemasons. Brown did exhaustive research on the organization and the Washington, D.C., settings in which most of the action takes place.
"Where's the mystery in the Freemasons?" Lauer asked.
"They are fascinating because we live in a world where different cultures are killing each other over whose version of God is accurate," the author replied. "And here you have an organization, a global organization, that is spiritual and yet will bring Muslims, Jews, Christians and even just people that are confused about their religion, bring them together and say, 'Look, we all agree that there's some good, big thing out there. But we're not going to put a label on it. Let's worship together.
"The mystery is in their origins, and in the fact that they have managed to remain pretty secret," Brown continued. "Their rituals are arcane. And you know, you sort of catch snippets of what the rituals are like. And you can really see a lot of what happens within the organization."
Lauer asked why Brown chose Washington, D.C., as the setting for "The Lost Symbol."
"Washington, D.C., has everything that Rome, Paris and London have in the way of great architecture — great power bases," the author explained. "Washington has obelisks and pyramids and underground tunnels and great art and a whole shadow world that we really don't see."
Hanging around
"The Lost Symbol" is more philosophical than Brown's earlier books, and Brown says that's a result of the experiences he's had.
"I've been through a lot," the author told Lauer. "I've thought a lot about life and I've spent a lot of time studying history and science. The theme of this book has a lot to do with the power of our thoughts. And I have great hope for the future and try to nudge the future with this book in certain directions."
Brown also confirmed a bit of trivia about how he finds inspiration when writer's block is closing in on him. He actually does strap himself into gravity boots like Richard Gere in "American Gigolo" and hangs around upside down and batlike until his muse checks back in.
"I wish I looked like Richard Gere in the gravity boots," he laughed. "You know, the gravity boots are terrific because they not only increase your circulation to your head, you really think differently upside down …. You should try it."
"Are you going to tell me some of your best chapters have been written immediately following stints in the gravity boots?" Lauer asked incredulously.
"I have this habit of painting Langdon into a spot, and just saying, 'You know what? I know I'm gonna find a way out of this,' " Brown said. "And then if you don't, you've got to hang upside down and think about it from a different point of view. And sometimes it works."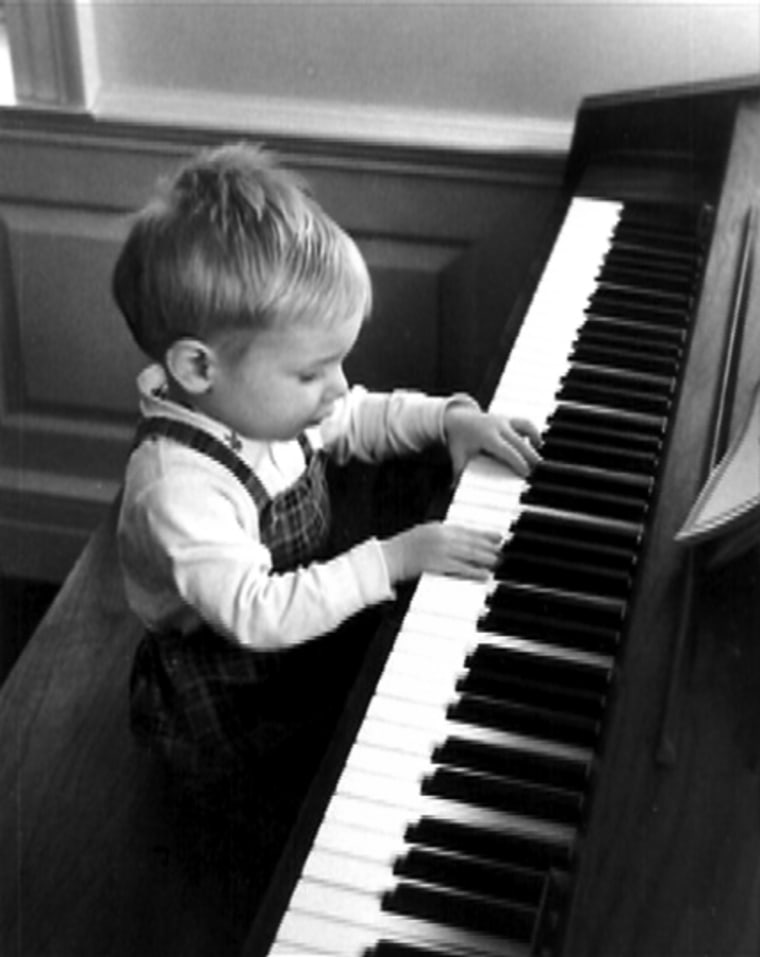 He also told Lauer that he starts work in his writer's cottage as early as 4 a.m. "It's funny. I often get into trouble, 'cause I'm so eager to get to work that I'll walk over in pajama bottoms and a sweatshirt, because it's pitch-black and nobody's around," he confessed.
Lauer asked where Brown came by his writing talent and his extraordinary powers of imagination. The author, who wrote his first book when he was 5 — he dictated it to his proud mother — said writing has always been in his blood.
"I think I was a shy kid," Brown said. "I grew up without television. I had a dog, and we lived up in the White Mountains in the summer, and I had no friends up there. And I would just go play hide-and-seek with my dog and probably had some imaginary friends. But it worked."