When Dakota Johnson joined her mom and fellow actress Melanie Griffith on the Oscars red carpet Sunday night, a chat about the younger star's steamy film turned "Fifty Shades" of awkward.
When Griffith was asked if she'd seen "Fifty Shades of Grey," she replied, "No," offering a short pause before repeating her answer and glancing at Johnson.
"Maybe one day," replied Johnson, as her mom shook her head.
Griffith — whose film credits include "Working Girl," "The Bonfire of the Vanities" and "Nobody's Fool" — didn't appear to be so sure. "I don't think I can," she said. "I think it would be strange."
Johnson, the daughter of Griffith and "Miami Vice" star Don Johnson, predicted that might change. "I think it's fine," she said. "I think that one day you can see it."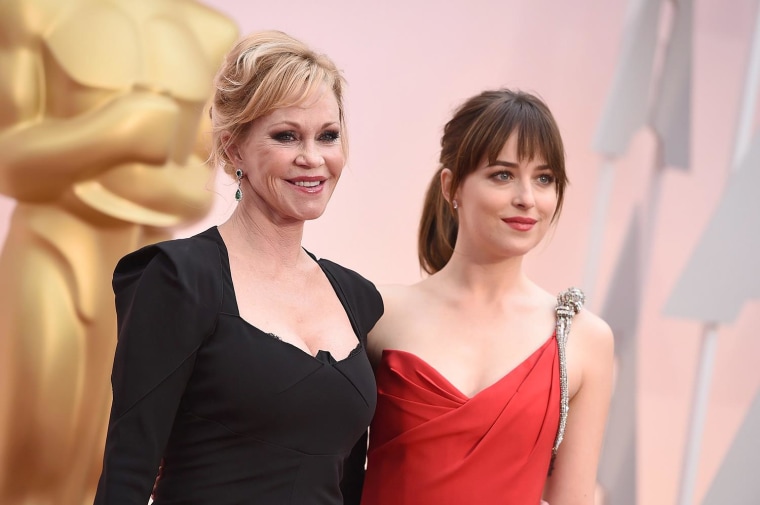 Although Griffith defended the "Fifty Shades" star's talents, she didn't seem like she'd change her mind about seeing the movie anytime soon.
"Well, she's a really good actress," Griffith added. "I don't need to see that to know how good she is."
Her daughter concluded, "Great! You don't have to see it."
Below, check out the mother-daughter duo in 1998 (left) and 2015 (right).
Follow TODAY.com writer Chris Serico on Twitter.