John Stamos has played the role of a father on "Full House" and "Fuller House," but according to an Instagram post Friday, the real thing still scares him.
The 54-year-old actor revealed Wednesday that his fiancee Caitlin McHugh is expecting their first child. Now, he's sharing some of his new-father feelings.
Stamos posted a sentimental throwback photo with his late dad, Bill Stamos, Friday. The black-and-white image captured the loving father holding a happy baby John in one hand.
"I will certainly fall short of the father my pop was, but - I'm going to give it my all!" Stamos captioned the photo. He added the hashtag "#Hero" to the balancing act.
"You know how you put your father on a pedestal, and he's a superhero, and then as you grow older you go, 'Ah, he's just a man?' I never got to that point," Stamos told People magazine last week. "Til the day he died, he was just bigger than life for me."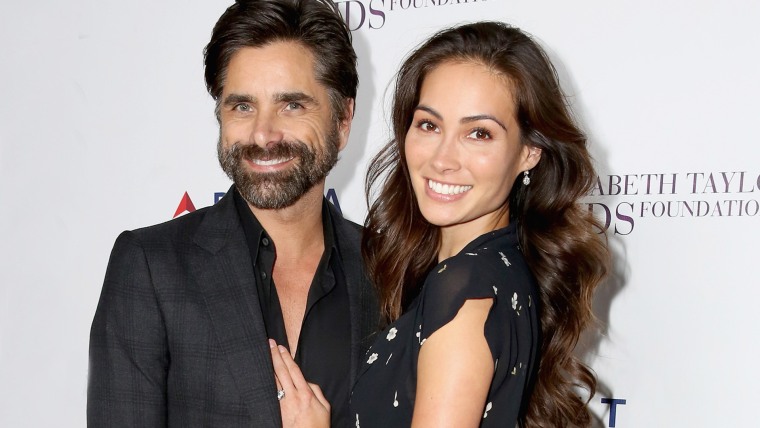 According to People, Stamos has only one regret about waiting so long to become a father: he wishes his parents could have met their grandchild.
"It kills me that my parents aren't here to be a part of this, but I know it probably wouldn't be happening if they weren't up there (in heaven)," Stamos said.
His father passed away in 1989 and his mother, Loretta, died in 2014.
Stamos paid tribute to his 75-year-old mom when she died, calling Loretta Philips "the love of (his) life."
No woman can replace a mother's love, but in November, Stamos told "Entertainment Tonight" that he'd finally found the "right woman — the perfect woman" in his wife-to-be. Stamos continued, "I know my parents are smiling down. I know they would love her. She's a gentle, kind, graceful soul who would be a good mother."
Despite his parents' absence, Stamos could not be happier to begin this new episode in his off-screen life.