This might be the first time Winston Churchill has been described as "adorable."
Maggie Storino and her daughters, Sophia, 7, and Sadie, 5, are back with their annual photography series, Don't Call Me Oscar, in which the Chicago-based family re-creates scenes from this year's Best Picture nominees at the Oscars.
From Gary Oldman's Winston Churchill in "Darkest Hour" to the fierce mother played by Frances McDormand in "Three Billboards Outside Ebbing, Missouri," the Storinos have once again added a cute twist to serious films, just like last year with movies like "Manchester By the Sea" and "Hell or High Water."
"This is such an exciting experience to share with my daughters,'' Storino told TODAY in an email. "Now that they are older, they are really involved in each picture from the production to the poses."
The biggest challenge out of this year's group was re-enacting an underwater hug from "The Shape of Water."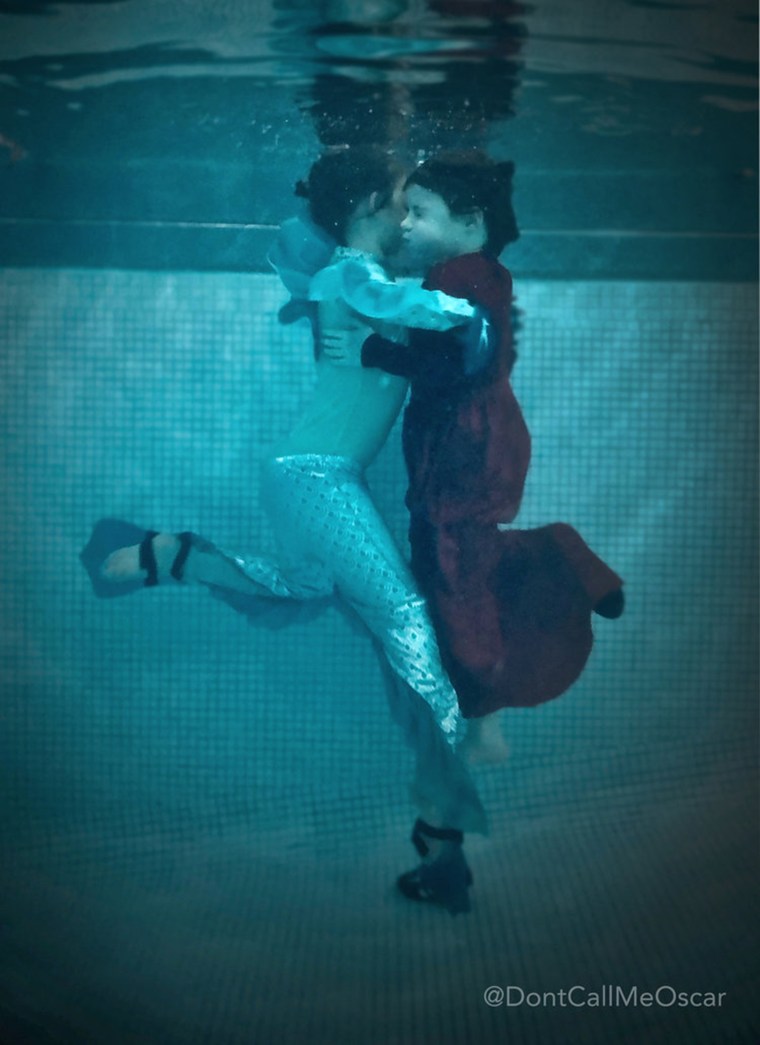 "Here in Chicago, the girls don't get many chances to swim in the winter so they were excited to take this photo,'' Storino said. "Finding the location was difficult because Sophia is almost 4 feet tall and it was nearly impossible to find an indoor pool with a deep end. We finally discovered that our local Y.M.C.A pool was not only deep enough but heated! When we arrived the day of the shoot, the kids never wanted to leave."
The family keeps the budget low for the photos by getting creative. Sadie painted a mixing bowl white to make it look like a lamp and Sophia made an intercom out of a Pop Tart box for a shot from "The Post."
They have been creating the pictures since 2011, when Sophia was only 4 months old. Storino was inspired when her sister, Marnie Hanel, was contributing to Vanity Fair's Academy Awards coverage.
Storino sent some photos to Hanel of Sophia dressed as some of the nominees, which motivateted her to start a Tumblr to post them publicly after friends and family enjoyed them so much.
Their family and friends have also now gotten in on the act. Storino's father, who is a hand surgeon, sent six rolls of vet tape in a shade of pink to match the cast that Saoirse Ronan wore in one of this year's nominated films, "Lady Bird."
The girls are quickly becoming Saoirse Ronan doppelgangers, considering Sadie also portrayed Ronan's character from "Brooklyn" in 2016.
The sisters are too young to have seen any of this year's Best Picture nominees, but they are big fans of "Coco" and "The Boss Baby" from the Best Animated Feature category.
The family plans on keeping the tradition going considering all the good times they are having. As long as the Academy is nominating them, the Storinos will be re-enacting them.
"When we wrapped the last picture, 'Darkest Hour,' Sadie burst into tears because the pictures were done for the year,'' Storino said. "These pictures are a lot of fun."
Follow TODAY.com writer Scott Stump on Twitter.