/ Source: The Associated Press
Oprah Winfrey has racked up memorable moments during her long television reign. Some were moving, some embarrassing — to her or others — and a handful became pop-culture landmarks. Here are highlights through the years:
—Winfrey gets the final TV interview with pianist-showman Liberace, six weeks before his AIDS-related death, 1986.
—Winfrey travels to all-white Forsyth County, Ga., which had gained a reputation as being a hotbed for racism, 1987. It turns out that a majority of the county voices support for racial integration.
—Wearing slim-fitting, size 10 Calvin Klein jeans, Winfrey wheels a wagon loaded with fat onto the show's set to represent her 67-pound weight loss, 1988. She later called the show her "biggest, fattest" mistake.
—Michael Jackson gives his first TV interview in more than a decade and discusses his oddly changing looks on a highly rated live prime-time special, 1993.
—Rejecting a period of tabloid fare as talk shows come under attack for sensationalism, Winfrey remakes her show with a pledge to highlight the inspirational and informative, which leads to an initial ratings dip, 1994.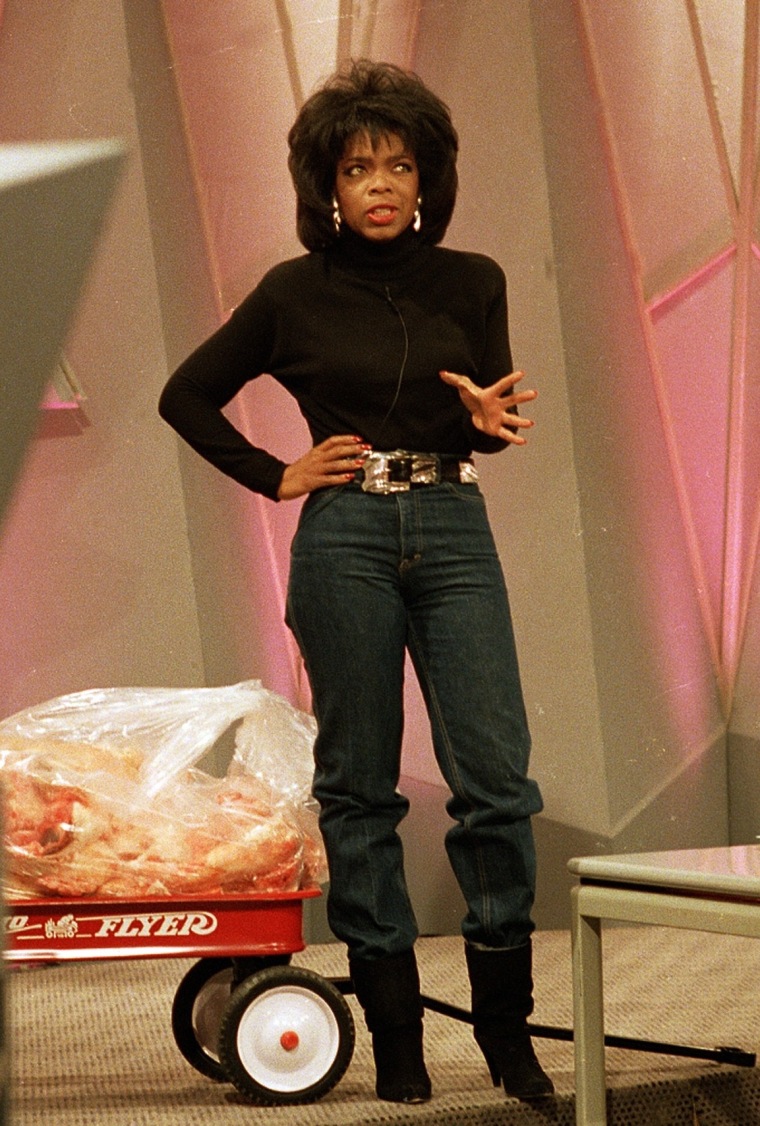 —Winfrey recommits to the show and signs a new contract after weeks of speculation that she intended to quit, 1995.
—Oprah's Book Club is introduced, giving a single-handed jolt to the publishing industry and vaulting her choices to the best-seller list and instant fame, 1996.
—On the sitcom "Ellen," star Ellen DeGeneres' character confides that she's lesbian to a therapist played by Winfrey, while DeGeneres herself came out as gay, 1997.
—Writer Jonathan Franzen dismisses Winfrey's book club selections as including "schmaltzy" works after she picks his novel "The Corrections," and he loses his invitation to be on the show, 2001. He later expresses regret for his comments.
—Winfrey bestows a car on the nearly 300 people in her studio audience in the 19th season premiere, a $7 million giveaway, and famously exclaims, "You get a car! You get a car! You get a car! Everybody gets a car!", 2004. Her giveaways become a punchline in "Ocean's Thirteen," when Danny Ocean (George Clooney) is caught watching one on TV and sniffling.
—Tom Cruise's offers a madcap couch-jumping demonstration of affection for Katie Holmes, 2005.
From film star to media mogul, Oprah Winfrey has built an empire and secured a legion of devoted fans.
—Winfrey's on-air comments about mad cow disease lead a group of cattlemen to sue her for $10 million for allegedly maligning the beef industry, 2006. She moves her show to Amarillo, Texas, for several episodes during the trial, which she wins.
—Winfrey selects James Frey's "A Million Little Pieces," a memoir of addiction and recovery, for her book club in 2005. After learning the book contained extensive fabrications, she chews out the author on her show and later apologizes for being so rough on him.
—Barack Obama's presidential campaign gets the Winfrey seal of approval, and a University of Maryland study finds her endorsement may have netted him about 1 million votes in the Democratic primary, 2008. She's seen weeping in the crowd during his Nov. 4 election night victory speech in downtown Chicago.
—A grilled-chicken promotion on Oprah.com sends feathers flying at the KFC fast-food chain, with some outlets running out of the meals for freebie-hungry throngs, 2009.
—Winfrey removes gospel singer BeBe Winans from the show's "karaoke challenge" until charges against him for allegedly pushing his ex-wife to the ground are resolved, 2009. She was criticized by some for including Winans after taking a stand against domestic violence following Chris Brown's assault on then-girlfriend Rihanna.
—Former GOP vice presidential candidate Sarah Palin's first interview about her new book, "Going Rogue: An American Life," and the meeting, which opens with Winfrey asking Palin if she felt snubbed at not being invited during the campaign, is cordial, 2009.