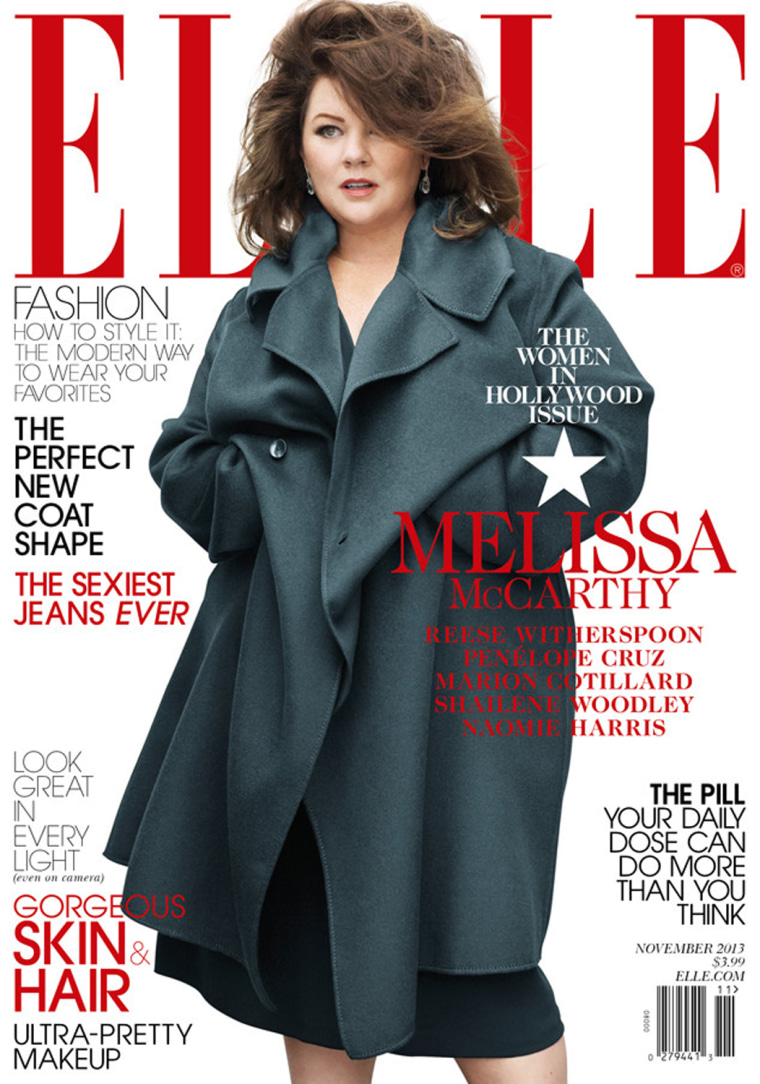 Safe to say this isn't the type of response Elle magazine was hoping to receive over their annual "Women in Hollywood" issue.

The high-fashion mag has found itself on the receiving end of rampant criticism over the publication's November cover, which features "The Heat" star Melissa McCarthy.
And while the 43-year-old actress undoubtedly looks stunning in the shot, criticsare slamming Elle for covering up the curvy actress, who's barely showing any skin while bundled up in a charcoal Marina Rinaldi coat.
PHOTOS: Check out the other covers from Elle's women in Hollywood issue
Alternate covers for the annual issue feature Reese Witherspoon showing off her figure in a fitted black Versace dress, Shailene Woodley wearing a strappy black swimsuit and Penlope Cruz flaunting her flawless face in a close-up shot.
(For the record, Cruz, who just recently gave birth to her second child, isn't showing any skin, either.)
NEWS: See last year's Women in Hollywood honorees
Elle has since responded to the backlash and is defending McCarthy's cover look:
"On all of our shoots, our stylists work with the stars to choose pieces they feel good in, and this is no different: Melissa loved this look, and is gorgeous on our cover," a spokesperson for the Elle said in a statement. "We are thrilled to honor her as one of our Women in Hollywood this year."

A source tells E! News Melissa "loves the cover."
This isn't the first time critics have been fired up over Melissa's appearance. Many speculated that McCarthy's face was Photoshopped to look slimmer in a U.K. promotional image for her recent flick "The Heat."
And in June, film critic Rex Reed wrote a scathing review of the star in The New York Observer for her performance in "Identity Theft," in which he described the mother of two as a "hippo," "tractor-sized" and called her "a gimmick comedian who has devoted her short career to being obese and obnoxious with equal success."
NEWS: BFFs Melissa and Sandra open up about bonding on set and off
The "Bridesmaids" beauty later addressed the cruel comments in The New York Times, saying she was concerned about the criticism not because of its individual impact, but because of our image-obsessed society.
"I felt really bad for someone who is swimming in so much hate," she said to the paper. "I just thought, that's someone who's in a really bad spot, and I am in such a happy spot. I laugh my head off every day with my husband and my kids who are mooning me and singing me songs."
PHOTOS: Controversial magazine covers 
She added that we live in a society where there is a "a strange epidemic of body image and body dysmorphia," noting how articles like Reed's "just add to all those younger girls, that are not in a place in their life where they can say, 'That doesn't reflect on me.'"