Courteney Cox is going to extreme lengths to take care of her new star on the Hollywood Walk of Fame.
Less than a month after the "Friends" actor received her shiny red and gold star, she revealed on Instagram how she is ensuring it will remain in pristine condition.
On March 22, Cox uploaded a funny clip that shows her tidying her star after a few pedestrians step on it. 
When one person stomps and scrapes their shoes on the star, the 58-year-old actor suddenly runs out of a cafe and pulls out her cleaning supplies as Dolly Parton's "9 to 5" plays in the background. 
"Literally, right on the star," she jokes while pretending to be upset in the clip. 
"You can go around," she tells a few passersby on the street.
Since she already has the supplies in hand, the "Scream" actor then decides to polish a few of her famous friends' stars as well. She stops by Laura Dern's, Reese Witherspoon's and Jennifer Aniston's stars and gives them a quick wash.  
"Someone's gotta do it," Cox wrote in the caption. She also uploaded the video on the Instagram page for her beauty and cleaning products company, Homecourt.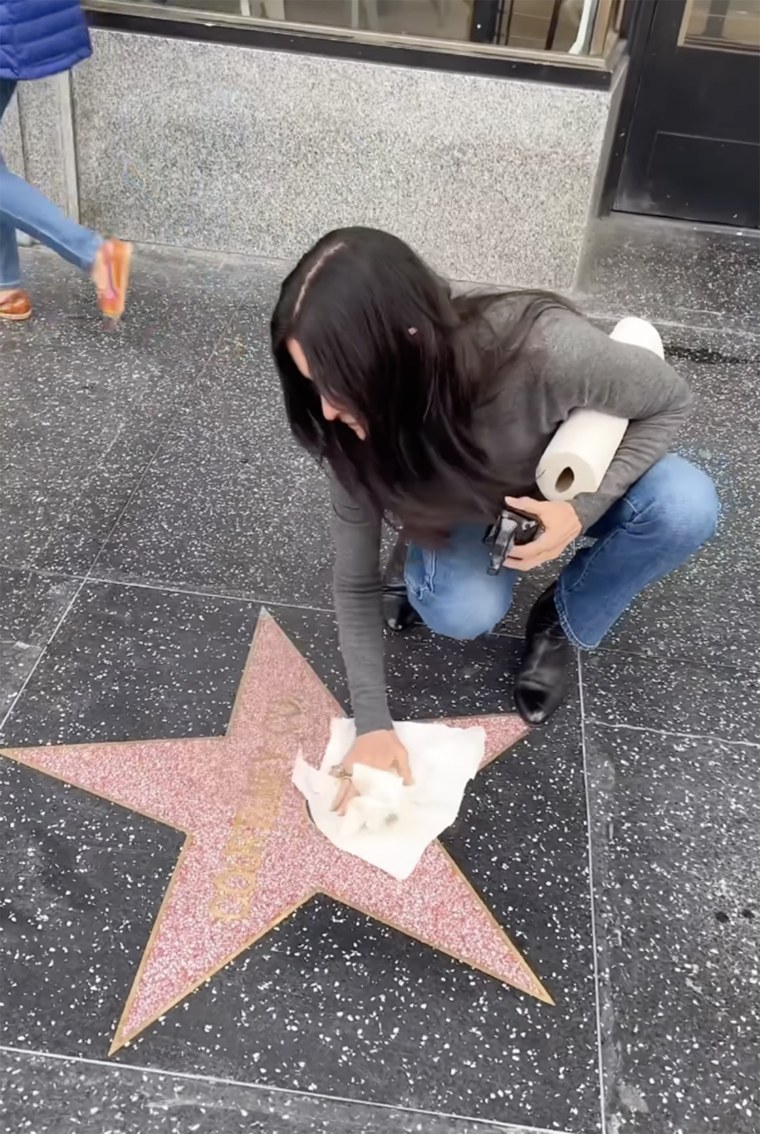 Witherspoon commented on the post and said, "Thanks for keeping us clean, Court!!"
Actor and comedian David Spade joked that Cox should scrub his star next.
Cox's "Friends" co-star Lisa Kudrow wrote, "Only the best thing ever."
Multiple fans pointed out that Cox is just as much of a neat freak as her beloved "Friends" character, Monica Geller, who was known to constantly stress about cleanliness. 
"That's Monica for sure!!" one fan said. 
Another wrote, "Not just clean, Monica clean." 
Co-star Aniston seemed to predict her close friend would go above and beyond to protect her star when she, Kudrow and Dern attended Cox's Hollywood Walk of Fame ceremony on Feb. 27. 
During her speech, Aniston, 54, told the crowd, "(Cox's) attention to detail. OK. It's very intense. You really want to hope that you don't have any kind of like a stain or a spot on a wall or that a pillow is out of place or a hair or something that needs to be plucked."
She added, "I'm just saying, thank God this star is straight," referring to Cox's star that is now cemented on Hollywood Boulevard.
At the time, Aniston mentioned that soon tourists would walk over the star daily and Cox responded by widening her eyes, acting horrified. 
Kudrow, 59, and the "Morning Show" star also took time during their speeches to praise Cox for being at the center of their close-knit group on the set of "Friends," which also included their male co-stars David Schwimmer, Matt LeBlanc and Matthew Perry. 
"From the very beginning, she made it clear that this was a true ensemble," Aniston gushed. "The friendship show." The popular sitcom aired for 10 seasons, from 1994 to 2004. 
She complimented Cox for creating an environment on set where the six of them could focus on supporting and loving one another rather than competing.
When Kudrow spoke, she applauded Cox for helping her co-stars "become one of the closest, most loving and supportive casts" in television history. 
With her star, Cox became the second cast member to be awarded the prestigious honor. Aniston received her star in February 2012.