"Brother West: Living and Loving Out Loud," a poignant new memoir by educator and philosopher Cornel West, traces his transformation from a schoolyard Robin Hood into a progressive cultural icon. The Princeton University professor writes about his calling of teaching over preaching, his three marriages, his two children and his near-fatal bout with prostate cancer — illuminating what it means to live as "an aspiring bluesman in a world of ideas and a jazzman in the life of the mind." Here is an excerpt.
Plane's due to take off in a few minutes. Awfully tight here in the coach compartment of the big 747, but, as the O'Jays put it, "money can do funny things to some people," and my money's been funny for years, so coach will have to do. Coach is cool. It's a blessing to be on this plane at all. Blessing to be alive. Blessing to be on this journey of love.
I take my phone from my vest pocket and call my blessed mother in Sacramento.
"Off to see Zeytun," I tell Mama. Zeytun is my 8-year-old daughter who lives in Bonn, Germany.
"You give that beautiful child a kiss for me, son."
"You know I'm going to do that. Stay strong, Mama."
I look around the cabin and see that just about everyone is equipped with a laptop computer. Everyone except me. Haven't caught up with the high-tech world of the instant Internet. I have a briefcase full of books and a writing pad. A good pen is all I need.
It's enough to bring along volumes of the poets I love best — John Donne, John Keats, Walt Whitman — and the philosopher Søren Kierkegaard, whose questioning approach to the deep notions of existence and knowledge help keep me halfway humble. It's enough to scratch out my ideas on the pad, enough to drift off to sleep and dream unremembered dreams that quiet my mind and relax my body.
A week in Bonn with my precious daughter Zeytun. I can't wait to see her and give her a hug. Midday walks along the Rhine and thoughts of Karl Marx, who attended the ancient university in this very city and whose attraction to Jesus as a teenager attracted me to him as a graduate student intrigued by the ethical dimensions of feeling and thought.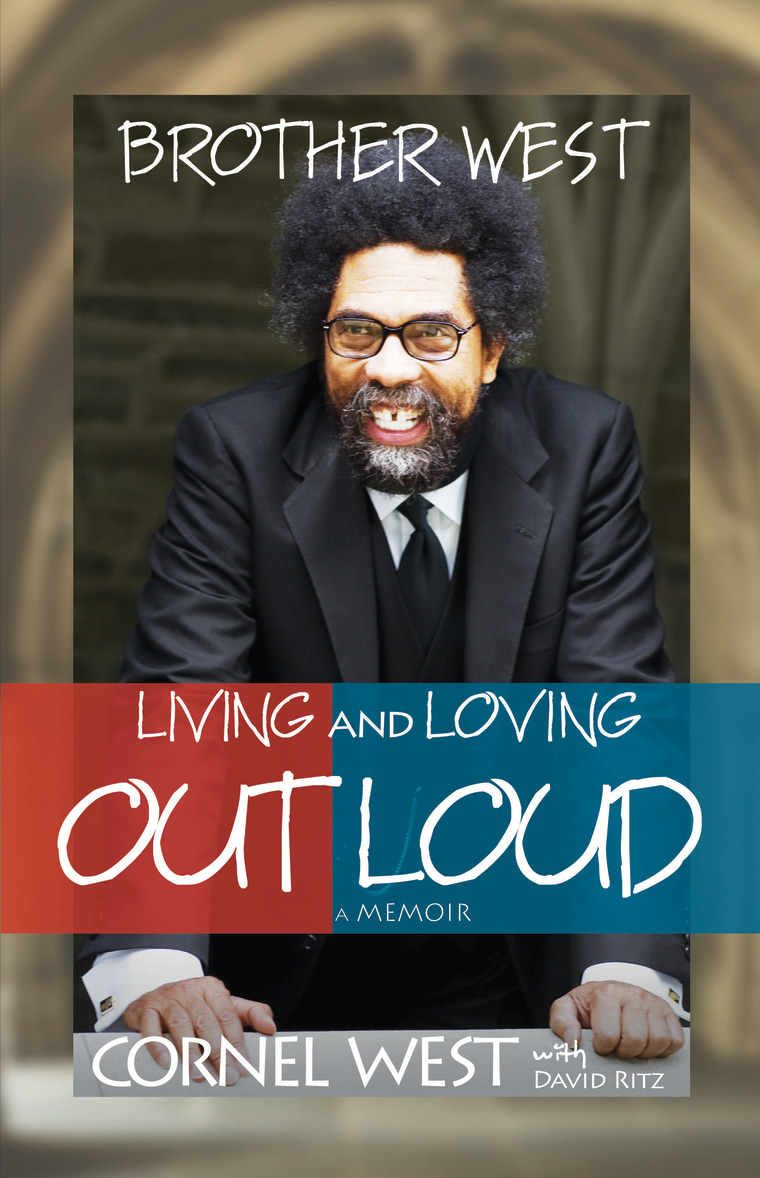 At the end of the week, it's back to Princeton. This is my sabbatical year, but I'm returning to my home university for a joyous occasion: "Ain't that a Groove": The Genius of James Brown conference, the first such academic assembly to take the Godfather seriously, that funkafied genius whose "Get Up Offa That Thing" lifted me high during low days at Harvard. I give the keynote address. I acknowledge that JB is integral to the formation of my spirit and my soul. I say that, like all of us, James was a featherless two-legged linguistically conscious creature born between urine and feces. Like all of us, he was born out of the funk and, like the great Victorian novelist Thomas Hardy, he was still-born. JB was abandoned by both parents, saved by an aunt, raised in a brothel, and yet, through it all — or because of it all — the man managed to transform social misery into artistic delicacies of the highest order. His funk raised us and renewed us. His funk got us through.
I'm getting through.
I'm pushing on.
I'm a bluesman moving through a blues-soaked America, a blues-soaked world, a planet where catastrophe and celebration — Frankie Beverly and Maze call it "Joy and Pain" — sit side by side. The blues started off in some field, in some plantation, in some mind, in some imagination, in some heart. The blues blew over to the next plantation, and then the next state. The blues went south to north, got electrified and even sanctified. The blues got mixed up with jazz and gospel and rock and roll. The blues got on the radio, got in the movies and went all over the world. The blues had to grow.
Like the peerless Russian writer Anton Chekhov and the matchlessIrish author Samuel Beckett, the bluesmen sing of real-life, here-and-now experiences of tragedy and comedy even as they offer up help. They offer up strategies for survival. They share their coping skills. They get us to dancing and laughing, rapping and exposing the hypocrisy of a soulless and sanitized civilization.
Bluesmen aren't sanitized. Bluesmen aren't deodorized. Bluesmen are funky. Bluesmen got soul. The great blues artists — Toni Morrison, Louis Armstrong, B.B. King, Sterling Brown, Marvin Gaye, Aretha Franklin, Lil' Wayne, Alvin Ailey, Curtis Mayfield, Giacomo Leopardi, Gwendolyn Brooks, Muriel Rukeyser, Savion Glover, Bob Marley, Bob Dylan, Thomas Hardy, August Wilson, Mary J. Blige, Jacob Lawrence, Federico Garcia Lorca, Duke Ellington — fight the good fight by doing what they can and moving on.
Each person is a brother or sister
But what does it mean to be a bluesman in the life of the mind? Like my fellow musicians, I've got to forge a unique style and voice that expresses my own quest for truth and love. That means following the quest wherever it leads and bearing whatever cost is required. I must break through isolated academic frameworks while, at the same time, I must build on the best of academic knowledge. I must fuel the fire of my soul so my intellectual blues can set others on fire. And most importantly, I must be a free spirit. I must unapologetically reveal my broken life as a thing of beauty.
I try to give heart to intellect by being true to the funk of living. For me, this can only be seen through the lens of the cross and realized in the light of love. This is the reason that I greet each person struggling through time and space in search of love and meaning before they die as brother or sister no matter what their color. I affirm them as brother or sister to acknowledge their human struggle and suffering. It's not simply a greeting that Christians reserve for other Christians, or even an acknowledgement reserved for and between black people. Both are too narrow. In a dark world, this means making pain and sorrow are my constant companions as I engage in an endless quest for healing and serving others. If I can touch one person — you, holding this book right now — to examine the funk and the capacity to love in your own life so that you become more truly you at your best, then I will not have labored in vain.
So I try to fight the good fight and keep moving on. I'm flying down to Venezuela where, in Caracas, a brother is introducing me to a huge community audience as "Hurricane West." He says, "I call the good professor Hurricane West because when the force comes through, everything and everyone is unsettled. After you feel the impact, you will never be the same."
I'm moving on to New York to catch a few plays. I have this burning passion for Broadway theater and especially the musicals of Stephen Sondheim. I'm also going to drop by the Oak Room at the Algonquin Hotel and catch Sister Maude Maggart, one of my favorite new cabaret singers. Then on to Atlanta to catch up with Clifton Louis West, my super-talented 31-year-old son, a gifted novelist, poet, and hip-hop artist, who's also acting in a play. When he puts his mind to it, Cliff does it all. And it'll also be wonderful to spend some time with my beautifully mild-mannered and sharp-minded grandson Kalen. I thank God for him.
Back in Princeton, back in my bedroom that is a fortress of books and records, I'm fortified by long listening sessions with the sanctified music of John Coltrane. Trane: another celestial genius whose sacred voice gives me hope. And by hope I mean blues-inflicted hope that is morally sound; hope learned and earned in the harsh realities of daily struggle; hope that remains on intimate terms with death; hope that is life-renewing and opposed to the cheap optimism of market-driven America where Disneyland is sold as heaven on earth.
Three days later I'm in Los Angeles, helping to inaugurate a black arts center. I talk about the miraculous and ongoing rebirth of a people who, inspired by their artists, preachers, teachers, actors, singers, dancers, painters, writers — bluesmen, blueswomen — have overcome the social death of slavery, the civic death of Jim Crow and Jane Crow, the psychic death of self-hatred, and the spiritual death of despair.
Back to New York for a CNN-televised interview with The New York Times in which I lambaste Imperial America and the Ice Age of Indifference that casts a cold eye on the least of these, the most vulnerable among us — the orphans, the elderly widows, the relatively helpless children, and goes on to embrace poor people, working people, people of color, victims of violence, domestic, or international. One wants to look at the world continually through the lens of those people you want to be in solidarity with. This solidarity is manifested best by being part of activities connected to the worlds and experiences of the least of these.
On the long flight to Japan, where I've been invited to lecture at several universities over several weeks, I consider how deficient I am in deep knowledge about the country I'm about to visit. I've been on a steady diet of books on Japanese history, culture, philosophy and religion, but there's no doubt that I'm marked by a certain parochialism. Like everyone, I bear the limitations of the province from which I've emerged. And yet in Tokyo, when I respond to a question from a Japanese sister, when I say that we find out who we are on the most profoundly human level only when we stand before the dead bodies of our loved ones, the good sister breaks down. Her dad has just died. The provinces of our pasts converge. Grief binds us.
Off to New Orleans, where grief is still palatable. More talks, a college, a church. Someone asks if I'm a lapsed Christian. "Lord, no! I'm a believing Christian," I say. "But my faith can be renewed by lapsed Christians like the author Samuel Beckett. Even as Beckett wrestles with despair, his compassion comes through, and his compassion inspires me to feel more deeply for others."
Understanding where the story startsBack to Princeton, back to Germany — I see precious Zeytun every six weeks — a quick lecture at Yale, a listening party for my new spoken word CD in L.A. I'm on Bill Maher's "Real Time" with Mos Def and next morning I'm on the first plane out. Minneapolis for two days, North Carolina for a day.
Bluesman singing for his supper.
Bluesman born of a blues people trying to serve all people a healthy portion of no-nonsense, stick-to-your-ribs blues.
Bluesman recognizing the fact that the blues is rooted in gut-bucket funk. A true bluesman commands respect but doesn't give a damn about respectability.
Bluesman connecting on the college circuit but also working to connect with those the incomparable Sly Stone called "Everyday People" or the magnificent James Cleveland called "Ordinary People."
Bluesman considering the nature of this new song, this attempt to explain himself — and his calling — to everyone.
"We want to get to know the real you," says my dear brother and closest friend, Tavis Smiley. "The real Cornel."
I admit it: I've never taken the time to focus on the inner dynamics of the dark precincts of my own soul. Like St. Augustine once said, I'm a mystery to myself.
"Well, explore the mystery," says Brother Tavis. "Just tell us who you are. Just lay it out." Where to start?
The plane's landing in Sacramento and, praise God, I am one grateful Negro! Haven't been home in months. Going to see Mom! Going to see my dear sisters, Cynthia and Cheryl! And going to get to witness the ordination of my hero, my beloved brother Cliff, as deacon in the church of our childhood, Shiloh Baptist. What an honor!
Sitting in the pew next to Mom, I see tears streaming from her eyes as her oldest son stands before the congregation wearing the red tie symbolizing his deaconship. It's a beautiful thing. And sitting there, I'm experiencing a beautiful feeling. I realize that when all is said and done, I'm a Shiloh Baptist kind of brother. This is where I grew up and this is where I've returned. These are my roots, my righteous beginnings.
It is in this holy sanctuary, surrounded by family — those present and those gone off to Glory — that I understand where my story starts. It starts in this church.
Excerpted with permission from "Brother West: Living and Loving Out Loud" by Cornel West with David Ritz (Smiley Books, 2009).