When a loved one is diagnosed with Alzheimer's disease, the entire family feels the impact. And understanding what is happening to that loved one can be difficult and confusing for children. However, there is help. Maria Shriver, First Lady of California and a former NBC News correspondent, has written a book for children and families dealing with Alzheimer's. It's titled, "What's Happening to Grandpa?" and she speaks with special authority on the subject as her own father, Sargent Shriver, was diagnosed with Alzheimer's disease last year. Shriver discusses the book on "Today." Here's an excerpt:
Once upon a time there was a girl named Kate. She was curious, sensitive, and wise beyond her age. Her younger brothers and sister looked up to her and thought she knew the answers to everything. Kate's parents had taught her to celebrate life, be kind to friends, be respectful of teachers, and always, always to stick up for your family.
"Family" was a big deal in Kate's home. In fact, every Sunday Kate and her brothers and sister visited their grandparents. Kate felt lucky to have the grandparents she had. Her grandmother was a lot of fun and very funny. She was the kind of grandma who enjoyed giving tea parties and playing games like Chinese checkers and croquet. In the summer she loved to look for mermaids in the ocean or build sand castles for princesses, and when she went swimming, she always wore a bathing cap with big, bright flowers on it. When Kate took long walks with her, she talked about her "conversations with the angels." Kate though her grandma was so cool.
As for Grandpa... well, he was a character. He didn't talk to angels — he talked to God. At least that's what he told Kate. He loved baseball, classical music, and eating potato chips — lots and lots of potato chips. Most of all, Grandpa loved to tell all kinds of stories and charmed everyone with his tales about baseball, his life on a submarine, and riding his bike through Europe. As her mom often told Kate, Grandpa was "one of a kind." To Kate, neither of her grandparents seemed old. In fact, she was sure they thought of themselves as kids. That's one of the reasons she loved being with them so much.
One Sunday, while visiting with her grandparents, Kate noted that her grandpa was repeating the same stories. He kept asking the same questions over and over. And when she asked him about his day, he couldn't seem to remember what he'd done. At first Kate didn't think much about it. She knew some older people had trouble reading, some couldn't hear like they once did, and some couldn't even walk very well anymore. So, forgetting a few things didn't seem like a big deal to her.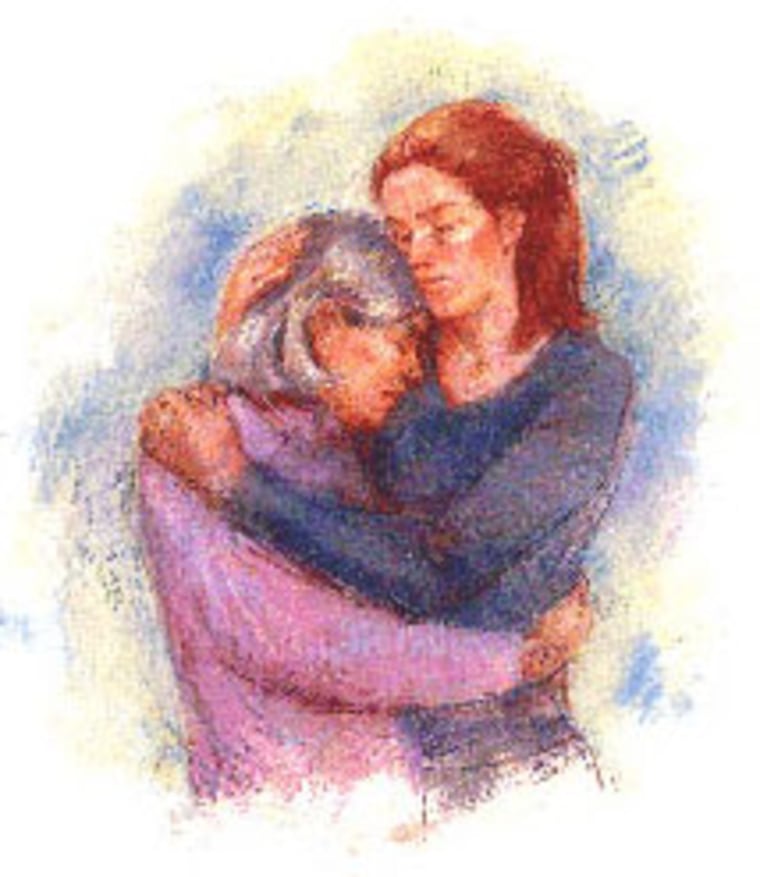 But one weekend while Kate was making lemonade in the kitchen, she heard her grandpa banging drawers in the hall and complaining that he couldn't find his keys. She watched as her grandma tried to tell Grandpa that he wasn't allowed to drive anymore and that she would drive him to the store. Grandpa threw down his books, yelled, and then turned and slammed the door. This behavior wasn't like Grandpa at all! Kate watched as her grandma stood alone in the hall, put her face in her hands, and began to cry. Kate's mother rushed in, wrapped her arms around Grandma, and held her just as tightly as she held Kate when she cried. Kate quietly turned away and went back to the kitchen to finish her lemonade.
After several more weekend visits with Grandpa, it was clear to Kate that something was wrong with him. She went to her mom and said, "Grandpa keeps repeating himself; he can't seem to remember what he just did. I saw him yell at Grandma, and then this morning he didn't remember my name. Mom," she said, "What's happening to Grandpa?"
Excerpted from "What's Happening to Grandpa?" by Maria Shriver. Text Copyright © 2004 by Maria Shriver. Illustrations Copyright © 2004 by Little, Brown and Company and Warner Books. Reprinted by permission of the publisher. To learn more you can visit the book's Web site at: