In an excerpt from his upcoming book "American Story," award-winning TODAY correspondent Bob Dotson profiles a big-hearted beat cop stationed at a Philadelphia hospital who devoted himself to fulfilling the fondest dreams of children with serious illnesses.
The beat cop's big grin made the little girl giggle. He placed his cap on her head and cocked it sideways.
"Where's Minnie?" he playfully asked.
Flipping through the pages in her storybook, she exclaimed, "There's Minnie!"
For more information about Bob Dotson's 'American Story' book, click here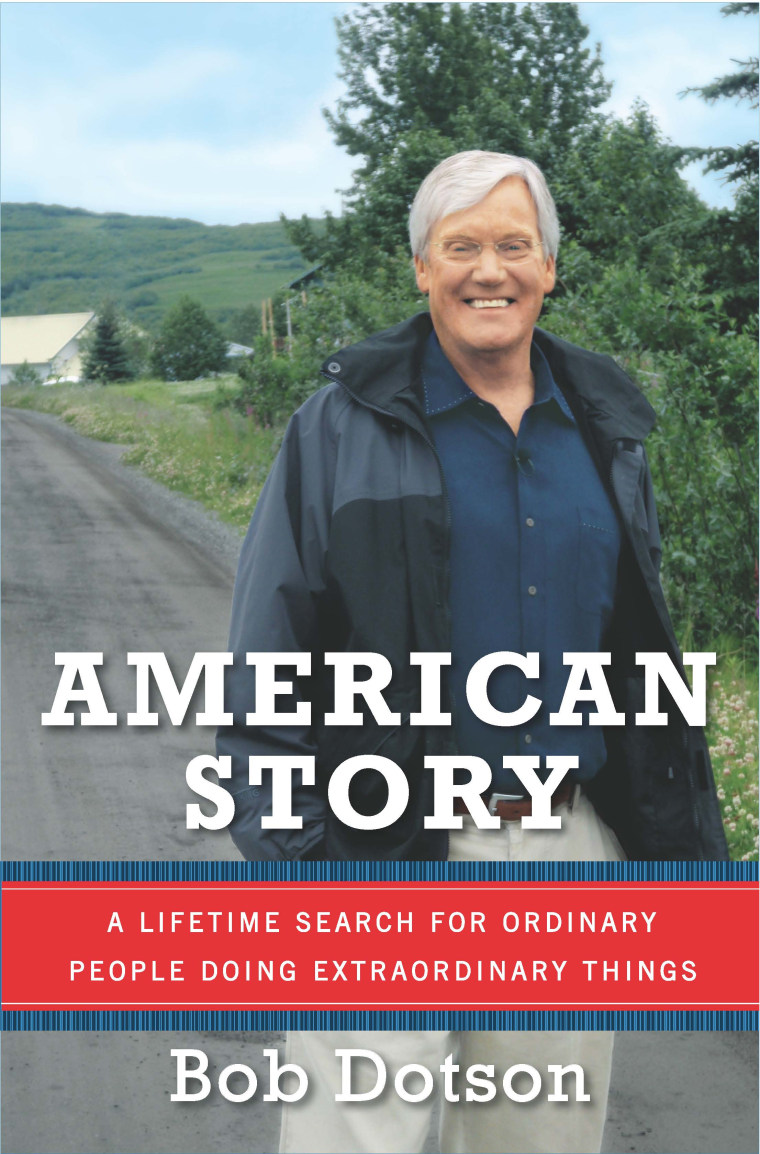 "Oh, you're a good little girl," said the heavyset cop. "Take my hand, now." He led her to a circle of kids. For nine years, patrolman Bill Sample had been stationed at Philadelphia Children's Hospital, a beat that took him among children who were very sick. They would talk, and he would listen as they told him of dreams they would not live to see fulfilled. Sample decided to buy some of those dreams. He and his wife Helene, and a few of their friends sent one child on a trip to touch the snow, and another to see the redwood trees. The Samples' lives soon filled with thank-you letters, grateful for wishes that had come true.
"Jody had never seen the ocean," Helene read from one of the notes. "What a joy to see her eyes light up with awe and wonder." Helene's eyes welled over.
"Those letters always make me cry."
Sample wrapped his arms around his wife's shoulder.
Bob Dotson going on 'American Story' book tour
"That little girl will keep a thousand memories in her head," he said. "She does more for our lives than we could possibly do for hers."
The patrolman was nearly always surrounded by kids. Doctors at Philadelphia Children's Hospital always referred their very sick patients to him.
"I guess that's the only fairy tale in the book," said Sample, turning the page for a tiny girl with deep brown eyes. Christina Wilson had leukemia. She sat in his lap that day, dreaming of a mouse named Minnie.
"I wanna kiss her," said Christina, leaning her face toward the page.
"You will," said Sample.
He asked eight friends to help. None of them had much money, so they sold raffle tickets, cookbooks, and cakes; ran bingo games, flea markets, and fashion shows. Soon they had enough to send the little girl to a land beyond her storybooks—to a land where Minnie Mouse actually lives. They sent Christina and her entire family to Disney World.
"I haven't ridden Dumbo for hours and hours and hours," said Christina, pointing to an amusement ride with gray elephants circling overhead. "Let's go again."
Her small hand was the only concession she offered her parents, who struggled to keep up.
"There's Donald!" she squealed. "Hi, Donald. Have you seen Minnie?"
Her question was lost in the babble of fifty kids surrounding the Disney characters. They all felt compelled to tell their life stories at once.
At first Christina did not notice the big round foot in high-heeled shoes that stepped behind her. Then she caught a glimpse of a thin black tail and whirled, shouting, "Minnie!"
Some moments in life develop slowly, like a sunrise. After all the anticipation and longing, after all the nights filled with dreams, Christina touched Minnie's cheek. Minnie didn't move; Christina said nothing. The little girl lifted her small, see-through purse to look at the picture of Minnie Mouse she had tucked inside.
The real Minnie, the one who stood before her, held out her arms. Christina did not hesitate. She jumped up and fell into the big white hands stretched to greet her.
They held each other for almost a full minute; then Christina leaned back to look at Minnie's face.
"Hi, Minnie," she said, her voice barely a whisper.
The mouse said nothing, but nudged Christina's cheek.
"Minnie, I love you."
Christina's parents glanced at each other. The crowd grew quiet. The little girl bent at the waist, as if bowing to the queen. Minnie knelt down. Her shiny black nose came close and, in a twinkling, Christina kissed it.
Bill Sample was back in Philadelphia, sitting alone at his dining-room table. Outside, the season's first snow fell silently. It was getting dark. He was still in uniform, just home from work. A stack of thank-you notes was piled next to a plate of leftover casserole on the table. The food grew colder as Sample read. To the parents, many of whose life savings had been drained by their children's illnesses, Bill Sample was a miracle worker.
"I just like helping kids," he murmured.
Christina Wilson got more than she dreamed. A couple of years after that meeting with Minnie, her leukemia vanished. In 1980, only one child in five survived cancer, but Christina grew up to be a healthy adult.
"I believe that trip changed everything," Christina told me the day she brought her own baby to show Bill. By then he and his friends had fulfilled more than thirty-five thousand dreams. Caring for others may be the closest we come to the face of God.
Reprinted by arrangement with Viking, a member of Penguin Group (USA) Inc., from American Story: A Lifetime Search for Ordinary People Doing Extraordinary Things, Copyright © Bob Dotson, 2013
For more information about Bob Dotson's upcoming book "American Story," click here.
Bob Dotson will be doing personal appearances and signings in the months ahead. For details, click here.