Jennifer Lawrence can certainly provide her own comic relief by tripping and one-lining her way through an awards show. But the friend she brought to Sunday's Oscars is a star in her own right with her published account of what it's like to be a guest for Hollywood's biggest show.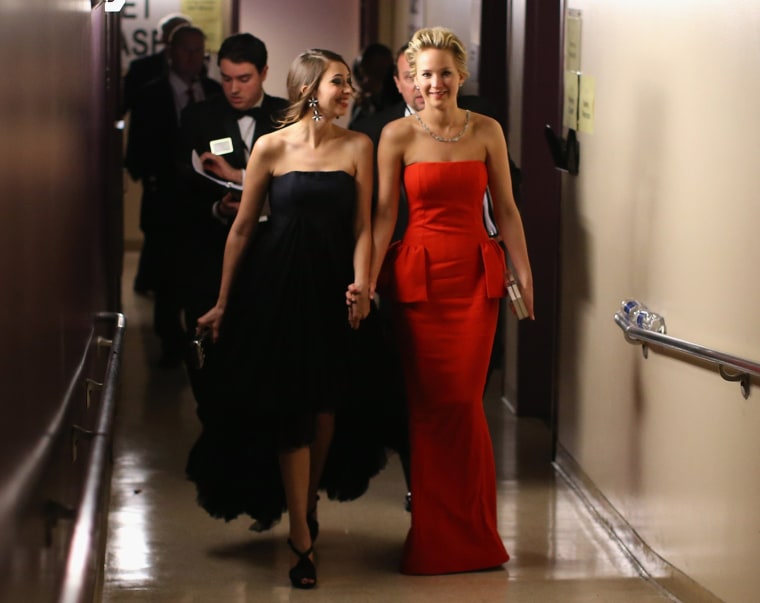 Laura Simpson writes in a Myspace post that she has been friends with Lawrence for seven years after meeting at an event, and hitting it off over their "mutual respect for Chandler Bing." She says that they've been eating pizza together ever since and then she launches into a great behind-the-scenes look at the spectacle millions only get to witness on TV.
Simpson writes the most interesting view isn't one you'll see on TV.
"Highland (between Sunset and Hollywood) is filled with barricades with different entry points so no crazy person can plow their car through, killing everyone on the red carpet. Guarding each entry point through the barricades are men in head to toe camouflage with gigantic automatic weapons. ... Every inch of the sidewalk is full of God-fearing picket signs and psalms. Some have megaphones and are yelling inaudible sermons and others just shouting at the line of black cars."

When Lawrence stumbles over a traffic cone on the red carpet (and proceeds to go viral again) it's Simpson who breaks her fall.
"There are flashbulbs and people circling yet no one asks if I need any help because unless you are famous at the Oscars, you are completely invisible. I have never experienced anything like it. The only time anyone talks to you is if you are in the way of his or her photo. Oh and photographers on the carpet yell "YOU IN THE HUGE DRESS, GET OUT OF THE [EXPLETIVE] SHOT." It's incredible. It is no wonder actors are crazy."

In her seat and enduring the endless award categories, Simpson sheds light on why that pizza host Ellen DeGeneres brought in was quickly scarfed down.
"It's around this time that you realize you are STARVING and haven't had any food since breakfast at 9 a.m. It's hot and you feel like you're going to pass out. After waiting for my date's category, her dad and I decide to hit the bar and just watch from the monitor behind the bar and slam a few drinks to make this tolerable. The Academy really needs to spring for more hors d'oeuvres options because now everyone is hammered."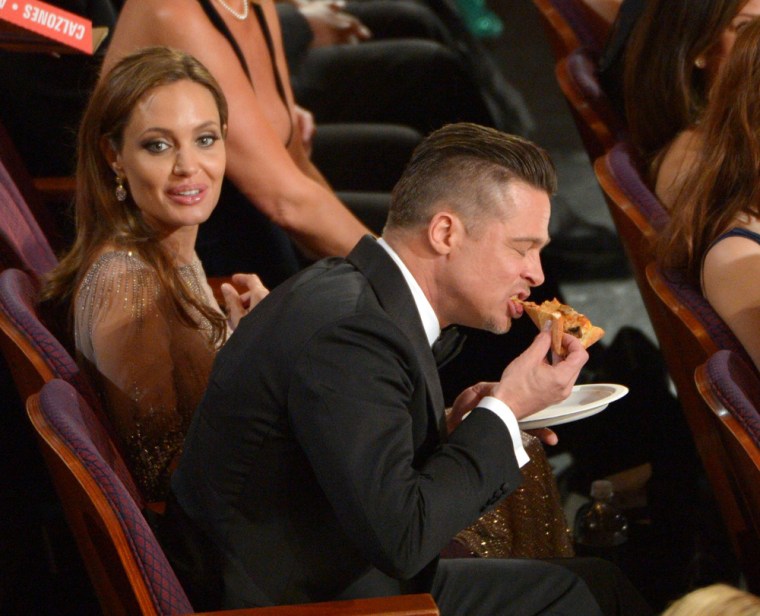 A brush with Brad Pitt and Angelina Jolie backstage goes just as you would expect.
"Brad Pitt smells amazing, like nothing I've ever smelled. Eventually we ask what cologne he's wearing and he tells us, 'I don't wear cologne, it's just my musk I guess.' I have to choose not to believe him because it would just be unfair to mankind. Angelina is gorgeous and elegant and they are like The Sun and The Moon."

Everyone goes to the Vanity Fair party afterward where, again, only the famous are worth noticing. But, Simpson catches one star's eye.
"(I) decide to follow Bill Murray around the party. At one point he looks in my direction and winks at me while dancing to 'If You Want My Body and You Think I'm Sexy' by Rod Stewart — a moment, I now realize, my whole life had been leading up to."
Simpson says her main takeaway from the evening was how lovely all of the women were who she interacted with, including Kerry Washington, Jessica Biel, Glenn Close, and Anne Hathaway.
"Actresses tend to get a bad reputation but every woman I met was lovely, witty and introduced themselves to me even though I wasn't famous."

Oscar winner Jennifer Lawrence's not-famous friend finishes by handing out her own REAL awards for Most Beautiful, Best Dressed, and more. You should go read her full piece over here.
The young actress has quickly risen to become a film and fashion icon, with an Academy Award already under her belt.