/ Source: msnbc.com contributor
It started in a hotel basement in 1970 with 300 people. Last year, its 35th anniversary, more than 100,000 showed up. And contrary to its image, The San Diego Comic-Con is about more than comics. It's five days of nonstop geeking over what seems like every single niche of pop culture that has ever existed on this planet. And maybe the other ones.
It's all over now and I bet they're still cleaning up the San Diego Convention Center. I was there for my fifth Comic-Con in as many years. And I just want to state for the record that I have always showered, never played "Magic: The Gathering" or lived in my parents' basement. But stereotypes exist for a reason and there are plenty of them being made reality right before my eyes almost every three feet of the vendor floor. There's a reason the remake of "Revenge of The Nerds" held casting calls there this past weekend. No, seriously, they really did.
And to write about it all is impossible. It would take a team of reporters working 20 hour days to do it. But if you weren't there and already have your own version of the events, here are 10 things you missed:
1. Rosario Dawson comes out as a comic book fan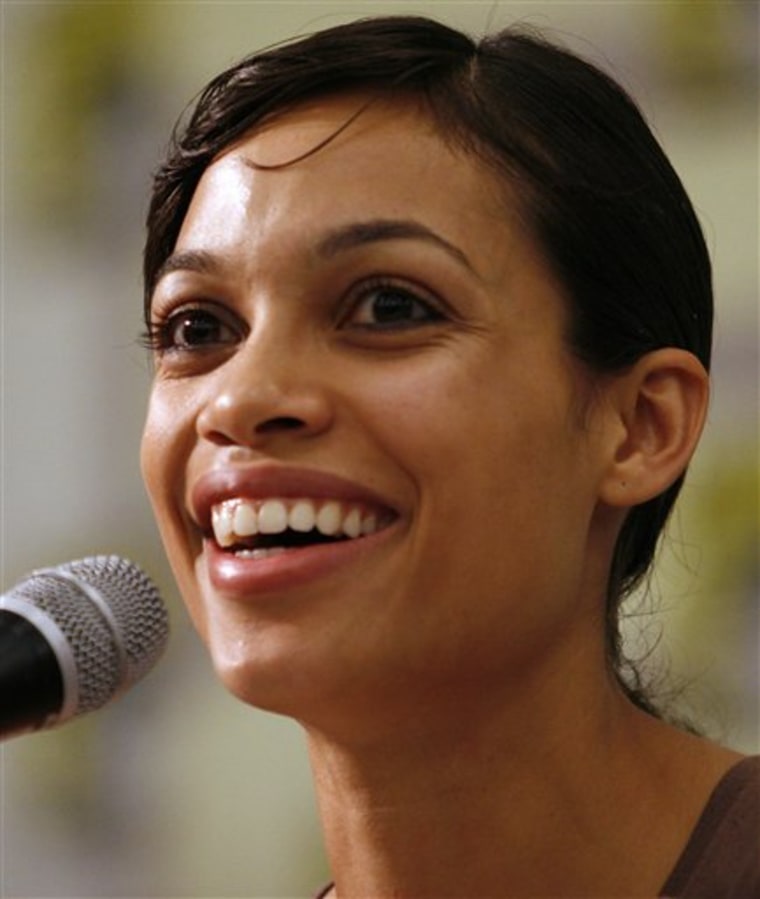 I walk in late as the "Clerks 2" star is talking about a law on the books in Florida that says that a dog and an elephant can't get married, so in the comic book that she's co-creating called "Occult Crimes Taskforce" there will be a magical reason for that kind of law, such as the spawn of such a union being evil never before seen or something like that. I want Rosario Dawson around to explain all ridiculous laws to me now.
During the Q&A portion a guy asks her if she's seen the unauthorized game where the gang from "Sin City" battles the gang from "Rent," making it possible for her to actually fight herself. She seems very excited by this.
2. Weird autograph moments
I'm on the vendor floor, a cute name for the football field-sized shopping arena, and — bam! —There's 86 year-old Jerry Maren, the green munchkin of the Lollipop Guild from "The Wizard Of Oz." I had been wondering what he was doing and now I know. Selling his signature alongside (well nearby anyway, it was a big place) the equally old woman who was the body model for Tinkerbell and not-so-old Kelli Maroney from "Chopping Mall."
3. Deepak ChopraYes, Deepak Chopra is here for a panel, discussing the seven spiritual laws of superheroes. How many minutes before he says something incomprehensible? I decide to count. Seven minutes in he begins talking about superheroes being expressions of archetypal energies. They teach us what is possible and when their energy manifests itself in reality it will help to heal the rift in our collective story and soul. So yeah, seven minutes.
4. The Recycling Clown mixes it upThere's a guy on the vendor floor, not far from where I'm buying a really excellent homemade comic about Glenn Danzig and Henry Rollins being domestic partners, and he's got on clown makeup and he's standing near a trash can announcing loudly that he is the Recycling Clown. He starts berating people who hand him empty bottles and cups. He's the mean Recycling Clown. When a convention center employee/bouncer hustles him along, they get into an altercation, one the bouncer eventually wins. A crowd gathers to enjoy the free theater. I can't pass because on the other side of the crowd is another flow-jamming batch of teen boys taking pictures of a Playboy Playmate posing as an unidentified giant-boobs-on-stick-body female superhero. Her manifested spiritual law is being stacked.
5. You will watch 'Kyle XY'!
There's a big ad in the Con schedule for the new ABC Family series about a twentysomething teenager with no bellybutton. There's also a big presentation panel and a big autograph session and lots of big posters up all over the place. It had better be a big hit or someone's fired. "Who is Kyle XY?" asks the tagline? Well, he probably used to be a waiter in Los Angeles where he politely turned down gay porn directors scouting new faces and handing him their business cards. His determination paid off and now he's here signing autographs even though he's not famous yet.
6. Look, it's the blue chick with tentacles on her head from 'The Fifth Element'!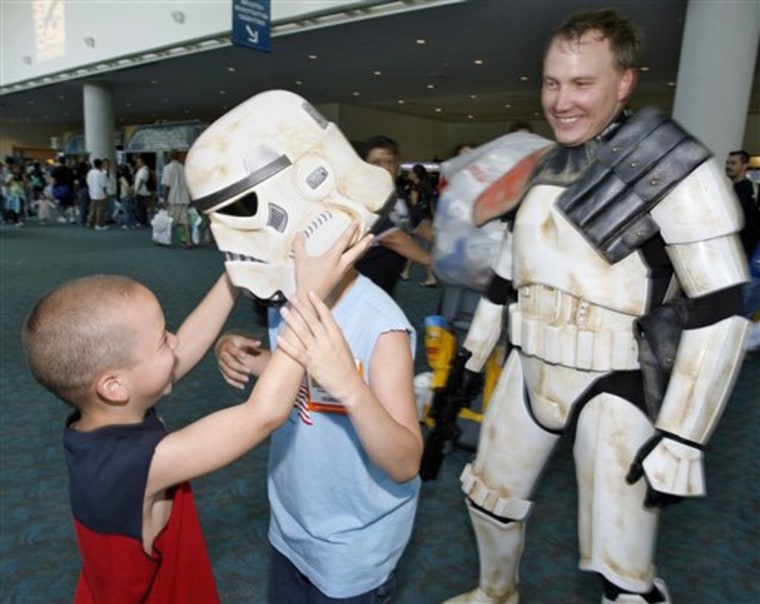 Also Wolverine. In fact, it's a way more butch Wolverine than Hugh Jackman's version. He could take notes on this guy. And I know goofing on the costumed people is too easy but still I enjoy it. Lots of Stormtroopers. Apparently the Stormtroopers are an organized gang now. They do charity work. No, I'm not kidding. They're the equivalent of small town gay bar drag queens organizing themselves into Imperial Courts and doing hospice fund-raisers. My favorite costumes though, after the Recycling Clown of course, are the girl who's walking around as a metal-headed monster from "Silent Hill" and the guy in the green bodysuit and pink diaper. I don't know who he's supposed to be. But he's being it.
7. 'Star Wars' fans are always upset about something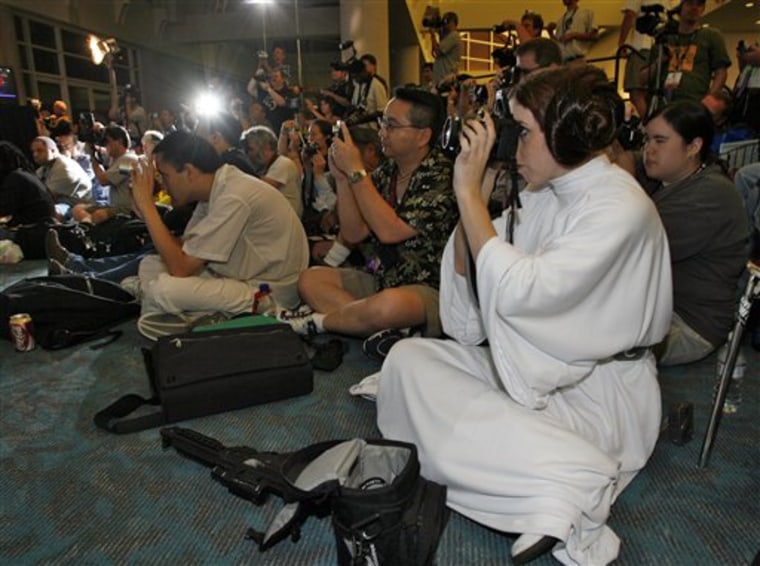 In order to get a good seat for the "Snakes on a Plane" revival meeting, aka the New Line Cinema presentation, I have to sit through an hour-long commercial for upcoming "Star Wars" products. That's the boring part. The not-boring part is the Q&A. That's when the "Star Wars" fans can vent their frustrations at the official Lucas spokesperson. Everyone's got beef about something. And I realize at this moment that it has always been this way. "Star Wars" people use "Star Wars" as a springboard for dealing with life. So when they're frustrated with their jobs they complain about the quality of the print transfer onto the new "Empire Strikes Back" DVD release and fight over giant promotional buttons that say "Han shoots first!"
8. Snakes. Planes.
They decided not to screen it for critics. That's the official word from the director as of right now.

They decide instead to show the assembled 6,000 fans a solid 10 minutes of clip reel. That's right, I saw 10 whole minutes of "Snakes on a Plane." You didn't. This makes my life better than yours at least until Aug. 18.

Sam Jackson comes out and says the line that was the cause of reshoots. As in the fans decided they wanted to hear Sam Jackson say this in the movie. So now Sam Jackson will say it in the movie. "We got to get these mother-f-word-ing snakes off this mother-f-word-ing plane!" For this he receives a standing ovation from the crowd.

Sam Jackson had a no-snakes-within-20-feet-of-Sam-Jackson clause in his contract. Kenan "Good Burger" Thompson, his co-star did not. "You gotta get a better agent," says Jackson.

Outside the exhibition hall on the vendor floor there's a giant snake you can walk into and get handed an official "Snakes on a Plane" wings-pin from a stewardess and then get your picture taken in the snake's huge mouth.
9.  Scott Shaw's oddball comics If you've ever eaten a bowl of Fruity Pebbles then you've had contact with cartoonist and comic historian Scott Shaw. He helped create the ad campaign. He also hosts a yearly panel called "Oddball Comics." It's really the only place you can find an in-depth discussion of weird old religious comics with titles like "The Gospel Blimp" and Superman's most adrift era, the 1960s, where the Caped Crusader meets people like Don Rickles and Lois Lane ditches him to date Hercules.
10. The Asian ball-joint resin doll collectors group! I have no idea what this means but it's in the schedule. They're meeting to discuss Asian ball-joint resin doll collecting. I'd go but I don't have the nerve to just show up. What if they put me on the spot about my knowledge of Asian ball-joint resin dolls? I'd end up in Klingon jail. It's across the hall.
Dave White is the author of "Exile in Guyville" and fails to mention that he spent way too much money on vintage Japanese monster toys at the Con. He can be found and hassled at .