/ Source: msnbc.com contributor
I am not a comic-book geek but my life partner is. Early on in our mid-1990s courtship there were signs of this I chose to ignore. One of the first movies we ever went to see was "Gamera: Guardian of the Universe." One of the first books he ever tossed my way to read was "Watchmen." He has a favorite era of "Wonder Woman" comics (that would be the '70s, when she was stripped of her Amazon birthright and became instead a martial-arts-dispensing, mini-skirt wearing "women's libber.") He would decorate our apartment with Justice League posters if I would only consent. And because I stuck around for all this, I just finished attending my seventh San Diego Comic-Con in as many years.
A little history: The SDCC is 37 years old and has grown from 300 people in a big room somewhere to about 120,000 attendees this year. Every day of the gigantic San Diego Convention Center sold out. New, aggressive, annoying crowd-control procedures and staff were in place. The geeks were in full battle (aka shopping for action figures) positions.
My partner and I were lucky. We got a hotel room within walking distance of the Convention Center. We didn't have to deal with the nightmare of parking. And we each had press passes. But in terms of our ability to report on the proceedings we were both at a distinct disadvantage. For our respective outlets, we were the sole journalists. Until I'm able to clone myself, this wrap-up will necessarily remain micro, not macro, in scope. Here's a little of what I experienced…
1.  "I'm in ur 3000-seat convention hall, passively watchin' ur big studio genre movie trailerz."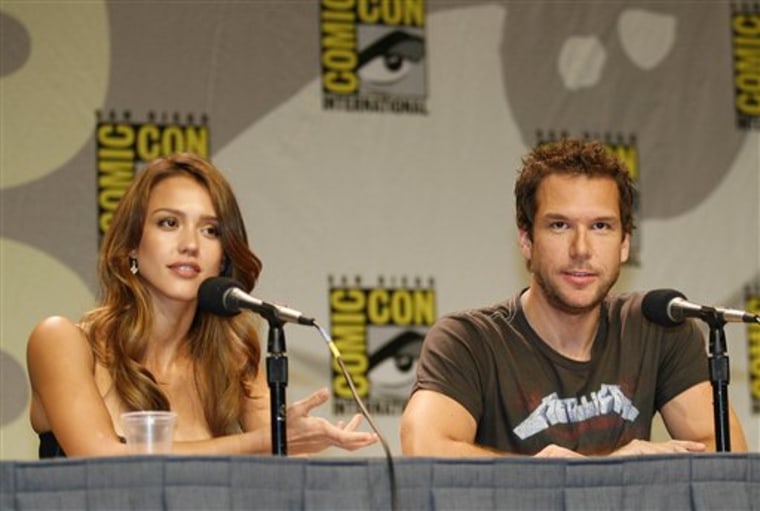 Hollywood has finally woken up to the fact that their money-bleeding B-movie product can benefit from a little pre-release massage. And to that end they are prepared to offer you, the consumer, the amazing opportunity to stand in line for two hours and then to sit in huge halls on somewhat-padded folding chairs and look at movie trailers you've already seen on YouTube.
You're also allowed the chance to gawk hard at Jessica Alba and Clive Owen on a jumbo screen while they sit up on the stage being foxy (Alba) or bemused (Owen). Then you can ask them a question like, "How did you do that thing where you slide along the floor like that shooting the guns?" and hear them say stuff like, "I never wanted to be James Bond anyway. I wanted to make this rip-off of 'Hard-Boiled' and 'The Transporter' instead."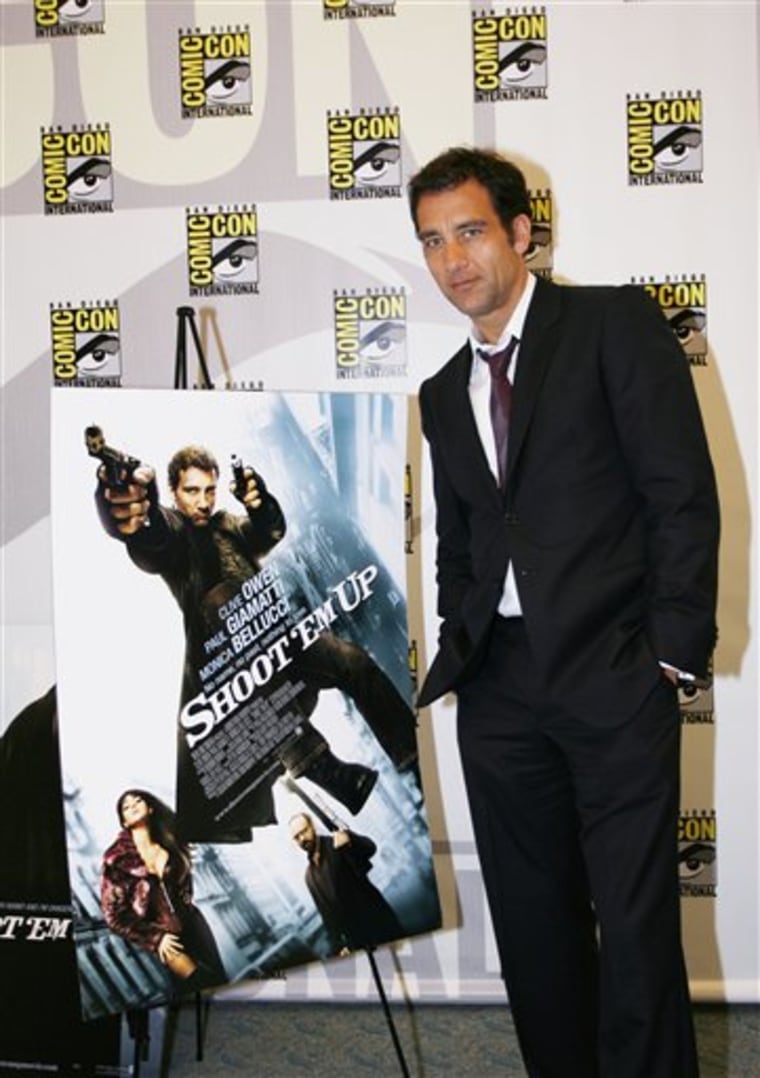 In defense of New Line, however, who'll be releasing the Owen-starring "Shoot 'Em Up" soon-ish, they did show off several moments of "The Golden Compass" even though they couldn't convince Nicole Kidman to sully herself with a tacky in-person publicity moment. I heard she did do a pre-taped video segment begging people to buy a ticket to "The Invasion," however. ("Cheers, Comic-Con! I can smell you all from here!")
Meanwhile, Fox pulled out of their presentation at the last minute in a flap rumored to be due to the R-rated qualities of their "Aliens vs. Predator" clips and Comic-Con's insistence on maintaining a more family-friendly atmosphere this year. I don't know if all that's true or not — Fox's official word is "not," even though studios lie all the time about, well, about everything.
2. In the kingdom of straight white males who don't get lots of sex, the one-legged babe is Queen.
OK, that's not fair. This was a really hot uni-legged Rose-McGowan-with-machine-gun-appendage-in-"Grindhouse" look-alike, and she'd be desired by just about any heterosexual man. And I'd be a liar if I painted all the male attendees as unwashed strike-out kings. But stereotypes exist for a reason, and all of those reasons were on hand at the Dimension booth on the retail floor while the nice young lady in question did lots of snaky moves on a stripper pole, becoming the lust object of a million little cell-phone cameras.
If aliens were visiting San Diego they'd return to their home base and file the following report: "We visited a happy bubble planet where 'Grindhouse' and 'Serenity' were hugely successful motion pictures, everyone watches some TV show called 'Farscape' and the entire population is salivating over an upcoming splatter-fest called 'Midnight Meat Train.'"
3. All attendees unite in a common emotion: hating the ELITE security company."No, you can't walk down this hall. It's an exit-only hall. Oh, you needed to go the bathroom and then return to your panel? Too bad because the doors are permanently closed now. Go walk a quarter mile around the Convention Center to get back in. And see that velvet rope? It's here to block a major walkway, creating a frustrating bottleneck. That's the only reason it's there: to create that obstacle to walking freely so that thousands of people have to pass through it no matter which direction they happen to be going. But if you are wondering why it's there and you question it, then I, a 19 year-old Marine recruit from Camp Pendleton, making some extra cash for the weekend before being shipped off to Iraq, will be happy to yell in your face that you should simply MOVE IT ALONG!"
I wonder if any of them yelled in the face of legendary "Spider-Man" co-creator Stan Lee. I hope so. And I also hope someone caught it on their camera and posted it online.
4. Celebrity comic-book authorship is the somewhat-less-embarrassing alternative to writing a children's book.
Because, really, who would you rather emulate, Madonna and her scoldy Kabbalah-for-kids narratives or the crushworthy "Sin City" star Rosario Dawson and her awesome and weird-as-hell comic "Occult Crimes Taskforce"? The correct answer is Dawson, who made her second Comic-Con appearance this year and whose real-life superpower is cool-person brains and charm.
Best moments from her panel: a 9-year-old girl asking the actress what it was like to have her throat ripped out in "The Devil's Rejects." Dawson's response: "Your parents let you watch 'The Devil's Rejects'?" Dawson also related the horror story of her comic-book­–collecting grandmother having Action Comics No. 1 — the debut of Superman — thrown out by her great-grandmother. The crowd gasped in unison.
Jake Johnson and Damon Wayans Jr. on the "Let's Be Cops," red carpet, Selena Gomez is immortalized in wax and more.
Meanwhile actor Thomas Jane appeared at the Con to flog his own comic book, as did porn-trepeneur Jenna Jameson and the father-son team of Nicolas and Weston Cage. I don't know or care a thing about Jane's. Jameson seems to be waffling on whether or not hers will be "erotic" in nature (because, you know, people suddenly want something other than that from Jenna Jameson now).
In this slowly gathering-steam field, only the Cages seem to have their vision together with their title "Voodoo Child." The elder Cage is especially on his game here, having recently put aside a respectable acting career to be the conductor of a bullet train to Kook-Town with the comic-book-based film "Ghost Rider" and nutjob nuclear bomb thriller "Next." And it looks like he raised a smart super-Goth son in the process. (The secret, according to their panel: H.P. Lovecraft bedtime stories.) And unlike most Hollywood parent-child combos, they seem to really like each other. Heartwarming!
5. When you're signing your own book at the gay-centric Prism Comics booth and want to momentarily distract those around you, all you have to say is, "Hey look, there goes Tara from 'Buffy'!"
Tara from "Buffy the Vampire Slayer's" actual name is Amber Benson and she did walk by as my partner and I signed and sold a mindbendingly successful nine copies of our own books. So for a second there it all seemed way more exciting than it was. But hey, you nine people? Thanks. Seriously. We loved your money. I bought a really nice entrée of grilled salmon with greens and little polenta cakes with that cash. Meanwhile, there was a lot of queer stuff I just plain missed out on, like the "Love & Rockets" panels, the cast of "The Sarah Silverman Program," the "300" DVD release announcement panel and the newly Isaiah Washington-enhanced "Bionic Woman" TV series panel.
6. Most old people are cooler and more interesting than you will probably ever be.I went to the less-populated panels featuring long-forgotten comics artists for two reasons: to report on the least hyped of the weekend's offerings — it's not like "The Bourne Ultimatum" needed me to help it along anyway — and because I couldn't get into the other super-popular panels anyway. My reward was learning about of the existence of two old-school comic artists, one still very much alive and one long since passed.
The resting-in-peace Fletcher Hanks was a mystery in life and death, spending a very short time in the 1930s creating excellently bizarre comics like "Stardust The Super Wizard," about a blond crimebuster with an enormous body and very small peanut-shaped head who hoisted a lot of bad guys on their own petards. Hanks also created "Fantomah, Mystery Woman of the Jungle," a blonde crimebuster in a loincloth who could fly, turn her head into an angry skull, and who battled giant spiders and super-gorillas. Hanks's work (and sad alcoholic demise) is documented in the amazing new book "I Shall Destroy All the Civilized Planets!" by comics historian Paul Karasik. 
Even more fascinating was the life-in-her-own-words panel from Lily Renee Phillips, one of the lone pioneering female artists of the late 1940s/early 1950s. Vienna-born, Phillips escaped the Nazis on one of the kindertransports, lost her parents for two years, found them again, wound up in the United States, became a teen model for a while and had her likeness turned into mannequins for New York's Peck & Peck department store. Then, at age 18, armed with a drawing of Tarzan as her resume, went to work for Fiction House comics where she was handed a title called "Werewolf Hunter" because none of the men there wanted to do it. Eventually, she would go on to create "Señorita Rio" about a Carmen Miranda-esque nightclub entertainer who was also a sexy spy and Nazi-hunter. And what have you done with your life?
7. Kristin Chenoweth loves Jesus but will also flash you her cleavage.Full disclosure time. I went to the advance pilot episode screening of the new super-hyped ABC show "Pushing Daisies" because the creator, Bryan Fuller, is my friend and because he told me there'd be free pie given away. But I can say this with no other agenda in mind than to tell you about something awesome: this show is fantastic and if you don't watch it when it airs this fall then you're wasting an hour of your life each week on some lesser pursuit. The cast was there for the packed screening and were all very gracious when Broadway diva and Hollywood Christian anomaly costar Kristin Chenoweth got most of the crowd-love. In response, Chenoweth bared a PG-13 amount of flesh and giggled enthusiastically about how she makes out with her dog, adding, "…and we use tongue." The pie was cherry. Also, it was delicious.
8. BET has a hot new emerging PR situation on its hands!The flap over their recently-announced "Hot Ghetto Mess" might just be the tip of the iceberg. Black Entertainment Television hosted an animation panel where they showed their YouTube sensation "Read A Book." A three-minute profanity-bleeped, mock-PSA, "Read A Book" parodies the Lil' Jon/crunk/booty-babe rap video phenomenon by simultaneously celebrating and mercilessly attacking African-American stereotypes.
But when the thong-clad cartoon strippers shook their butts (emblazoned with "BO" and "OK" on each cheek) in the camera, that's when the female audience members began to stand up and walk out. The rest of them departed when an animated 13 year-old pregnant girl hosted an Orlando Jones-created cartoon game show called "Who Need They A** Whooped?" But maybe they can win back that departing demo with the special "Hip Hop Vs. America" where it appears that they've scored an interview with a fairly cranky Oprah.
9. The equivalent of seeing giraffes in a zoo…
That would be the following favorite perennial personalities and moments: 
Kevin Smith hosting a hot-ticket panel where the big announcement turned out to be a re-release of his film "Chasing Amy" with a supplemental disc of extras;

Seeing "Simpsons" creator Matt Groening gamely talk to any fan who stopped him on the vendor floor while he shopped for comics;

Richard Hatch of the original 1970s version of "Battlestar Galactica" selling his autograph and doing a fairly brisk business;

Trekkies wandering around looking adrift;

Multiple Princess Leias, all filling out their Jedi Bikinis with varying degrees of success — the most popular one being the nearly nude woman who wantonly abandoned emulating the original costume, opting instead for two barely nipple-covering pasties, a front and back cloth panel and some string

Klingon street theater.
It's good to have stuff you can always count on.
10. Robot Michael Jackson from "Moonwalker" vs. that dumb talking thing from "Short Circuit."If you're ever at Comic-Con and you have the nerve for it, wander into the stone-coldest supergeek party they have running, the "Starship Smackdown," where a collection of "spaceship-ologists" weigh the various merits of sci-fi and fantasy characters and how they would emerge victorious or defeated in an all-out battle for supremacy. In other words, "Who would win in a fight? Boba Fett or Dr. Who?"
This year they opened up the potential brawlers field to include robots, aliens and computers, meaning that the WOPR from "WarGames" could fight the Monolith from "2001" and possibly win. But not really, because that Monolith spent most of the event kicking the butt of every galactic comer. Next year I plan to go back and propose that John Travolta's "word processor" from the 1985 aerobics movie "Perfect" throw down with Meg Ryan's laptop from "You've Got Mail." All of which means that I think 12 years with my partner has turned me into one of them.
Dave White is the author of "Exile in Guyville." Find him at .