/ Source: The Associated Press
Coldplay's long-anticipated new album, "X&Y", the White Stripes' battle with Satan and Kelly Osbourne is "Sleeping in the Nothing" in this week's reviews.
"X&Y," Coldplay
Chris Martin and his bandmates recently found their group thrust into an unusual place for a rock band — a corporate boardroom.
When Coldplay delayed the release of "X&Y," the media giant EMI (which owns Capital, their label) warned that first quarter profits would be down because of it.
Yes, the long wait for the much-anticipated third album from one of the world's biggest rock bands had upset not their fans, groupies or even Gwyneth, but shareholders.
The band has said they went back to the drawing board, shelving the first recording of "X&Y" because it lacked passion and was too precise. Sadly, those are exactly the problems with the final cut.
Coldplay's rise to superstardom has been an unlikely one. With irresistible melody and comfortable lullabies, the British band has become immensely popular with hits like "Yellow," "In My Place," "Clocks" and "The Scientist."
On "X&Y," however, their formula is too obvious to hide: 1. quiet start, 2. swelling chorus, 3. pretty, high singing and 4. some pseudo-poetic line about stars or lights, all to the effect of "it's gonna be all right."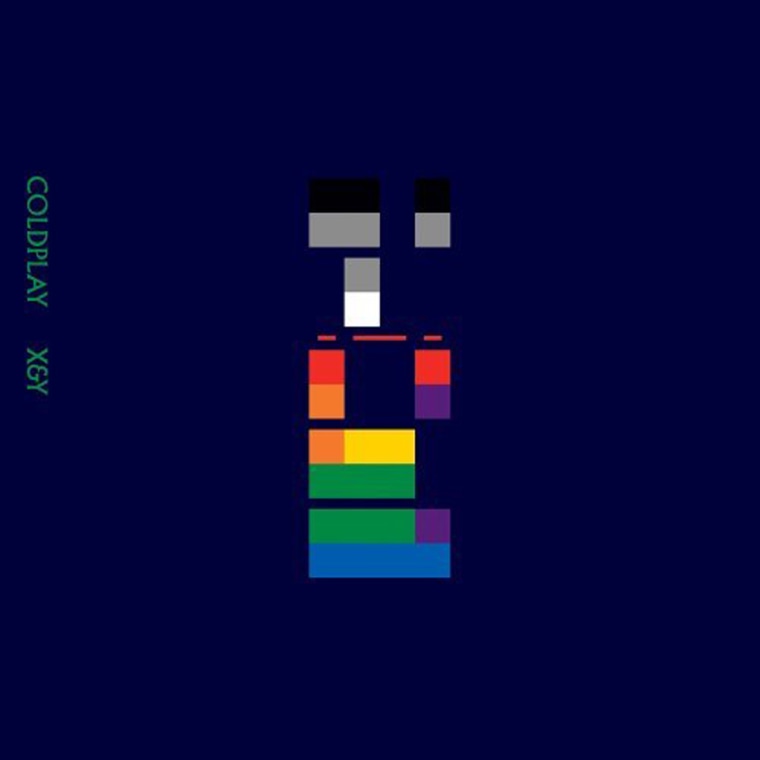 Essentially, Coldplay writes every song for the scene in the movie where the guy rushes across hell and high water to kiss the girl as in the rain. Awwww.
To be fair, there is enough here to please Coldplay fans. Like their last disc, "A Rush of Blood to the Head," the memorable tunes are found on the album's first half.
Of those, "Fix You" is the best. After a precious start, the song rebounds with a Coldplay trademarked burst of symphony and the whole band singing in concert, "Tears stream down your face / I promise you I will learn from my mistakes."
While the standard image accompanying Coldplay is of Martin thrashing at the piano, crooning blissfully, "Fix You" and other tracks illuminate the steady, important guitar playing of Jonny Buckland.
Though he sticks to repeating bright, melody-laden riffs, he still comes up with those riffs. "Talk" is built around one such line, a more somber, echo-y number about the need for, well, a chat.
The first single, "Speed of Sound," is standard Coldplay, founded on an almost '80s piano part. As with most of their songs, it's polished enough to get the job done. But for those who fail to swoon at every time Martin hits those high notes, there isn't much to cling to.
Worse, Martin's lyrics are a veritable laundry list of triteness, complete with "deep end" metaphors, "like a puzzle" similes and, of course, a "ladder up to the sun."
Eventually, lines like "I could write a song / a hundred miles long," and the (one pictures) eyes-closed head-tilt of Mr. Paltrow — add up to a feeling of pretentiousness. That quality (never a stranger to rock bands, least of all, British ones) will at least keep Coldplay out of the boardroom. But it does little for energizing these ballads.
But by the end of "X&Y," you're more likely to be hitting the zzz's.— Jake Coyle
"Get Behind Me Satan," The White Stripes
Jack White, the frontman and brainchild of the blues rock duo The White Stripes, seems to have entered a new phase: Call it "the mustache years."
No longer sporting the signature red and white of years past, White now dons a country-goth look of long, straight black hair and a thin (and slightly creepy) stache. He recently wed model Karen Elson in your standard, Shaman-conducted, Amazon River ceremony aboard a canoe. In a long, grandiloquent message among the liner notes of "Get Behind Me Satan," he writes, "Do yourself a favor and breathe real, get it?"
If White has found fresh perspective and new air to suck, it shows on the group's fifth album. Though the Stripes were already a rare, color-coded combination of retro and new, White has moved beyond previous roots to the band's Detroit garage rock days.
At its peaks, "Get Behind Me Satan" is a euphoric rush of a new, unheard sound. Not stocked in White's typical ripping guitar licks, "Satan" is instead mostly centered on piano stomp and gypsy tambourine.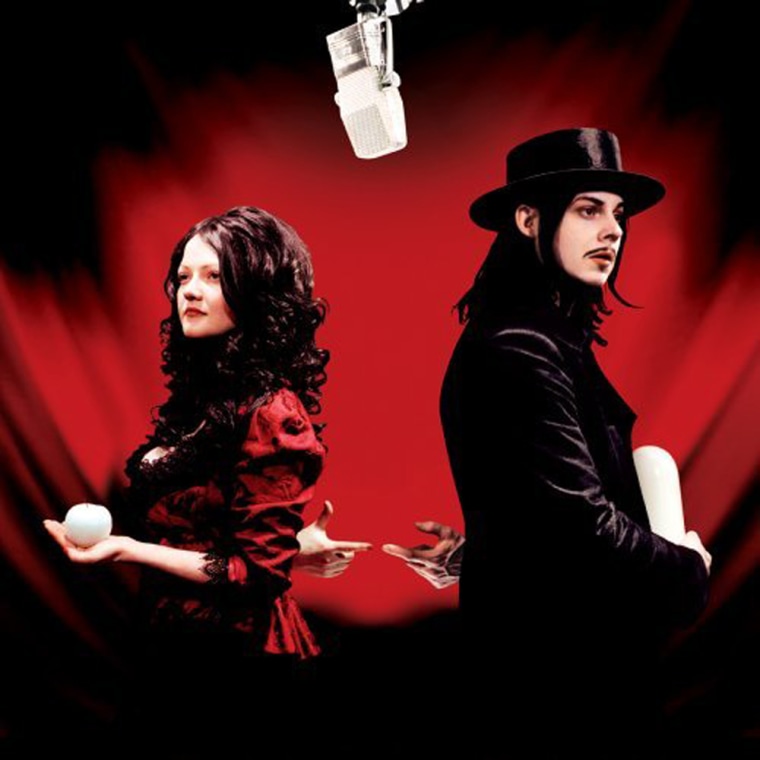 The album, however, begins with more typical Stripes bombast. On "Blue Orchid," the first single, White shrieks over power chords, his falsetto reaching Robert Plant heights as he chases demons away: "Get behind me now, anyway."
But the third track, "Doorbell," is a glorious, just-try-to-stop-your-toes-from-tapping anthem of invitation: "I've been thinking about ma' doorbell _ when you gonna ring it?" Instead of thrashing on his guitar, White is banging out similar, on-the-beat piano chords, mirrored by a pulsing bass.
The effect is only topped by "The Denial Twist" — a song so good that stereos and iPods will simply be unable to play it loud enough.
Through it, White spews a torrent of tell-it-how-it-is leveling. He sings, "You need to spit it out in the telephone booth while you call everyone that you know." The way he groans "spit it out" is comparable to a Buddy Guy note bend, stretching high to get to that grimace-enducing soul that's the heart of the blues.
As a guitar and drums duo, the White Stripes have always kept their music raw and minimal — after all, two people can do only so much — especially when one, Meg White, plays as simple a drums as possible.
What's exciting is that White's country roots (last year he produced Loretta Lynn's Grammy-winning "Van Lear Rose,") have not only yielded backporch twang, but down-and-dirty dancehall classics.
"Satan" otherwise oscillates between bluegrass ("Little Ghost"), more Zeppelin-style rockers ("Instinct Blues") and soft diddies, including the late-night closer "I'm Lonely (But I Ain't That Lonely Yet)" and "Passive Manipulation," sung by the normally mute Meg.
White verges close to cliche sometimes, including an uninspired line to Rita Hayworth: "Oh Rita, Oh Rita, if you lived in Mosquita."
But a song like "Forever for Her (Is Over for Me)" exemplifies that the Stripes are a long way past "Fell in Love with a Girl." It sounds right off The Rolling Stones' "Exile on Main Street."
"Get Behind Me Satan" isn't consistent enough to be in the same league as "Exile," but the new Jack White has taken a step forward — just enough to leave the devil in the dust.— Jake Coyle
"Sleeping in the Nothing," Kelly OsbourneIn her 20 years as daddy's girl to the Prince of Darkness, Kelly Osbourne has had a lot to be depressed about: an adolescence ravaged by reality TV, those oh-so-public rehab visits and her Ashlee Simpson-esque manufactured 2002 debut album "Shut Up."
Surprisingly, those sour notes add richness to her sugary, synthy sophomore effort, "Sleeping in the Nothing." The cherry on top of this electro-clash sundae are the flavorful sprinkles by queen producer extraordinaire Linda Perry, the former 4 Non Blondes frontwoman responsible for scooping out the inner pop star of Pink, Christina Aguilera and Gwen Stefani.
With Perry's guidance, Osbourne has abandoned the wannabe punkiness of "Shut Up" in favor of 80s-inspired dance treats. Think: Duran Duran's throbbing mixed with smacks of Blondie. Anyone who bemoans that Osbourne doesn't realize her rock DNA is partly responsible for her music career should taste the 20-year-old's convincing Veruca Salt — the snotty snob from "Willy Wonka and the Chocolate Factory," not the girl band — impersonation during the syrupy "Secret Lover."
The self-awareness is sweet but at times a total turn off. "Red Light" is a catchy track about driving to rehab while "Don't Touch Me" bombastically tackles date rape. The irony of dance music about harsh axioms is refreshing at first but soon becomes as grating as Osbourne's voice. Does she want us to dance or weep?
Despite Osbourne's often offbeat subject matter and vocal waffling, the disc's gummy licks and beats, reminiscent of contemporary groovsters Felix da Housecat and Fischerspooner, pop in all the right places. "One Word" and "Uh Oh" have the guilty pleasure deliciousness of your favorite candy bar. Like taffy in your teeth, the silly chorus of "Uh Oh" will be stuck in your head for days.
"Sleeping in the Nothing" is a yummy departure from "Shut Up," but Osbourne still has a long way to go before she earns street cred. The 10 songs on "Sleeping" won't prompt even the brattiest of dance lovers to beg, "I want it now, daddy."— Derrik J. Lang
"Marbletown," Blue HighwayRecently deceased bluegrass pioneer Jimmy Martin can rest in peace knowing the genre is thriving. Fans have enjoyed excellent new CDs in the past few months by such acts as Crooked Still, NewFound Road, Last Train Home, Old School Freight Train and Danny Roberts, among others, and the latest release from Blue Highway may be the best of the bunch.
"Marbletown" offers 12 songs that showcase the 10-year-old quintet's remarkable singing skills. Tim Stafford and Shawn Lane handle most of the lead vocals, but all five members provide harmonies in an engaging variety of combinations.
There's plenty of impressive picking, too, and the material is first-rate — 10 original tunes and two covers, including the title cut by the Dire Straits' Mark Knopfler. Among the highlights are Lane's mournful ballad "Tears Fell On Missouri," Stafford's biographical "Wild Bill" — which breaks into a rootsy reel in the middle — and the instrumental "Three-Finger Jack," two minutes of bluegrass heaven. Jimmy Martin's loving it.— Steven Wine