Tough-guy Clint Eastwood might not initially seem like the right director to transform the story of doo-wop/pop act Frankie Valli and The Four Seasons from a Tony-winning Broadway musical to the big screen. But as Eastwood told TODAY Monday, his choice to direct "Jersey Boys" came out of a real appreciation for their unique sound — and an identification with the way they were underestimated early on.
"There's always that starting out where nobody believes in you, and you're the only person who believes in you, and then something good happens," he said.
Eastwood got his early start on TV and in "spaghetti Westerns" as a cowboy, but it took a long time before he could get recognized in Hollywood for his real talents. "There is that point in time when you're the one who has to be out there and you're having a lot of cigar smoke blown in your face, and people telling you, 'Get out of my office, kid,'" he said.
Sign up for top Entertainment news direct to your inbox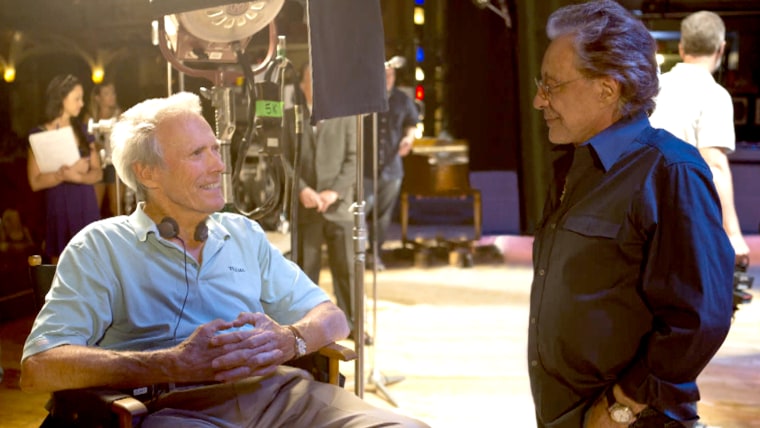 Valli and the Seasons, similarly, had to battle to get out of the projects where they grew up and often made missteps along the way — including making deals with local mobsters, as the movie shows. But in the end they became major hitmakers, and in the process earned Eastwood's affection despite his stated preference for jazz over rock 'n' roll. 
"It was best music of that era," said Eastwood. "'Can't Take My Eyes Off of You' is probably the nearest thing to a classic kind of music where it will last forever."
Speaking of long-lasting memories, Eastwood has not abandoned his early days doing those spaghetti Westerns — during his chat with TODAY's Natalie Morales, he revealed his phone's ringtone is the theme to his 1967 movie "The Good, the Bad and the Ugly."
"Jersey Boys" opens in theaters on June 20. Be sure to keep your eyes peeled for what Eastwood called his "Hitchcock moment" — a very brief cameo.