Classic Comedies Collection
Undoubtedly, you have heard people lament, "They don't make movies like they used to." Well, here is the evidence.
"Classic Comedies Collection" is a boxed set of six films on DVD with crisp and witty writing, masterful direction and impeccable performances. They are as brilliant and delightful today as they were in their heydays, and they put most of the so-called comedies released today to shame.
The six titles are "The Philadelphia Story," "Bringing Up Baby," "To Be Or Not To Be," "Stage Door," "Dinner At Eight" and "Libeled Lady."
Of this half-dozen, only two are given the deluxe treatment on their DVDs. "The Philadelphia Story," starring Cary Grant, Katharine Hepburn and James Stewart, is a national treasure. Hepburn bought the rights to Philip Barry's stage play about a socialite who is about to get married but has second thoughts after intrusions by her ex-husband (Grant) and a magazine reporter (Stewart).  Hepburn handed the project over to her favorite director, George Cukor.
The result is one of the smartest and most skillfully crafted comedies ever. Donald Ogden Stewart won an Oscar for his adapted screenplay, as did Stewart for best actor in a leading role.
"The Philadelphia Story" is released in a two-disc special edition that includes an excellent commentary by film historian Jeannine Basinger as well as two fine featurettes on Hepburn and Cukor.
"Bringing Up Baby" is considered by many to be the best screwball comedy ever and one of the best comedies ever, although it did not do well in original release. Directed by Howard Hawks, it stars Hepburn as a wacky heiress and Grant as a buttoned-down paleontologist who grapple with their feelings for each other while babysitting Baby, a tamed leopard. It's a deft mixture of elegance and farce, and although it was made in 1938 it feels just as fresh and original today as it did then.
This is also presented in a two-disc edition. There are two enjoyable documentaries on Grant and Hawks, but the commentary by director Peter Bogdanovich is the real bonus here. He interviewed Hawks a couple of times over the years, and he does a Hawks impression, so he often reconstructs his conversations during the commentary.  He's full of info, including how Hepburn was fearless working with a leopard, whereas Grant was frightened enough that they had to shoot around him in scenes where the cat was present.
The other four films don't get special treatment here, which is too bad. One that cries out for more extras and a commentary is "To Be Or Not To Be," one of the most underrated films of the era. It stars Carole Lombard, Jack Benny and Robert Stack in a comedy with serious overtones that takes place in Poland during the Nazi occupation. It was directed by Ernst Lubitsch, he of the celebrated "Lubitsch touch," a term that inspired followers such as Billy Wilder and Cameron Crowe.
The other three titles are worth savoring as well. "Dinner At Eight" is another Cukor work, this one an ensemble piece centered around a Manhattan dinner party. "Stage Door," nominated for Best Picture in 1937, stars Hepburn and Ginger Rogers in a tale of aspiring Broadway performers. "Libeled Lady," another best picture nominee (1936), features Spencer Tracy as a newspaper editor who concocts an elaborate plan to beat a libel suit slapped on him by Myrna Loy. It also stars William Powell and Jean Harlow.
If you're growing tired of the brainless comedic fare spilling out of Hollywood these days, pick this up and it will restore your faith in motion pictures.
Warner Home Video,  $68.98
"Finding Neverland"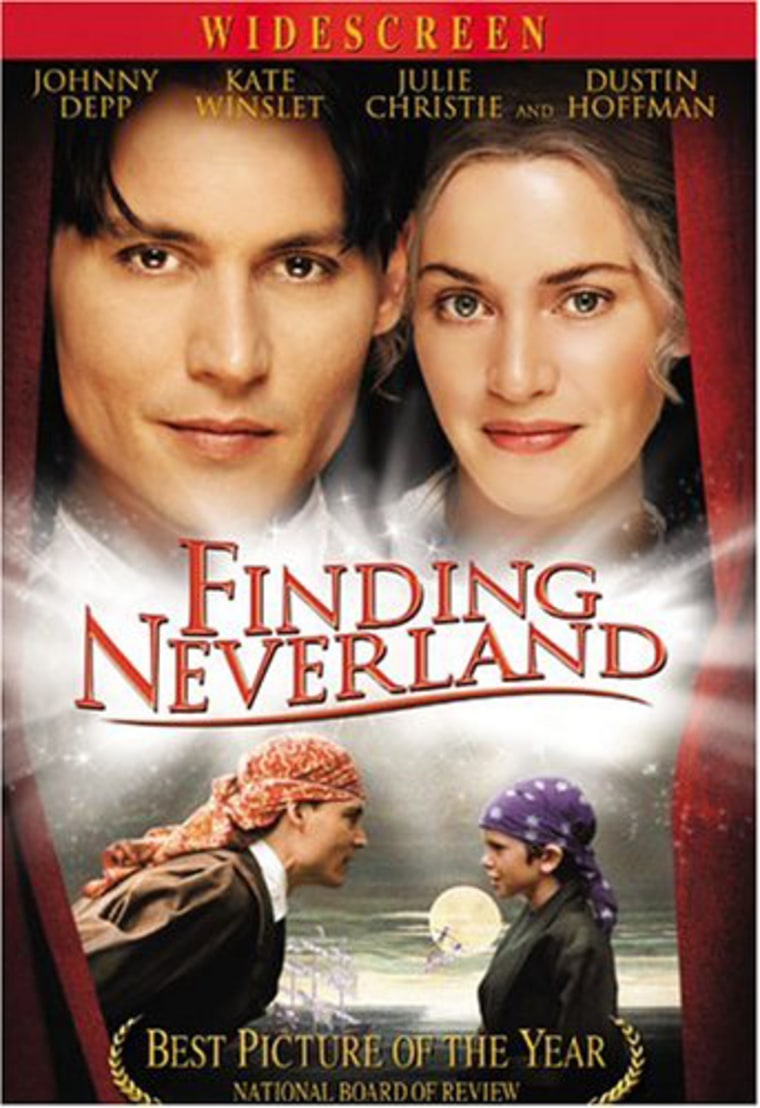 Among the five Academy Award nominees for best picture of 2004, "Finding Neverland" probably maintained the lowest profile. It was not a reflection of its worth, but rather the result of the overwhelming amount of attention paid to the other four, especially "Million Dollar Baby" and "The Aviator." An intelligent, charming, poignant and moving look at the creator of "Peter Pan," "Finding Neverland" got its due, but not much more.
Based on a play by Allan Knee called "The Man Who Was Peter Pan," it tells the story of playwright J.M. Barrie (played exquisitely by Johnny Depp) whose career is sagging. He meets a widow with four young boys, and they form a deep bond. It is Barrie's interaction with the family that inspires him to conjure up a fantasy tale about a boy who can fly.
Directed by Marc Forster ("Monster's Ball"), "Finding Neverland" is a wonderfully realized story of love and imagination that is helped tremendously by strong production design and visual effects that complement the picture without overwhelming it. Depp received an Academy Award nomination for best actor, as did David Magee for adapted screenplay. Kate Winslet, who plays Sylvia the widow, is also excellent.
"Finding Neverland" is out on DVD — in both widescreen and full screen editions — with a decent number of extras, but this is also low-key as far as high-profile video titles are concerned. There are deleted scenes with optional commentary that are OK, a pleasant enough commentary track featuring Forster, Magee and producer Richard Gladstein who have fun recounting their experiences on the project, and two making-of featurettes. The first is standard-issue, with everybody complimenting each other. The second is much more informative, as it delves into the creation of the visual effects and the look of the film. The people responsible for the effects, production design and cinematography are the unsung heroes of this project.
For those of you who missed "Finding Neverland" in theaters because you just put it on your list, but toward the bottom, now is the time to make it a priority.
Buena Vista Home Entertainment,  $29.99