Haley Lu Richardson landed the job of a lifetime.
Sure, she's on "The White Lotus," but she also got a pretty cool side hustle, being tapped to serve as the official Jonas Brothers correspondent when the band kicked off the Citi Concert Series on TODAY on May 12.
"I can't feel," she told TODAY when asked how she was feeling before she got to work reporting.
Here are some of the other memorable moments from Richardson's gig as a correspondent.
Video star
Richardson appeared in the Jonas Brothers' video for their song "Wings," with the band joking on the 3rd hour of TODAY that "she found us."
"Yeah, I'm a big fan," she said when talking about her love of the band.
As for how she got the plum job of being in a video for the group, Richardson said they contacted her.
"Joe called me. Joe called my cell phone, my actual cell phone," she said, in disbelief at the memory.
Speechless
"They're amazing. So talented. Eleven out of tens. Killing it," she told TODAY's Dylan Dreyer when discussing the Jonas Brothers' performance.
"You're really without words," Dylan told her.
"Oh, yeah. Did I say words?" Richardson replied.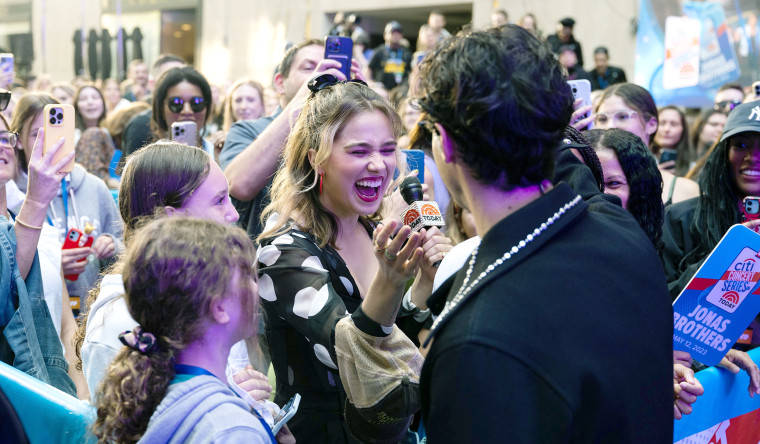 Hug it out
Joe Jonas took a moment to give Richardson — who may have been crying — a hug after spotting her in the crowd before the concert.
"I'm proud of you," she said.
Love is in the air
Richardson also greeted the Jonas Brothers as they walked by her before the concert.
"I love you, Kevin. I love you, Nick. I love you, Joe," she gushed.
Richardson announced May 11 on TODAY that she would take on the gig and she sure seemed like the ideal candidate. She said she met the band when she was about 12 and has been to nearly 15 concerts, in addition to starring in the video for "Wings."
"(I'm) trying just to be functional and not cry and pee my pants," she joked about being a correspondent at the concert while appearing on TODAY May 11.