Darius Rucker is on stage warming up to play TODAY's Citi Concert Series, casually singing "Beers and Sunshine" with his hands in his pockets. 
Wearing a black T-shirt, jeans and snakeskin cowboy boots before 7 in the morning, Rucker seems right at home on the TODAY Plaza — and it's no surprise. He's played on TODAY numerous times before, first as the lead singer to the '90s rock band Hootie and the Blowfish, and then as his solo country music act over the past 15 years.
On this sunny September day, I'm one in a crowd — but Rucker's music feels personal. Today's concert marks my fourth time seeing the Grammy winner perform. His music has been the soundtrack to my last 25 years — through my marriage's evolution and seeing my kids, now 21 and 24, grow up.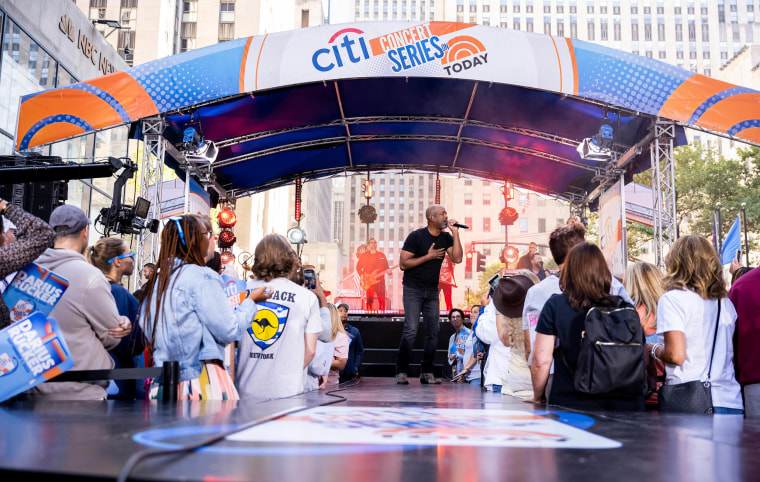 I also feel like I've witnessed the evolution and growth of Rucker's career, not just from rock to country star but from a partying 20-something to a proud dad of three who was so sad to recently drop his youngest at college that he described the experience as "just awful."
Watching him now, spitting distance from the stage, is surreal, and takes me back to that first concert. 
1997, Florida. There was a notice in the local newspaper announcing that Hootie and the Blowfish would be doing a pop-up show at a tiny music venue in downtown Fort Lauderdale. The band hit the small stage belting out popular songs such as "Hold My Hand" and "Only Wanna Be With You," and the crowd was electric. The show was especially meaningful for me at the time because my then-fiancé, Brian, was literally "holding my hand" and we both knew the words to all the songs. 
After sound check at 30 Rock, the crowd simmers as we wait for the real concert to begin. An hour and a half (and a Starbucks coffee break) later, it does. Rucker and his band begin the concert with a new song, "Fires Don't Start Themselves," from his upcoming album, "Carolyn's Boy," out in October.
"I wanted to name the record "Carolyn's Boy" because Mom never got to see any of my success."
Darius Rucker told today's craig melvin in 2022
"Carolyn's Boy" is a tribute to his single mom, Carolyn Rucker, who was a nurse. She died in 1992, and while she got to see Rucker's success with Hootie and the Blowfish, she never saw his ascension in country music.
"I wanted to name the record 'Carolyn's Boy' because Mom never got to see any of my success," Rucker told TODAY's Craig Melvin in November of 2022. "She died before any of this happened, so it's just another homage to the greatest woman I've ever known."
Melvin — who shares a South Carolina lineage with Rucker and has known him closely since 2007 — is one of the singer's biggest supporters. He introduces Rucker to the TODAY crowd as "the pride of South Carolina," and as he watches his friend perform, he mouths the lyrics.
So do the hundreds of fans in attendance.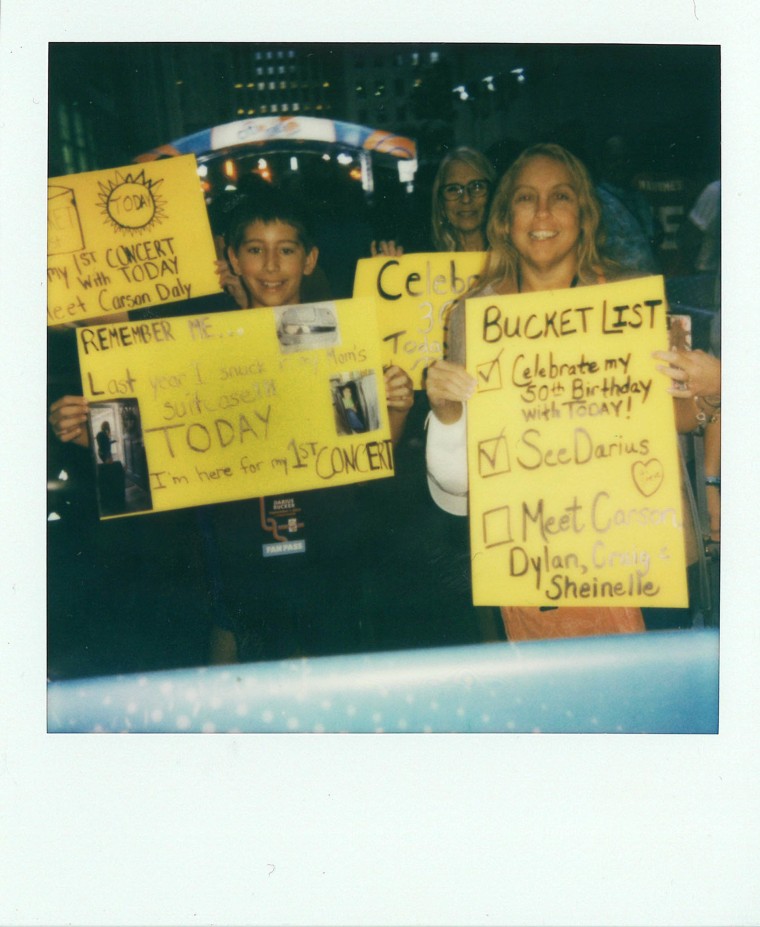 Allison Urtell, 60, of Edison, New Jersey, has been listening to Rucker since Hootie and the Blowfish. Carissa Gurgul, 25, got her mom, Beth, into Rucker. Seeing their intergenerational bond over music reminds me of another concert memory — this time, with my own daughter.
2017, Washington. Brian and I went to Watershed, a three-day summer country music festival, where Rucker was a headliner. It had been 20 years since we'd first seen him. In that time, we had married, raised two kids and moved across the country. Seeing Rucker (who had also married and had three kids by then) was comforting. We could relate to the Darius who was a dad wearing cowboy boots. As we watched his high energy performance, a familiar face popped up onto the jumbo screen featuring Rucker. It was our 17-year-old daughter, who had made her way through the crowd to the stage's edge. I still have the photo I took of them.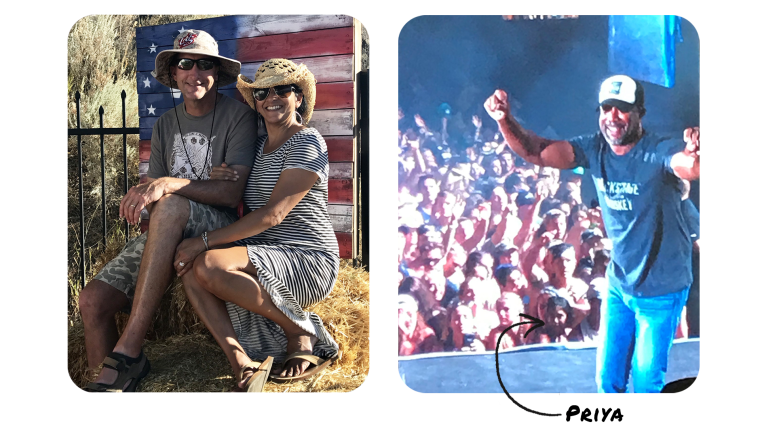 When asked what it is about Rucker that has enabled him to transcend generations and genres like few others in music have, Melvin has a theory.
"He loves music and he loves writing. His transcendence of genres? That's a testament to that," Melvin tells TODAY.com, adding that he feels Rucker has not fully gotten his due for opening doors to other non-traditional country artists.
"He loves music and he loves writing…his transcendence of genres? That's a testament to that."
Craig melvin  tells TODAY.com
"If you really think about Black country artists, you had Charley Pride. And then you had a couple of decades of a gap there. All of a sudden, (Darius) comes along. And then after Darius, you have all these other artists of color who are being widely accepted by … a genre that up until that point, had not been known to accept artists that didn't look like them."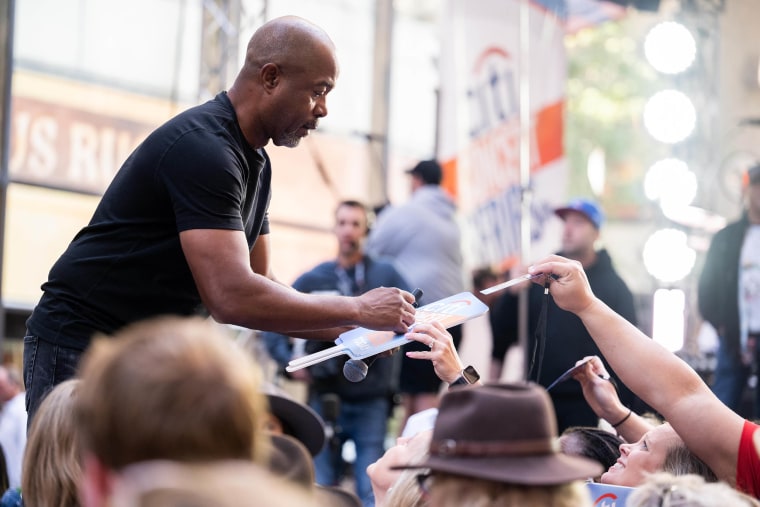 2022, Ohio, where we moved for a new job. That Christmas, I got Brian a splurge gift: Third row tickets to see Darius Rucker at the intimate Palace Theater in downtown Columbus, Ohio. It had been five years since the last time we saw him. This time, up close, we saw his polish and versatility. He started in his cowboy boots singing his country hits, then deftly changed into a tux singing a Frank Sinatra medley of "Summer Wind"/"Come Fly With Me". The pièce de résistance (for Ohioans, anyway) was that he brought on some members of The Ohio State University Marching Band to accompany him. 
Rucker thrills the TODAY crowd with "Have A Good Time," but the concert isn't over until he finishes with his Grammy-winning "Wagon Wheel" cover. After it's done, he spends a generous amount of time signing autographs and interacting with fans with high-fives and selfies.
After nearly three decades of listening to Darius Rucker's music, this experience has left me as impressed as ever. With "Have A Good Time" still ringing in my ears, I realize how perfectly the lyrics of the song truly capture not only my marriage but how I strive to live my life:
Ride the lows, chase the highs
Fall in love and love this life
Place your bets, no regrets
And don't forget to have a good time