Sure, some Christmas songs are worth a listen -- check out our list of 10 that aren't completely lame. But others .. hoo boy, hear them once and you're diving for the extra-strength candy-cane-striped holiday Advil. Which doesn't exist, but should.
According to Jennifer Rutherford, a California collector of terrible holiday songs (she owns more than 600), bad Christmas tunes should be divided into two piles. Call them naughty and nice, or perhaps "good tacky" and "bad tacky."
"I consider 'Grandma Got Run Over By A Reindeer' to be good tacky because it's a joke," she told TODAY. "'Christmas Shoes' (however) is meant in all terrible sincerity and yet everyone hates and makes fun of it. Bad tacky."
"Christmas Shoes" is a song released in 2000 by the band NewSong and later covered by country group 3 of Hearts. It's based on an urban legend about a boy who lacks the money to buy a pair of new shoes for his dying mother. The song's narrator supplies the extra money so the boy's mother can wear the shoes, "if Mama meets Jesus tonight." A book and a TV movie both based on the song came out in 2002.
"(The) audience (for 'Christmas Shoes') is intended to actually like it and find it touching," says Rutherford, "However, in most people it provokes a divine rage, gasps of horror, and a brilliant rant by Patton Oswalt. Bad tacky is like finding syrupy angel statues in a country store. You're supposed to find it cute and enjoyable, but all you feel is nausea."
On the "good tacky" side, Rutherford likes parody and humor songs of the type you might hear on Dr. Demento's (now online-only) radio show. She says she thinks of "Grandma Got Run Over By a Reindeer" as the start of the "good tacky" movement in holiday songs.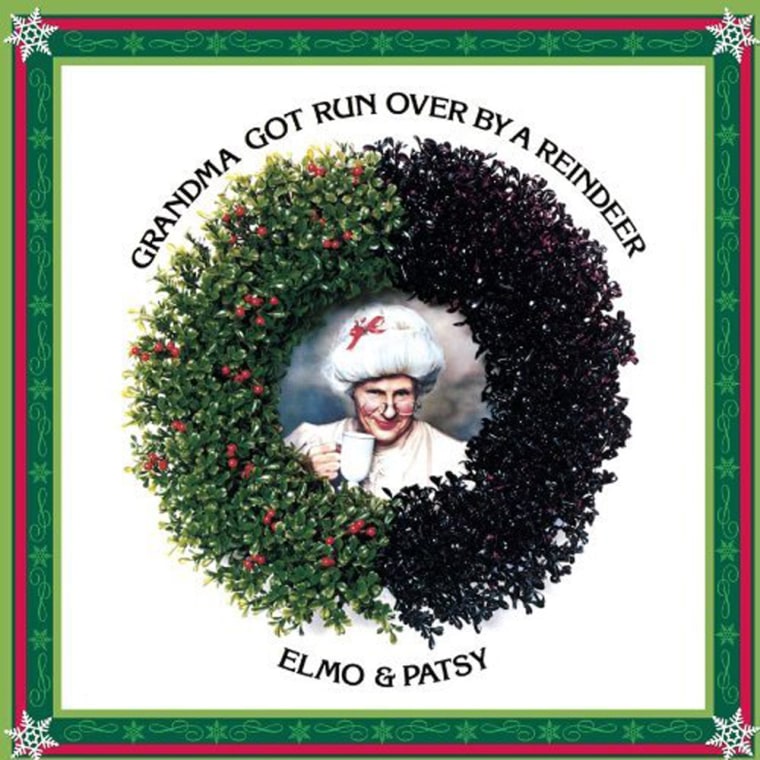 "Grandma" is a 1979 novelty song sung by then-husband-and-wife duo Elmo and Patsy, and the title perfectly summarizes the plot. ("You can say there's no such thing as Santa, but as for me and Grandpa, we believe," run part of the lyrics.)
"'Grandma Got Run Over By A Reindeer' is supposed to be a joke, you are supposed to be amused by it. It's silly and tacky, but in a fun way," Rutherford says. "It's like buying products at stores like Spencer's Gifts -- you know it's supposed to be amusing kitsch."
Here are some of Rutherford's other nominations, for both the good and bad tacky lists.
Good tacky:
1. "Grandma Got Run Over by a Reindeer"
2, "Christmas Is All Around," performed by the character Billy Mack in the movie "Love Actually."
Says Rutherford: "Billy Mack is incredible at making a putrid product that makes you laugh, because he's in on the joke."
3. "Teach Me How to Understand Christmas," performed by the character Annie Edison on "Community."
Rutherford calls this one an "amazing horror of a song," explaining that it "takes the concept behind the song 'Santa Baby' to its hellish logical conclusion."
4. "Dang It, I'm Vixen," performed by Hometown on the album "Truckers Christmas."
The whole album is a treat, says Rutherford, noting that other song titles include "Christmas Comes on Eighteen Wheels" and "Santa, Bring Me a Brand New Dream Machine." In this song, she says, reindeer Vixen "thinks Rudolph has become a suckup and a snob, and he's looking to kick some reindeer booty."
Bad tacky:
1. "Christmas Shoes"
2. "Little Drummer Boy," by numerous artists.
Yes, a classic to many, but as Rutherford notes, it's ruined by three things. "What brand new mother wants you playing a drum around the baby?" she asks. "(Also), in almost all recordings I've ever heard of this song, THERE ARE NO DRUMS." She also points out that "Pa-rum-pa-pum-pum is a funeral dirge-y chorus that drags through your head like Marley's chains."
3. "A Walking Talking Christmas Tree," by Gene London.
Rutherford calls this lesser-known gem "so twinkly and treacle-y that you want to vomit at its cuteness within the first few seconds. " The topic of the song also bothers her. "The writer of this song never thought about is how horrible it would be to be a sentient tree," she says. "That tree has been CUT DOWN, folks. It lives in your house for a few weeks and then you kick it to the curb in January. You really want that poor tree to be walking and talking around your house? You think that tree is gonna be happy about that?"
4. "Baby It's Cold Outside."
"This is a song covered by many people in many different ways," Rutherford says. "Depending on who's doing it, it can come out sweet to tacky to OH DEAR GOD HE'S PUTTING ROOFIES IN HER DRINK." Although there are many versions, Rutherford especially is creeped out by one sung by John Lithgow and Bebe Neuwirth.