Read by Tom Brokaw and illustrated by Robert T. Barrett, "Christmas from Heaven" is the true story of Gail Halvorsen, a US Army Air Corps pilot whose acts of kindness towards the children of Soviet-blockaded Berlin, Germany served as a beacon of hope and an inspiring symbol of good will for a region plagued by war. Here's an excerpt.
On Christmas Eve, 1948, somewhere between Wiesbaden and Berlin, a twenty-seven-year-old American pilot gazed into the night sky.

The heavens were so full of stars, it seemed they would overflow and tumble to earth in a brilliant display of Christmas generosity and joy.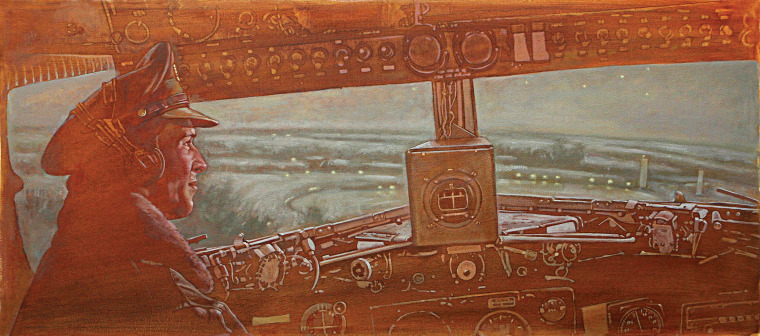 Hal, as he was known to his crew, wrapped his hands around the yoke of his C-54 cargo plane packed with 20,000 pounds of flour. "This is the real spirit of Christmas," he thought to himself as he guided his plane toward Tempelhof Air Base in West Berlin.

When World War II had ended three years earlier, Germany and its capital city were divided between the Western allies and the Soviet Union. Then, in a grab for power, Stalin blocked ground transportation into the city. To preserve freedom and keep two and a half million West Berliners from starving, the United States and Great Britain began transporting food and other basic supplies by air.
Hal was one of hundreds of Americans who participated in the historic Berlin Airlift, which was called "Operation Vittles."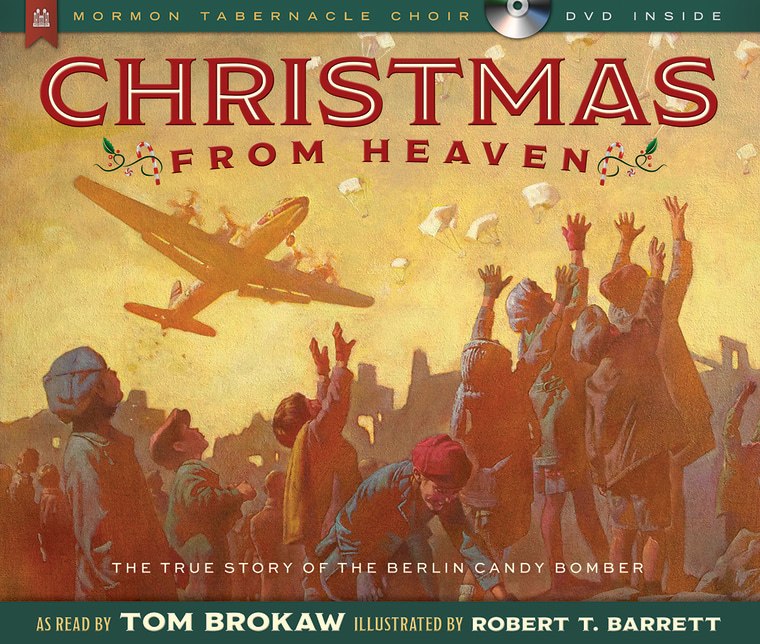 That snowy Christmas Eve, as Hal radioed for clearance to land, his mind wandered back six months to the day that had changed his life. He had been standing at the end of the Tempelhof runway, taking home movies of arriving planes, when he noticed about thirty children on a grassy strip just beyond a barbed wire fence. In broken English, they asked about the planes, how much flour each one carried, and whether the airlift would continue. Although the children had been on meager rations, they were more concerned with freedom than with flour. They wanted what Hal had always had—the opportunity to pursue their dreams.
For nearly an hour Hal answered their questions before saying good-bye. As he turned away, one question lingered in his mind: "What makes these kids different?" All over the world, children were known to beg candy from American servicemen. These children had little to eat, and no candy at all, yet they were grateful for what the airlift had given them and asked for nothing. Their gratitude melted Hal's heart.
Instinctively he wanted to give something back. Digging into his pockets, he found only two sticks of gum. "From little things come big things," his father used to say. A broad smile crossed Hal's boyish face. Giving so little to so many could cause a squabble, he reasoned. But a quiet voice within him urged him on.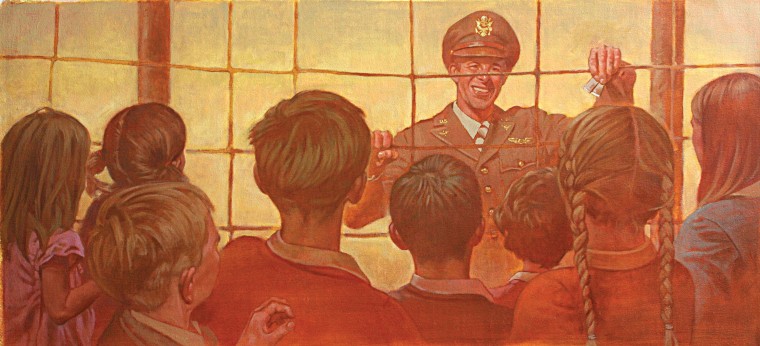 Hal broke the gum into four pieces and passed it through the fence.

Without a word, the four children tore the gum wrappers into strips and passed them to the others. One by one, each small nose was pressed to the paper, breathing in the minty smell. Never had he seen such expressions of joy and wonder, even at Christmas.
As Hal watched in amazement, his mind raced. "If only I had more to give!" he thought. He had his own rations of gum and chocolate. Maybe his buddies would be willing to donate theirs. Just then another C-54 roared over his head and an idea formed in his mind. "I could drop candy from the air," he said to himself.
——

This was the beginning of an extraordinary humanitarian endeavor that brought the spirit of Christmas to a world in need of peace and hope, earning Hal Halvorsen the nickname "The Candy Bomber." Read the rest of the story in Christmas From Heaven.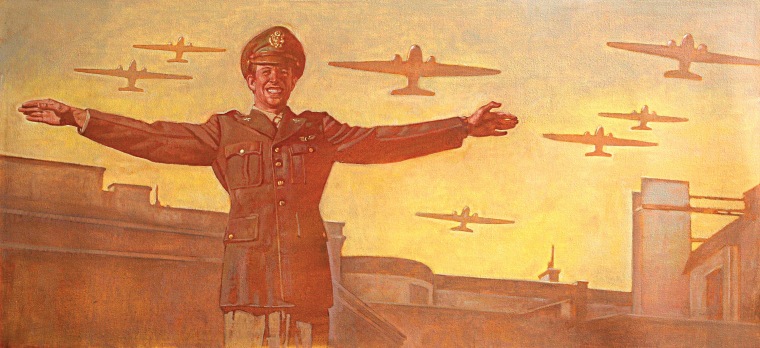 The Candy Bomber

Colonel Gail S. Halvorsen was born in Salt Lake City, Utah, and grew up on small farms in Utah and Idaho. He earned a private pilot license under the non-college Civilian Pilot Training program in September 1941, and then joined the Civil Air Patrol as a pilot. He joined the United States Army Air Corps in June 1942 and trained as a fighter pilot with the Royal Air Force. He then returned to the Army Air Corps and was assigned flight duty in foreign transport operations in the South Atlantic Theater.
Following the end of World War II, Russia laid siege to Berlin, cutting off the flow of food and supplies into the city. The blockade began in June 1948 and continued into May 1949. Gail Halvorsen was one of hundreds of US pilots used in a massive airlift to provide sustenance to the people of Germany. He became known as Uncle Wiggly Wings, the Chocolate Flyer, and the Berlin Candy Bomber.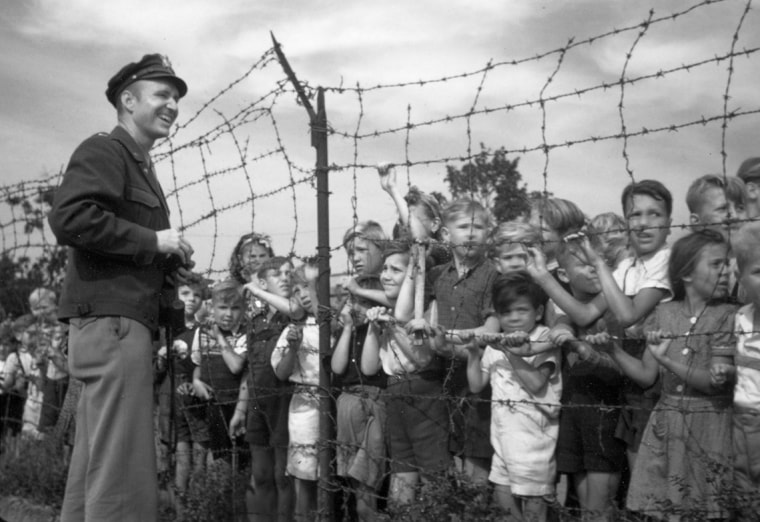 His efforts made a substantial impact on the post-war perception of Americans among the German people. Since then, he has returned to Germany many times, including an assignment as commander of Tempelhof Air Base in western Berlin. In 1974 he was awarded the German Service Cross to the Order of Merit from the Federal Republic of Germany, one of Germany's highest awards. The Gail S. Halvorsen Elementary School at Rhein-Main Air Base in Frankfurt, Germany, was named in his honor. In 2013, Colonel Halvorsen was present when a secondary school in the Berlin suburb of Zehlendorf was also named in his honor. This marked the first time a school in Berlin has been named after a living namesake. He served in the US Air Force for thirty-one years, much of that time spent in research and development in the space program. After his Air Force career, he was assistant dean of student life at Brigham Young University from 1978 to 1988.

Col. Halvorsen married Alta Jolley of Zion National Park, Utah, in 1949. They are the parents of five children, twenty-four grandchildren, and forty-one great-grandchildren. Following Alta's death in January 1999, Gail married his high school sweetheart, Lorraine Pace. A member of The Church of Jesus Christ of Latter-day Saints, he has served in many leadership positions, including callings as a bishop, stake president, and high councilor. He and his wife Alta served LDS missions to England, Russia, and the Joseph Smith Memorial Building in Salt Lake City, Utah.
Excerpted from "Christmas from Heaven: The True Story of the Berlin Candy Bomber," as read by Tom Brokaw and illustrated by Robert T. Barrett. Written for the Mormon Tabernacle Choir by David T. Warner © 2013 Intellectual Reserve, Inc. All rights reserved. Published by Shadow Mountain (ShadowMountain.com).