Christine Brown seems to be basking in the glow of her new relationship.
The reality star has found love once again after leaving Kody Brown, her husband of over 25 years, and their plural marriage.
On Thursday, the 50-year-old shared a sweet video of herself dancing with Woolley in the kitchen and captioned the post, "I love having someone to dance with me in the kitchen."
Brown also added several romantic hashtags like #finallyhappy, #loveofmylife and #thisismyyear.
Woolley shared the same clip on his own Instagram story and added the following caption and a heart emoji: "I'll dance with you anytime (sic)." He also commented on Brown's post, writing, "I will always dance with you my Queen."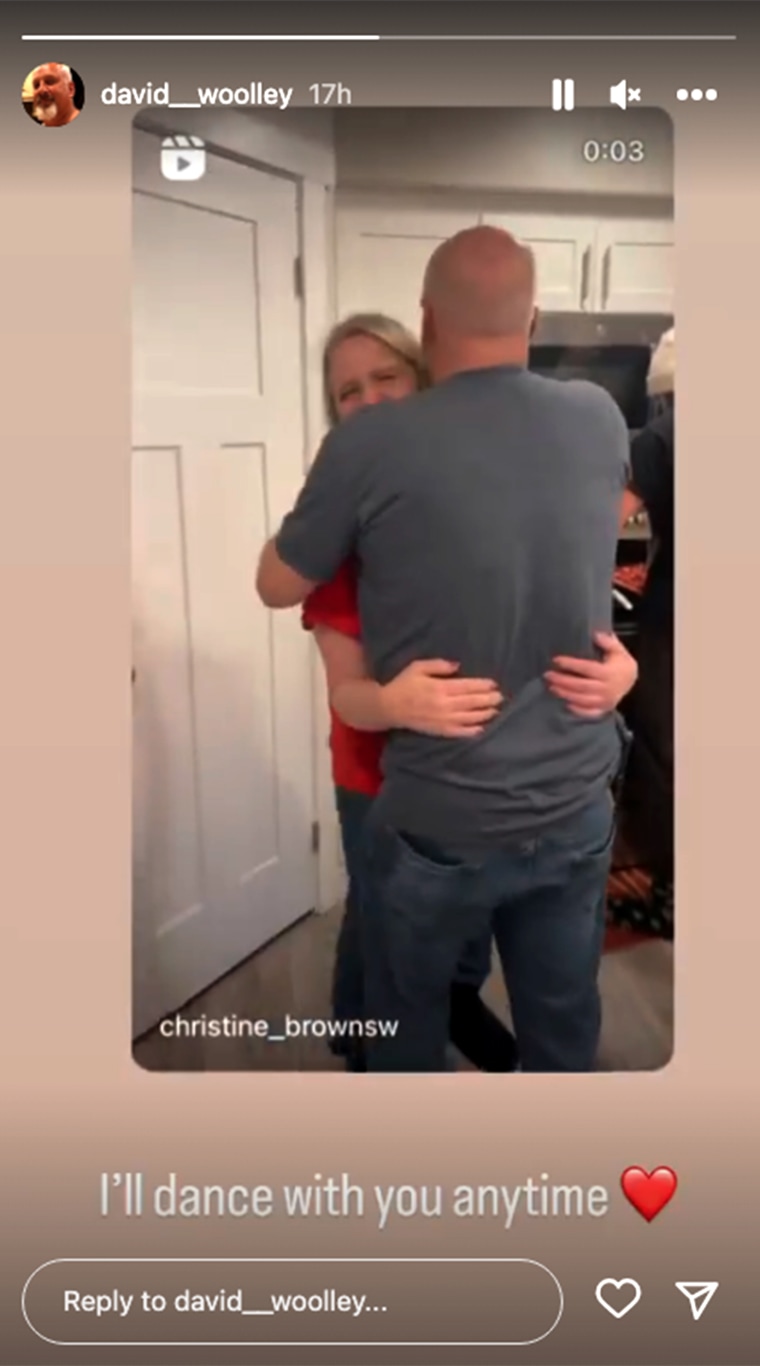 The reality star's followers were delighted to see her happy and took to the comments to share their well wishes.
"He's handsome Christine," one wrote. Another commented, "Can we have a spin off series? .. Christine's HappyEverAfter."
Earlier this week, the mother of six introduced her fans to Woolley by making their relationship Instagram official on Valentine's Day.
"I finally found the love of my life, David. The first time he held me close, it felt like my soul took its first breath," she captioned the post. "He's wonderful and kind, incredible with my children and an adorable grandpa. I never dreamed I could find a love like this."
Since then, Woolley has also posted several photos with Brown on his own Instagram page.
In one post this week, Woolley shared a solo photo of Brown rocking a hat and striking a pose.
"When I'm with you, we just sit in our own little bubble and the world can go around us and we're just standing still and it's perfect and I have never felt like this before," he wrote.
"I'm the luckiest guy, thank you for finding me. Love, your king," he continued.
Brown replied, "Thanks my Love! I'm blessed to have you as my Man! #myking #soulmate #mylove."
Fans are on board with their bond. "And just like that, David becomes the new favorite cast member of 'Sister Wives,'" someone wrote on Woolley's post of Brown in a hat.
Brown has been sharing snippets of her dating journey since leaving her plural marriage.
In December, she told TODAY.com that she was feeling confident as she prepared to search for love.
"I don't know if it's because I'm taking the right supplements or eating right, working out again. Gosh, it feels so good. Or just because I'm free and I'm living my life for me," she said. "I think that's what it comes down to: I just realized I'm a goddess.
She announced that she was "dating someone exclusively" on Feb. 8, describing him as "wonderful and romantic and so kind and everything I've been looking for."
Season 17 of "Sister Wives" focused heavily on Brown's breakup with Kody. Although she has since relocated to Utah with her 12-year-old daughter Truely, the reality star recently revealed that she will still appear in future episodes of the TLC show.