On "Mad Men," Christina Hendricks plays office manager-turned-executive Joan Harris, who has a way of getting what she wants — usually without caring about what everyone else thinks. In real life, Hendricks can relate, as the award-winning actress revealed an agency let her go for pursuing her critically acclaimed role.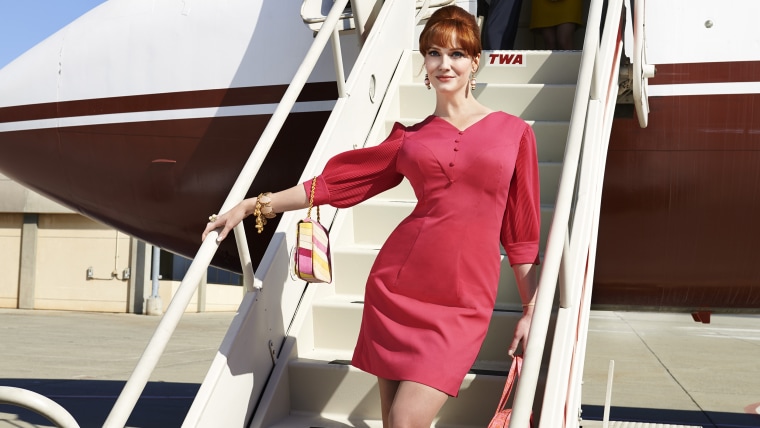 "[The agency] said, 'It's a period piece, it's never going to go anywhere," the actress told The Guardian in an article published Saturday. "We need you to make money and this isn't going to make money.' They ended up dropping me."

A two-time Critics Choice Television Awards winner for Best Supporting Actress in a Drama Series, Hendricks said she sought the role regardless, because she was willing to take a risk on a passion project.
"I had been on several shows that were meant to be the big ones, that would go on forever, and they didn't," said Hendricks, who was on series like "Jake in Progress" and "Kevin Hill." "So, there was no sure bet and I'd already taken a chance on them and I felt, why not do the one you're in love with and take a chance on that?"
In the article, Hendricks also discusses her childhood ("I felt scared in high school. It was like 'Lord of the Flies.'") and her reaction to Philip Seymour Hoffman's death ("I knew he'd had problems in the past but I really did think it was in the past").
She'll learn if she'll take home her first Emmy Awards when Seth Meyers hosts the ceremony on Aug. 25. Nominated five straight years for Outstanding Supporting Actress in a Drama, Hendricks will face off against Christine Baranski ("The Good Wife"), Joanne Froggatt ("Downton Abbey"), Anna Gunn ("Breaking Bad"), Lena Headey ("Game of Thrones") and Maggie Smith ("Downton Abbey").
Follow TODAY.com writer Chris Serico on Twitter.