/ Source: TODAY contributor
Those who say Heath Ledger's tragic death from a drug overdose was somehow related to the late actor's work playing the Joker in upcoming Batman epic "The Dark Knight" are ignorant and wrong, the film's star said Monday.
"Personally, I find it to be a complete lack of understanding of acting," Christian Bale told TODAY's Matt Lauer in New York. "I also found it very rude to try to create some kind of a sound bite for such a tragedy. The man was a complex man, he's a good man. I saw him as having nothing but the best time playing the Joker."
Ledger's Joker is a pure agent of chaos, a mad genius with no agenda other than to expose the madness of humankind. After he died on Jan. 22, shortly after completing filming of "The Dark Knight," some speculated that in portraying the character, the 28-year-old star had crossed the line between reality and fantasy.
"He was somebody who immersed himself completely in his role — absolutely, as do I," Bale told Lauer. "But at the end of the day, he was having a wonderful time making this movie. I say he couldn't have been happier doing it."
Villain vs. vigilanteBale said that Ledger's Joker is indeed a villain unlike any other. And he pushes the Batman right up to the line between protector and vigilante.
"Everybody else, the mob — what are they looking for? They're looking for money. You can buy them," Bale said. Not so with the Joker. "When you come across someone like the Joker, he is in it purely for the chaos. He wants to highlight the hypocrisy of society, how much they emulate heroes, but when they're inconvenienced, when they have to step up to the plate and be a hero, rarely do they ever actually manage to do that or have the guts to do that."
The Welsh-born Bale, who dressed appropriately in black for his interview, talked about how close the Dark Knight approaches to becoming the same thing he's fighting.
"This movie involves him very, very tempted and coming closer than ever to breaking that code. The code, of course, is he will not kill," he said.
The Batman has gone through many live-action incarnations since Adam West played the role in a campy TV series beginning in 1966. That Batman was a live-action comic-book hero.
In 1989, Michael Keaton presented Batman as a dark avenger facing off against Jack Nicholson's Joker. But in subsequent theatrical sequels, the plots began to fall apart and the movies went from dark drama to absurd theatrics as Val Kilmer and George Clooney took their shots in the batsuit.
A brooding BatmanEight years after Clooney's critically derided "Batman & Robin," Bale became the latest — and, many feel, the best — Batman, in "Batman Begins." His hero is darker and more brooding, a young billionaire who disappears for years while learning martial arts in the Himalayas and trying to cope with the long-ago murder of his parents.
Bale said he sees his Batman as having three personalities. "The Batman character himself is a very true character. That is not a mask," he told Lauer. "This is him channeling his rage and allowing him to live somewhat of a normal life, because he's able to compartmentalize all of his pain and his issues from his childhood into that character."
Bruce Wayne is his public persona, Bale continued. "That's the true fake, who was attempting to convince everybody that he's a useless, money-spending, cynical, jaded playboy billionaire," he said. "And then he has the private side he lets very, very few people see."
Bale has been acting since he was 8. He became a star at 13 in Steven Spielberg's World War II epic "Empire of the Sun."  In an IMDB.com poll, he was voted one of the top cult heroes in movies.
When he landed the role of Batman, Bale had dieted himself down to 130 pounds — 60 pounds below his normal weight — to play the guilt-racked protagonist in the bizarre film drama "The Machinist." Over the next six months, working with a personal trainer, he put on 100 pounds to play the muscular crime-fighting hero.
A radical Bat-vehicle
Bale's mechanized co-star in "Batman Begins" was a radical, military-style Batmobile. But in "The Dark Knight," Batman rides the Bat-Pod, a motorcycle that's every bit as nasty as the Batmobile. The Bat-Pod was the creation of the film's director, Chris Nolan, and production designer Nathan Crowley; they built the vehicle together in Nolan's garage.
Bale does as many of his own stunts as he can. In "The Dark Knight," he called one of his stunt doubles off a scene that took place on the roof of the 110-story Sears Tower in Chicago. He stands perilously close to the very edge of the tower, but he said it wasn't as dangerous as it looked; he had safety straps on his feet.
He also rides motorcycles, but, he admitted, he didn't ride the Bat-Pod. "The Bat-Pod was one thing only one man could ever master," he said. "We had a lot of world champion bikers. I ride bikes myself, but no way in hell was I ever going to be able to master that. There was one Frenchman, Jean-Pierre Goy, who just is phenomenal ... The problem with it is as soon as you start to take a corner, it ended up on top of most the riders. It was only Jean-Pierre who was able to master that."
Bale said that the Bat-Pod is the real deal, just as the Batmobile is. "It works — as with the Batmobile as with the Bat-Pod, what you see — it does everything. The Batmobile jumps the cars, the Bat-Pod does everything you see."
"The Dark Knight" is already getting rave reviews. "Heads up: A thunderbolt is about to rip into the blanket of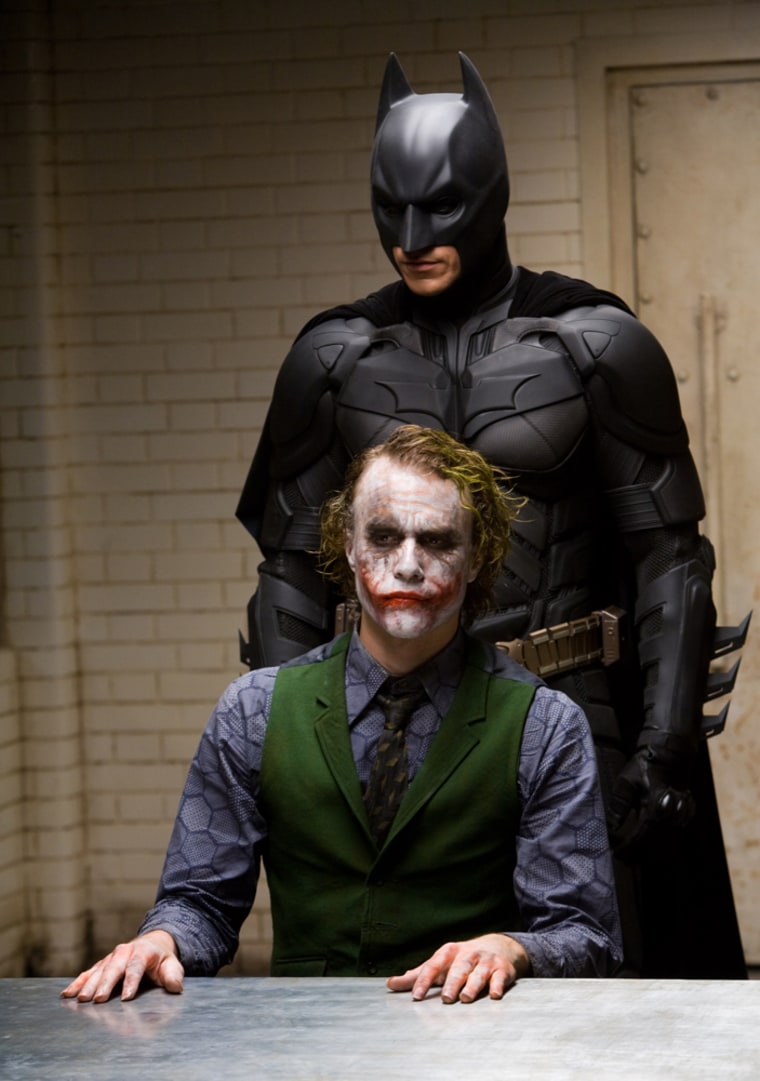 bland we call summer movies," trumpets Rolling Stone. Added Variety: "This is seriously brainy top entertainment that satisfies every expectation raised by its hit predecessor, and then some."
But, reviewers have warned, it's not a film for young children, who may not be able to deal with the film's darkness and ethical dilemmas.
Lauer asked Bale, who has a 3-year-old daughter, what age a child should be to see it.
"What Chris [Nolan] has really managed is you can watch 'The Dark Knight' as a purely entertaining, roller-coaster, adrenaline rush of a movie," he said. "But if you wish, there are a lot of layers. There are many ethical questions you can raise. It's quite haunting. It's something which will stay with you for quite a while afterward.
"I'm not sure how much a child will be oblivious to that," he continued. "I would say starting at about 9, maybe 10 years old may be an appropriate age for kids to be able to deal with this."