Here's a frightening fact: Scaring people is one of Ellen DeGeneres' favorite pastimes.
She's given her guests — including Sterling K. Brown, Sean "Diddy" Combs and the cast of "Modern Family — a reason to leap out of their seats time and time again.
And Halloween presents the prankster with another opportunity to strike fear into the hearts of her famous friends in the form of a haunted house.
In fact, DeGeneres has a yearly tradition of sending her not-so-courageous executive producer, Andy Lassner (aka "Average Andy"), to one of Universal Studios' Halloween Horror Nights' many haunts. And this year, she teamed him with Chrissy Teigen for the occasion.
The pair set out to tour the park's Purge Maze, an attraction based off the Universal film "The First Purge."
And as the host teed up the clip, she noted, "I would like to say that Andy was really brave, but that would be a total lie."
No worry there, since he had Teigen by his side to comfort him and scream (and curse) right alongside him.
Oh, and the model, cookbook author and mom also did something else — she acted as Lassner's human shield.
As haunted cast members — dressed up as mannequins, marauders and murderers — rushed the duo, Lassner pulled Teigen ahead of him and pressed on, griping about the gotcha moments along the way.
When it was all over, Teigen was left gripping a stitch in her side — a common condition after screaming and laughing for five minutes straight.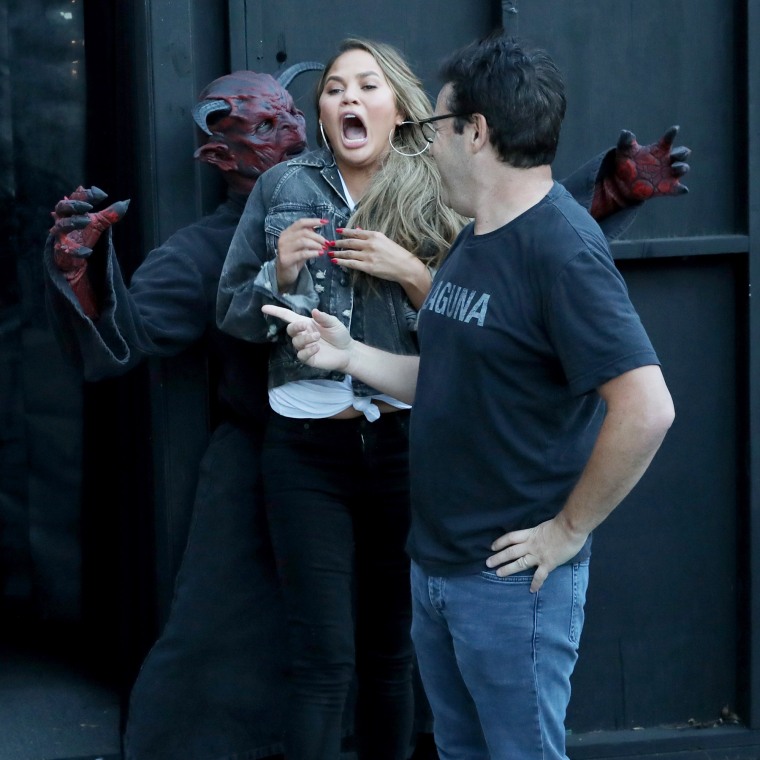 And "Average Andy"? After one last post-haunted house jump, he declared he was glad to have it all behind him.
"I've never been happier about anything!" he assured Teigen.