It's not every day a celebrity is candid about the amount of work they've had done, but then again, Chrissy Teigen isn't your average star.
The 31-year-old model has garnered much love and respect from fans for being so real, and her latest confession is getting a lot of buzz for her honesty.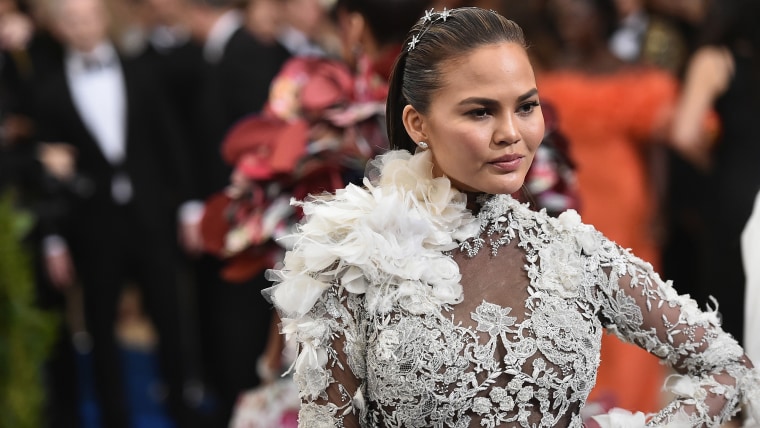 Teigen, who just launched a new Glow Face Palette with BECCA Cosmetics, revealed to a room full of beauty editors that she's had liposuction on her armpits.
"I had an armpit sucked out, which was one of the best things," she said, according to Refinery29. "It's a big secret, but I don't care. It was nine years ago or so. And I had two inches to my armpit."
While she said it was the "dumbest, stupidest thing I've ever done," she also said she had no regrets about it. "It was so easy," she said. "It made me feel better in dresses; I felt more confident."
And she was open about plans to do it again. "Now it's back though, so now I've gotta pay for (liposuction) again."
It's no surprise that Teigen was honest about this procedure, considering she's all about body positivity. While her Instagram is filled with gorgeous pictures of herself, she also makes sure to post the real ones like the makeup-free, messy hair shots and pictures of her post-baby stretch marks.
Perhaps that's why her fans find her so relatable and lovable.
Teigen did have to clear up a plastic surgery rumor (which she accidentally started herself) that was started at the same dinner where she confessed to the liposuction. She joked with the editors that "Everything about me is fake except my cheeks." According to Byrdie, she laughed and pointed to her forehead, her nose and her her lips, saying, "Fake, fake, fake."
RELATED: Chrissy Teigen gets real about celebs losing baby weight: 'We have all the help'