The first season of "This Is Us" captivated fans and ended with a cliffhanger that's kept them guessing all summer.
Sure, viewers already knew that patriarch Jack Pearson (Milo Ventimiglia) would die soon in the series — or has died already, depending on which part of the time-hopping plot you're looking at it from — but the when, where and why of his death all remain a mystery.
A mystery that will soon be solved.
Chrissy Metz, who plays Jack's daughter Kate, visited TODAY Tuesday and promised that the show's sophomore season will bring "closure" to that part of the story.
"You're going to find out," she said. "There's going to be closure. We're going to see how Jack has passed away and how it's all affected everyone."
In other words, get the tissues ready!
The fact that viewers are so emotionally invested in the series comes as no surprise her. The Emmy-nominated actress expected it before the first episode even aired.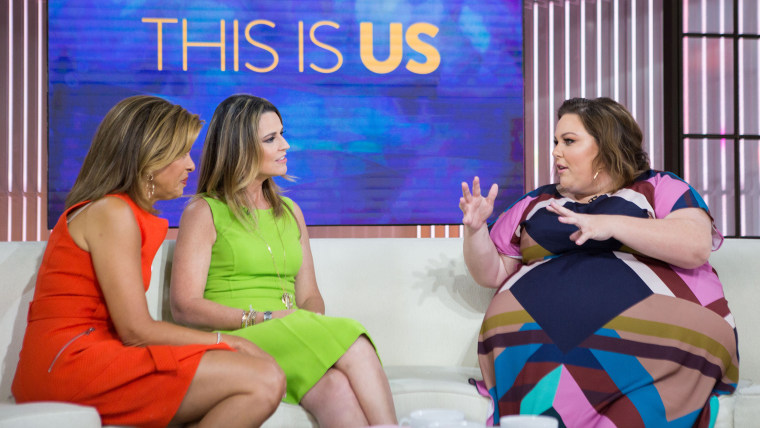 "We knew at the table read, when everyone got together," Metz recalled. "We'd read the script so many times, but it was still so emotional; everybody there was so engaged. All of the executives were still crying. They were like, 'This is amazing.'"
It still seems amazing to her, too.
"To be a part of something so spectacular, on every level — it's something (I've) always wanted to do and it's changing people's lives," she explained. "It's everything you could ever ask for."
And she means that.
Before she landed her role on "This Is Us," Metz had 81 cents in the bank and considered giving up on acting. Now that she's had her big break, she's not focused on major luxuries.
"'What did you buy? What have you bought?' I don't need anything!" she said. "Like, you don't understand. It's so wonderful on so many levels. I can't even explain it."
Well, there were a couple of things she needed.
"I have my own washer and dryer now," she added with a smile.