The Texas mom who broke the internet with her infectious laugh now has a toy to commemorate her recent stardom.
Candace Payne, who broke a Facebook Live record simply by donning a Chewbacca face mask, was presented with a custom-made action figure doll by Hasbro when she and her family visited the company's Rhode Island headquarters last Friday.
The doll features Payne in a Wookie outfit and a removable Chewbacca mask. It has 13 phrases, including, "That's not me making that noise, it's the mask," "I am such a happy Chewbacca," and, of course, Payne's signature laugh, a Hasbro spokeswoman said.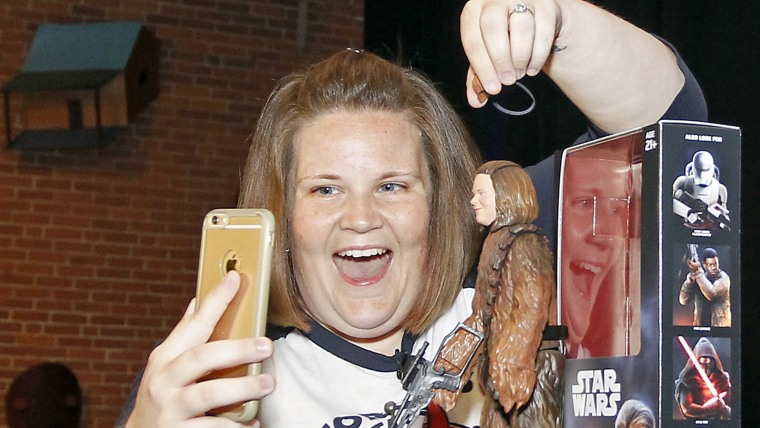 Payne rose to fame after she filmed herself wearing Hasbro's Chewbacca electronic mask while parked in her car. The video became the most-watched Facebook live video on Facebook with more than 141 million views.
MORE: 'Chewbacca Mom' visits Facebook, gets Wookiee surprise
The video helped her garner an invitation to Facebook headquarters, as well as a carpool appearance on "The Late Late Show With James Corden."
MORE: Chewbacca Mom is back behind the wheel ... driving James Corden
Payne thanked Hasbro for the experience with an Instagram photo of her visit.
"Thanks SO much, HASBRO. You literally rolled out the red carpet for me and my family. Thanks for making play so much fun!" she wrote.