Monday should really just be named Cher Day, if you ask Kathie Lee and Hoda. 
The multi-platinum singer visited TODAY and belted out some of her new and old hit songs while Hoda and other Cher fanatics like Savannah Guthrie and Jenna Bush Hager danced along in the crowd. (Hoda should really patent her signature clap-snap moves already.)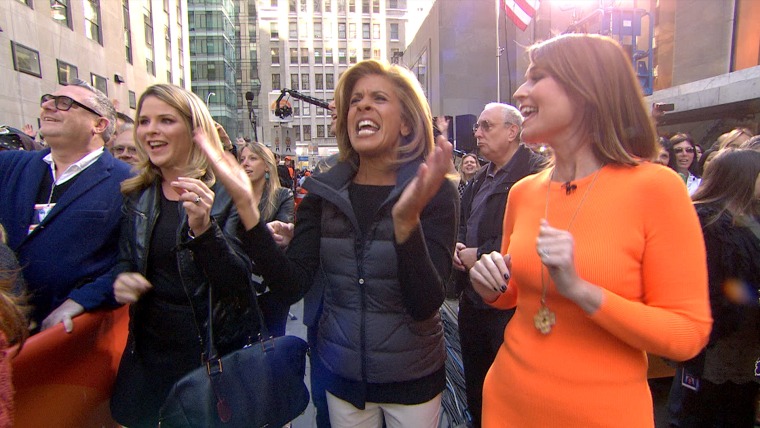 Later on, KLG and Hoda went wild over Cher in the Fourth Hour studio when she swung by to chat. "When she starts singing, the place just transforms," said Hoda, before the "Believe" singer joined them.
"I never met anybody in my life who doesn't love Cher," added KLG. "She just delivers."
The duo raved about Cher's newest track, "I Hope You Find It," which, psst, is actually a cover of a Miley Cyrus song! And about Miley, Cher admitted that she'd said a few things she maybe shouldn't have about the "Wrecking Ball" singer, who's been a lightning rod for controversy of late.
After the singer's MTV VMA performance earlier this month made quite a splash, Cher spoke out about her disappointment with the singer. "I'm not old fashioned," she said in a September 18 USA Today interview. "She could have come out naked, and if she'd just rocked the house, I would have said, 'You go, girl.' It just wasn't done well."
But on Monday, Cher — herself no stranger to skimpy clothes and controversy — told Kathie Lee and Hoda she regretted making the comments, and wished the 20-year-old singer well. "She's doing the right thing for her audience," she said.

Cher also played a round of "spin the bottle" with the ladies, and when asked if she had any regrets about anything, the 67-year-old mother of two laughed that "the show's not long enough," to even fully answer the question. We so feel you on that!
You know what else we feel you on? Your favorite Cher song! On Friday, we asked you to tell us your favorite Cher tune, and 1989's "If I Could Turn Back Time" was the overwhelming winner. "That should be the AARP theme song," joked Kathie Lee.