The romantic harmony between Cher and Alexander "AE" Edwards was on full display during their recent appearance at Versace fall/ winter 2023 show.
The couple, who were linked together for the first time back in November, posed side by side during the Italian brand's red carpet event on March 9.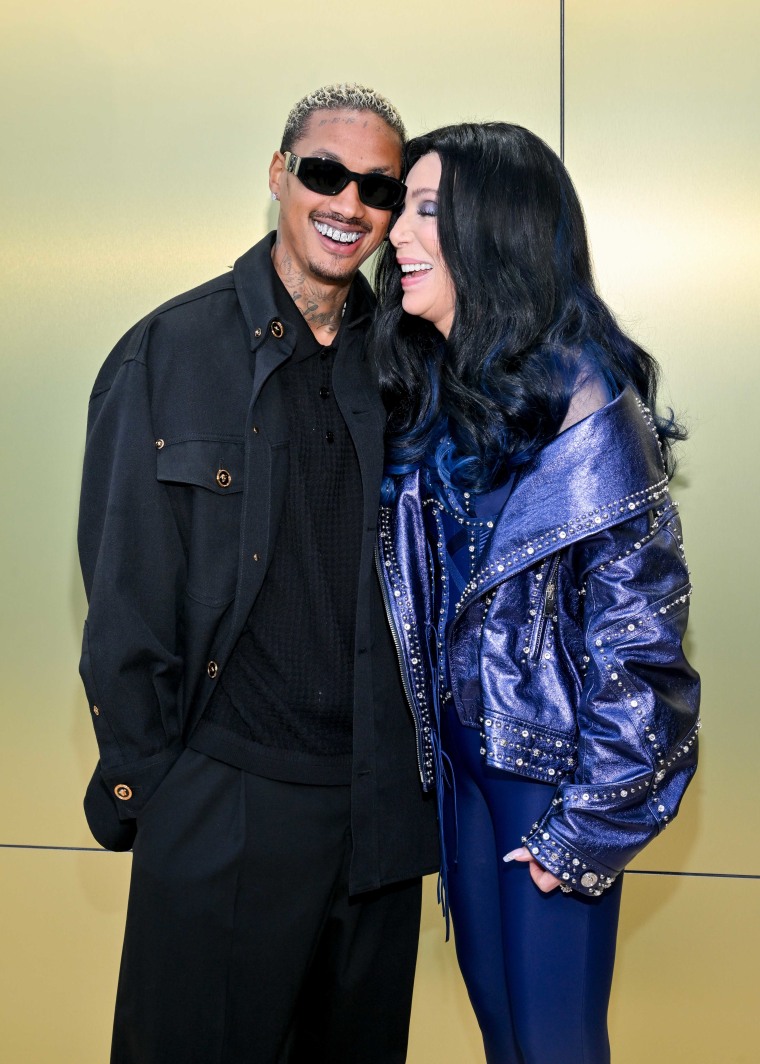 Photos captured the pair with their arms wrapped around each other, exchanging kisses and wearing what appeared to be gently coordinated outfits. The singer, 76, was clad in a monochrome royal blue outfit featuring metallic blue boots, leggings and an oversized bejeweled biker jacket. Meanwhile, Edwards, 36, dressed in all black. Like his girlfriend, the rapper also went with a three-piece outfit and topped off his entire look with a button-up jacket.
The couple's appearance marks the first time that the Oscar winner and the rapper have appeared on a red carpet together. It is not, however, their first fashion show rodeo. Last November, Cher confirmed her relationship with Edwards in a series of tweets where she shared that they met during Paris Fashion Week.
Despite their age gap, both Cher and Edwards seem to have more in common than monochrome attire paired with oversized jackets. Both have established music characters and are parents.
Cher is the mother of two children, Chaz Bono (whose father was the late singer Sonny Bono) and P. Exeter Blue I (son of Gregg Allman). Meanwhile, Edwards shares a son, Slash Electric Alexander Edwards, with model and rapper Amber Rose.
Cher and Edwards also seem to share a deep enthusiasm for social media posts that feature one another. On Feb. 15, Edwards shared photos of himself with Cher at a Super Bowl event with Todd Graves and the rapper Tyga, whose legal name is Micheal Ray Stevenson.
Back in November, after confirming her relationship with Edwards to fans on Twitter, Cher posted a photo of the rapper that read "A.E.Hanging Ot." In the thread, she followed up with a tweet reminding fans with questions about their age difference, writing, "We're Grown ups."
At the time, older fans of Cher were quick to celebrate her new-found love with Edwards.
"I don't need (to) snap out of it -- nor do I need to turn back time because Cher has made me believe in life after 53," one user wrote.
"Maybe they date younger because they have a young vibrant spirit," one fan replied to another who expressed concern for their age gap. "Age is a state of mind."
"So HAPPY for u Cher," another replied. "Really nice to see u Found Someone to make your heart smile again The look coming from your are saying it all."
Speaking about the relationship during a Dec. 2 appearance on  "The Kelly Clarkson Show," the singer got honest about public reaction to their decades-wide age gap.
"On paper, it's kind of ridiculous but in real life, we get along great," she told Clarkson. "He's fabulous, and I don't give men qualities that they don't deserve. But he's very kind, he's very smart. He's very talented and he's really funny so, and I think he's quite handsome."
The singer went on to note that her attraction to younger men, like Edwards, also stems from what's available to her in her own age market. Or rather, what she claims is actually not so available.
"If I hadn't met younger men in my life, I would've never had a date," she explained. "Older men just didn't like me all that much. ... Younger men don't care if you're, you know, funny or outrageous and want to do stupid things and you have a strong personality. I'm not giving up my personality for anybody."