It wouldn't be the holiday season — with its bright colors and wispy winds — without a burst of music, right?
The sentiment rings true at TODAY, where a number of big names have come by Studio 1A in the days since the temperature dropped.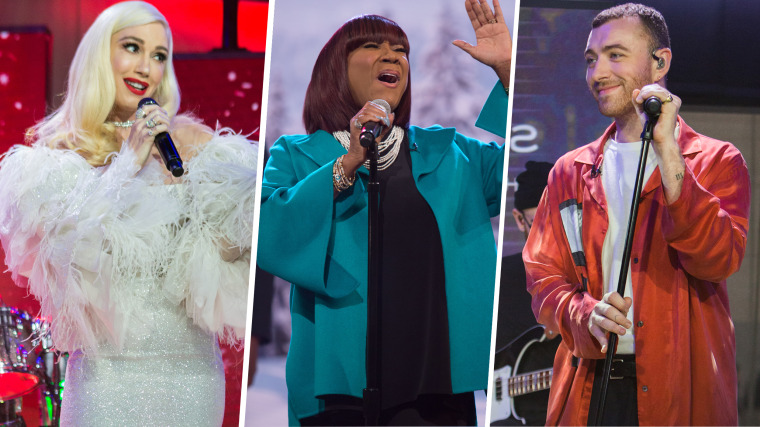 In case you've missed any recent Citi concerts, here are the highlights.
(By TODAY with our sponsor Citi)
Patti LaBelle
Grammy-winner Patti LaBelle, whose new album is "Patti LaBelle and Friends - Home for the Holidays," joined Megyn Kelly TODAY to share an adorable photo of her new granddaughter, and to perform a soulful seasonal song: "Don't Save It All for Christmas Day."
Nick Jonas
Actor-singer-songwriter Nick Jonas was live in the TODAY studio to perform "Home," his Golden Globe-nominated song from the soundtrack of the new animated family film "Ferdinand."
Ed Sheeran
Ed Sheeran joined Kathie Lee and Hoda to talk about being honored as a Member of the British Empire by Prince Philip, and to perform the song "Happier" off "Divide," his third studio album.
Danielle Bradbery
Live before the studio audience on Megyn Kelly TODAY, Danielle Bradbery, winner of Season 4 of "The Voice," performed "Worth It," off her second studio album, "I Don't Believe We've Met."
Pentatonix
A cappella group Pentatonix performed at the Rockefeller Center Christmas tree lighting, then one day later stopped by TODAY to perform the Yuletide classic "Deck the Halls."
Train
Chart-topping band Train graced us with a live performance of "Shake Up Christmas," an original song off their re-release album "Christmas in Tahoe."
Gwen Stefani
Gwen Stefani is out with her first holiday album, called "You Make It Feel Like Christmas." She performed a new song titled "When I Was a Little Girl" when she stopped by TODAY as part of the Citi Concert series.
Sam Smith
Four-time Grammy winner Sam Smith recently released his second studio album, "The Thrill of It All." Live on TODAY, he performed its lead single, "Too Good at Goodbyes."
Andy Grammer
Multi-platinum singer Andy Grammer's third full-length album, "The Good Parts," came out December 1. When he joined Kathie Lee and Hoda to showcase it, he performed the title track live in the TODAY studio.
Maroon 5
"Red Pill Blues," the new album by Maroon 5, was in the works for three years, and now it's finally out. Live in the TODAY studio, frontman Adam Levine leads the band's performance of their new single, "What Lovers Do."