Publicly revealing his HIV-positive status to the world in an exclusive TODAY interview was "like being released from prison," Charlie Sheen said Tuesday in his first follow-up discussion since dropping the bombshell last November.
The former "Two and a Half Men" star said he went public with his diagnosis to end extortion efforts by former girlfriends. On Tuesday, he said the revelation temporarily made things worse.
"It actually poured a little more gas on that fire that morning," he told TODAY's Matt Lauer. "They can claim whatever they want, I know the truth. They're all sort of going back to the woodwork where they belong."
Sheen, whose famously combative side has been on display over the past decade, said he's found time for introspection since revealing his diagnosis.
He expressed remorse for several things, including neglecting his children and his public feud with Chuck Lorre, the creator of the show that once made him TV's highest-paid star.
MORE: Charlie Sheen reveals he's HIV positive in TODAY Show exclusive
"I regret not using a condom the one or two times when this whole thing happened. I regret ruining 'Two and a Half Men.' I regret not being more involved in my children's lives growing up, which I am now. That's about it," the contrite star said. "We can only move forward from today. They wouldn't call it the past if it wasn't."
During his interview last fall, Sheen said he was diagnosed about four years ago but didn't know how he contracted the virus. He also insisted it was "impossible" that he knowingly transmitted the virus to others.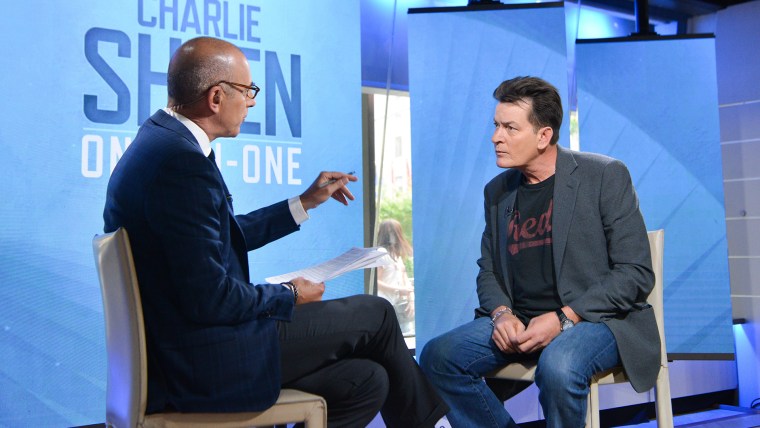 On Tuesday, he insisted again that he has never put anyone at risk, despite claims by former girlfriends. "No one has been infected," he said.
But he admitted he did not always reveal his status to everyone he was intimate with after learning about his diagnosis.
"There was two examples, but protection was always in place, and it was for the right reasons, because everyone that I had told up to that moment had shaken me down," he said.
RELATED: Selma Blair reportedly carried from plane on stretcher after midflight outburst
He added that lawsuits that have been filed against him are "baseless."
Sheen also described new medication he is on to treat his HIV-positive status as part of a federal trial, calling the medication "the future of treatment."
"I am undetectable as I sit here today," he said about the level of the virus in his blood.
Sheen has five children, two each with his two ex-wives, Denise Richards and Brooke Mueller, and a grown daughter from a relationship he had with a high school girlfriend.
The 50-year-old was once was among Hollywood's best-known actors after a series of memorable movie roles in the '80s and '90s, including "Wall Street" and "Platoon."
But he's become better known over the past decade for his trouble with drugs, prostitution and the law, as well a number of bizarre statements he made in 2011 amid what appeared to be a public meltdown.
He was the highest-paid television actor while starring in "Two and a Half Men," until public feuds with the Lorre led to Sheen's ugly exit from the show.