The sequel to the steamy box-office hit "Magic Mike" is still a week away, but fans don't have to wait at all for an entertaining treat to tide them over.
On Tuesday, Jimmy Fallon invited "XXL" star Channing Tatum to perform a few "Magic Mike" scenes with him right on "The Tonight Show" stage.
Of course, there was a broadcast-friendly catch.
Since the big-screen action is obviously too hot for even late-night TV, the scenes they acted out weren't from the movie.
"They were all written by elementary school kids," Fallon explained. "We gave them no direction, just the title. We asked them to write scenes based on what they think a movie called 'Magic Mike' would be about."
And hilarity ensued!
First there was story of a guy who saved a friend in distress by pumping up a bike tire — without any magic at all. ("I guess I'm just Mike," Tatum deadpanned.) Then came a rousing tale of aliens and intrigue, which still wasn't exactly magical. (But worth it for Tatum's delivery of "booyaaaaaaaaaa!" alone.)
Finally, the guys ended the act in a truly enchanted fashion as Magic Mike met his match with Magic Bird. And things got a little physical ... and musical.
Sort of.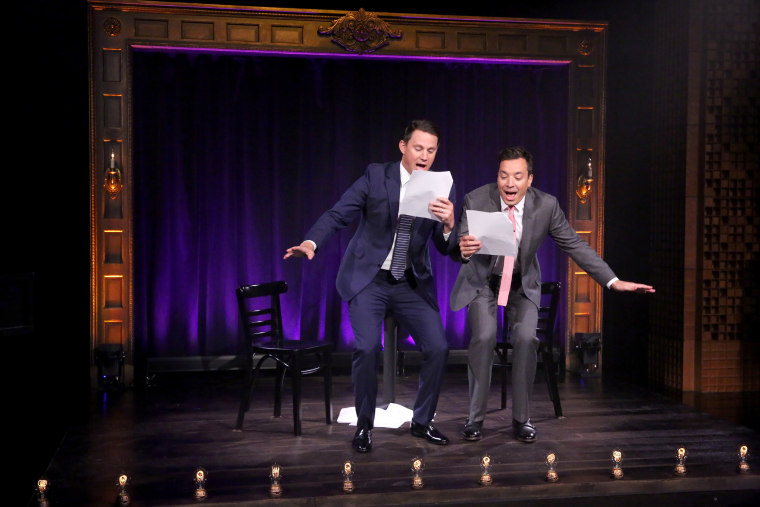 You've really got to see it for yourself!
And if you want to see "Magic Mike XXL," you can catch it in theaters nationwide July 1.
Follow Ree Hines on Google+.