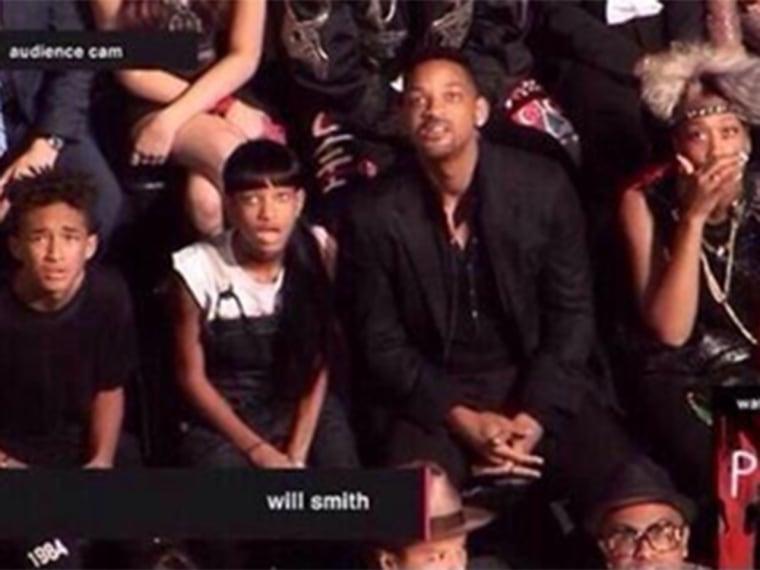 In a way, we were all Will Smith and his family Sunday night. OK, so they were actually reacting to Lady Gaga's performance on the MTV Video Music Awards, rather than Miley Cyrus' stage show, but who cares? The screen cap seems to say it all — watching the former "Hannah Montana" star perform, it was hard to not be a little frightened, offended and shocked all at the same time.
But Brooke Shields (who called Cyrus' performance at the VMAs "desperate" on TODAY Monday) and those in the audience were just some of those who had outsize reactions to the Cyrus twerk-a-thon.
Nick Cannon took the performance as a warning for his and Mariah Carey's twins:
Model Brooklyn Decker didn't even wait until Cyrus' performance to wonder what was going on.

Decker had good company with figure skater Johnny Weir, who also wondered whether he'd passed some age limit to "get" Cyrus:
James Van Der Beek tweeted a series of "things I learned" while watching the show comments, including "I'm old," but also noted:
But not everyone was down on Cyrus. Her stage partner Robin Thicke tweeted:

And director Judd Apatow decided to just blot the whole thing out:

But in the end, Miley will always have her father's support no matter what she does. On Sunday night, Billy Ray Cyrus tweeted a call for peace.

He's right: More peace. Less twerking.