/ Source: Access Hollywood
Whether it's the big tab at the cash bar or the inevitable hookup between the maid-of-honor and the third groomsmen, there's nothing "Access Hollywood" doesn't love about a wedding.
But what happens when celebrities, who just want to get married like regular folk, have to contend with the unblinking stare of the world's adoring eyes?
A lot of 'em fake us out.
A star can stealthily switch the dates, pick out multiple venues, even hire guests and then show up halfway across the world to say a secret set of "I Do's"! Or, they can take a Doris Day-itude and say, "Que Sera, sera ... whatever will be, will be."
That seems to be what Nicole Kidman and Keith Urban are doing: gamely letting the press and the world in on their supposed Sunday nuptials in Sydney, Australia.
It's kind of refreshing isn't it? The lack of secrecy. The giddiness. The big ol' smiles.
Although security is tight and the couple asked guests to keep the whole weekend free for the reported event, Nicole and Keith aren't exactly skulking around.
Instead, the cute-as-pie couple just came out with it and said, "Hey, we're getting hitched. Thanks for listening."
And then they gave the sweaty paparazzi cold beer!
Other celebs have not been so generous with the information or the alcohol.
Hollywood was in the dark when Renee Zellweger and Kenny Chesney tied the knot in May 2005 on the island of St. John in the Bahamas. Apparently, the couple was a little surprised too. The marriage only lasted four months.
Britney Spears and Kevin Federline defied expectations and did not put themselves on display for their September 2004 wedding. They even fooled Brit's little sister by pretending that the event she was invited to was only an engagement party!
When Brad Pitt married Jennifer Aniston in July 2000, guests weren't given the venue address until right before the wedding. And Brad supposedly planned a fireworks show to keep the helicopters from hovering overhead.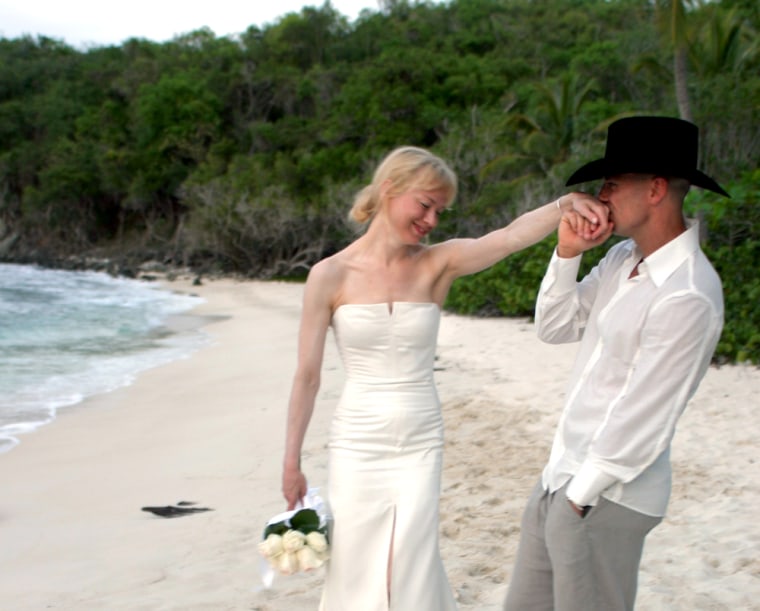 Jennifer Lopez had so much trouble achieving a private wedding when she was engaged to Ben Affleck that she went so far as to take the media to task for interfering with her relationship.
"Due to the excessive media attention surrounding our wedding, we have decided to postpone the date," Ben and Jen stated. "When we found ourselves seriously contemplating hiring three separate 'decoy brides' at three different locations, we realized that something was awry. We began to feel that the spirit of what should have been the happiest day of our lives could be compromised."
Oh dear.
The latest in celebrity fake-outs appears to be keeping very, very quiet, even after the wedding is over.
Jen did just that when she married Marc Anthony in June 2004. The guests thought they were attending some sort of party, but when they arrived, J. Lo appeared in a stunning Vera Wang bridal gown. If that didn't give it away, the altar probably did.
But for months after, Jen and Marc would not say "Yay" or "Nay" about whether or not they were husband and wife.
The whole idea of keeping the media off your wedding train goes back to the Golden Age of Hollywood, when a lack of helicopters made the press corps' job much more difficult.
When sexy Clark Gable wed sassy Carole Lombard in March 1939, they planned it during a week when the press would be away on a junket in San Francisco for the premiere of "The Story of Alexander Graham Bell."
Carole, Clark and — can you believe it — Clark's publicist, Otto Winkler, drove to Kingman, Ariz., for a little ceremony where the minister had no idea who he was about to marry.
Of course, Clark had to hide under a blanket whenever Otto stopped for gas.
Can you imagine Brad and Angelina doing that?
On the other hand, maybe they should.
After all, which paparazzo would ever expect to find Brad Pitt hunkered down in Angelina's backseat?