Charlotte Gray, 4, and her 2-year-old sister, Gwenyth, may not realize how many people are rallying behind them as they fight a rare brain condition called Batten disease, which has no cure.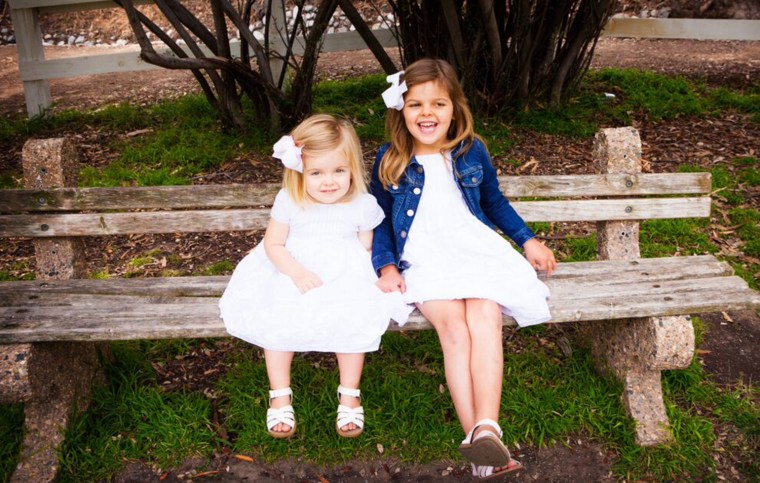 But their parents — Hollywood producer Gordon Gray and his wife, Kristen — told TODAY.com they're thankful for everyone who's donated to their Charlotte and Gwenyth Gray Foundation, which aims to raise at least $12 million to fund research and treatments that could save the lives of children fighting this disease.
"We're supposed to take care of our children," Gordon said. "This is what we need to do to save them. It's our job. It's our responsibility. They can't do it themselves, so, Kris and I decided to do whatever it takes to save our girls."
Both of their daughters thrived as toddlers until late last year, when their parents noticed Charlotte struggling to maintain motor skills that other 4-year-olds were mastering with ease. After weeks of medical testing, doctors diagnosed her with Batten disease in March.
"The geneticist told us there was limited data out there, but that this was a neurodegenerative brain disease that would leave our daughter blind, immobile, cognitively impaired and eventually dead between the ages of 6 and 12," reads a passage attributed to Kristen on the foundation's website. "There are very few families in the world with this, and most specialists know very little about this disease. Our world was shattered."
Because studies suggested Gwenyth had a 25 percent chance of carrying Batten disease, doctors tested her too. She received the same grim diagnosis, to which Kristen reacted with "pure devastation."
But the girls' parents refused to give up hope.
"We started calling anybody and everybody we felt could help," Gordon recalled.
In addition to launching the Gray Foundation, Gordon and Kristen appeared in a video chronicling their story that went viral this week, thanks largely to celebrities who linked to it on social media.
Stars ranging from Dwayne "The Rock" Johnson to "Mad Men's" January Jones have taken to social media this week to advocate for the cause. Many of the stars, who have millions of followers on Twitter, Facebook and/or Instagram, are asking fans to donate $1 each, with the idea that, if everyone takes action, millions of dollars can be raised in a short amount of time.
And every dollar counts. A three-pronged strategy that would simultaneously investigate a cellular transplant procedure, gene therapy treatments, and a different molecular strategy has a minimum price tag of about $12 million, Gordon said.
"Kris and I have decided to take an all-of-the-above approach, because we may need all these things, and maybe one of these avenues ultimately doesn't work or doesn't get there in time," Gordon added. "So, we're betting on all these therapies."
Kristen marveled at the response: "It's been unbelievable," she said. "But beyond just the celebrities, I have friends from high school — I grew up in Chicago — and friends from college rallying, and friends from all over the world who have reached out and have been pushing this train along. It's very overwhelming; it's very humbling; it's hard to even put into words."
Among the myriad celebrities to reference the cause on Facebook this week were Megan Fox, Mark Wahlberg, Jessica Alba, Channing Tatum and Jennifer Garner. Perhaps an even greater A-list impact was felt on Twitter, where many famous figures used the hashtag #CureBatten. For example, Jessica Chastain retweeted Amanda Seyfried's plea, and Andy Richter retweeted Lena Dunham's call to action.
Gordon has produced a number of movies whose protagonists overcome overwhelming odds, many based on true stories, including "Secretariat" (about a Triple Crown-winning horse), "The Rookie" (a late-blooming pitcher who wound up making his Major League Baseball debut at age 35), "Invincible" (an underdog football player who signed with the Philadelphia Eagles after a tryout) and "Miracle" (the 1980 U.S. Olympic hockey team of amateurs who defeated the heavily favored Russians and won a gold medal).
"It's going to take a miracle, and we're hoping on a miracle, and we're working toward a miracle," Gordon said. "You look at what the 1980 hockey team did. [Sportscaster] Al Michaels called it a miracle. It wasn't a miracle, and that's the story we told: it was dedication, diligence and hard work."
To donate to the Gray Foundation, visit CureBatten.org.
Follow TODAY.com writer Chris Serico on Twitter.