Over the course of his 83 years, Leonard Nimoy wore many hats: actor, director, photographer, writer and owner of a classically sonorous speaking voice. But he only wore one set of (fake) ears — as Spock, the "Star Trek" character he created and revisited over a span of decades beginning in 1966.
Nimoy, who died Friday, was more than the sum of his Spock-ness. But as the decades went on, he came to closely identify with the alien outsider he portrayed. Ultimately, thanks to Nimoy, Spock (who was half-Vulcan) became one of the most human creations ever portrayed on the big screen.
Here are five quotes from Nimoy (and Spock) that share life lessons we can all carry around with us — here on Earth, or out there where no man has gone before.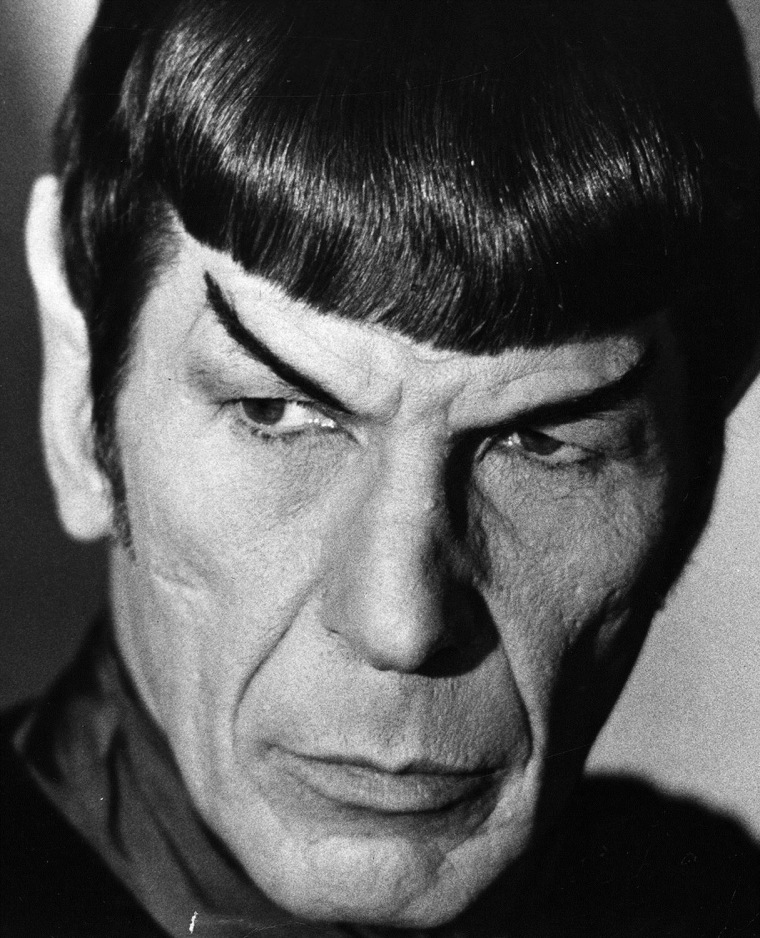 1. "Live long, and prosper."
Created by Nimoy, the signature Spock phrase was meant to be part of the Vulcan salute (raised hand, fingers spread into a "V" shape). In his autobiography, "I Am Not Spock," Nimoy said he based it on a blessing performed by Jewish priests. It proved prescient for the actor, who got exactly what he wished others: a long, prosperous life. (His final role was as Spock Prime in 2013's "Star Trek Into Darkness.")
WATCH: Leonard Nimoy's emotional return to 'Star Trek'
2. "It takes a great deal of courage to turn your back on popularity and go out on your own."
This comes from Nimoy in response to a letter posed in teen magazine Fave in 1968 (BuzzFeed posted the full text here). A young person wrote to "Mr. Spock" and said her mixed-race heritage made her alienated. Nimoy responded with great sensitivity, in part because of Spock's struggle for identity throughout the series. Yet it was this struggle that made him an iconic character — because it is the story of the human condition. As one fan tweeted Friday:
3. "Every life comes to an end when time demands it. Loss of life is to be mourned, but only if the life was wasted."
Spock's logical side often gave him practical insights into matters that humans had difficulty processing. He sacrificed his life without hesitation in 1982's "The Wrath of Khan," ducking into a radioactive chamber to fix the ship's drive so the rest of the crew could escape.
With his last breaths he told Admiral Kirk not to grieve. "It is logical. The needs of the many outweigh ..." to which Kirk finished, "... the needs of the few." "Or the one," added Spock. (But this was space opera, so in the next film Spock returned.)
4. "It's my adventure, my trip, my journey and I guess my attitude is, let the chips fall where they may."
Nimoy taught us about not pushing too hard against the path life sets out for us. He always relished and protected the character of Spock (1975's "I Am Not Spock" was more about proving there was more to him than just one character, and was followed up by 1995's "I Am Spock"), and did his best to avoid typecasting. Don't forget, he appeared in 49 episodes of "Mission: Impossible" (the original "Star Trek" only ran for 79).
5. Nimoy's final tweet reads:
It's no surprise that he was able to keep us thinking about life, and memory all the way to the end. (LLAP, as you may guess, means "live long and prosper," the sentiment wished everyone from the start.)
As Zachary Quinto, who has so far played Spock in two installments of the rebooted "Star Trek" movie franchise, wrote on Instagram Friday: "My heart is broken. i love you profoundly my dear friend. and i will miss you everyday. may flights of angels sing thee to thy rest."