Typically, when you look back at the tenure of a news anchor, it doesn't involve comedy, rapping, acting and hard-hitting coverage. But Brian Williams isn't your typical news anchor.
To commemorate a decade of BriWi at the helm of "Nightly News" — he took the reins from Tom Brokaw on Dec. 2, 2004 — here are the top 10 reasons why we love him:
1. He can 'Slow Jam the News'
We always knew Brian Williams had the comedic chops, but his slow jams on "Late Night With Jimmy Fallon" proved he could go viral in a digital age.
2. He gets (and nails) the big interviews
Despite the attention Williams has gained for being uproariously funny, he is a newsman at his core, and he proves it week in and week out. Whether it's a routine chat with a correspondent on "Nightly News" or a major exclusive, Williams knows his stuff and isn't afraid to ask the tough questions. His sit-down with Edward Snowden was one of the biggest tune-in moments of the year.
3. He's great at delivering the evening news, but he might be even better in the morning

Williams doesn't always have to keep the same crack-of-dawn hours as the TODAY crew, but when he does make it over to Studio 1A for the early shift, it leads to some unforgettable moments.
4. He plays it cool.

Things don't always go according to plan when you have to do a live news broadcast every night, but no one handles the unexpected quite as smoothly as Brian Williams. He once had a fire alarm go off mid-broadcast, and never missed a beat. He even played up the incident on "The Daily Show" later that week.
The fire alarm incident wasn't his first time dealing with a surprise mishap. In 2007, he was locked out of his brand-new studio while live on air. You have to see how he plays it off to truly appreciate his improv genius.
5. He's a closet rapper (with the help of some serious editing)
We saw him "Slow Jam the News," and, with the help of a crack editing expert on Jimmy Fallon's team at "Late Night" and "The Tonight Show," Brian Will.I.Ams proved he can (sort of) rap, too. 
Williams talked about life after Fallon's rap mashups during an interview on "Late Night With Jimmy Fallon," jokingly revealing that Cuba Gooding, Jr. told him he's now "a huge figure in the rap and hip hop community."
6. He's not afraid to go straight to the heart of a story
When news strikes, Williams goes to the scene to deliver the facts. From his coverage of the aftermath of Hurricane Katrina to the war in Afghanistan, Williams is always willing to go to the front lines to deliver us accurate, up-to-date information about the world we live in. 
Check out these incredible images from Williams' coverage over the last decade. 

7. He loves animals.
The only thing better than Brian Williams is Brian Williams with a puppy.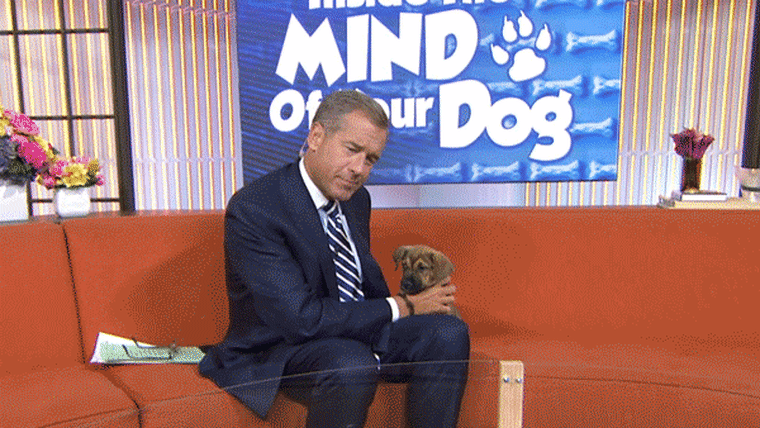 8. He might be the only dad who can keep a straight face while reporting on how awesome his daughter is

Recently, Brian Williams has had to share the spotlight with his daughter Allison after her rise to fame in the hit HBO show "Girls." But the highlight of his fatherly pride came when he announced she would be joining the cast of NBC's live broadcast of "Peter Pan." The way he delivered the update during "Nightly News" made headlines itself.
9. We just want him to be our Facebook friend
Brian Williams may be holding out on his first tweet, but that didn't stop him from taking part in his first Facebook chat with fans earlier this year. Check out the highlights here (hint: one fan even asked what he's wearing under his anchor pants!), or if you want a full serving of Williams, you can read the full chat here. But seriously, Brian, it's time to post that first tweet. 
10. He can host "SNL"
Did we mention Brian Williams is funny? We aren't the only ones who have noticed. "Saturday Night Live" took note and showed their faith in his ability as a funnyman when they let him host in 2007. Check out his hilarious "behind-the-scenes" tour of his routine at "Nightly News," and a special cameo from Matt and Al!