CeeLo Green stopped by TODAY on Monday to talk about the upcoming Battle Rounds on "The Voice," and stopped by the Orange Room to chat with Willie Geist. Here's what we learned about the TV judge during his visit:
He has never seen an episode of "The Voice": "I was watching an interview with Johnny Depp recently, and I thought I was the only one who suffered from it, but Johnny Depp doesn't watch any of his movies, apparently. I've never watched an episode of 'The Voice' — I never watch myself on TV. It's very awkward feeling. And we live with it for so long, once it's out of the body, I'm kind of over it and then I'd probably end up being overly critical about it. It's something you can't change. It's forever immortalized. Let it be."
He exchanged numbers with James Franco in the Orange Room: "I had no idea he was a fan. I'm a big fan of his, too. I remember watching Spider Man and he had a twinkle in his eye, and I said, 'There's something special about that guy. That guy is going places.'" Editor's note: James Franco proceeded to tell CeeLo that he once watched him as a fan in the crowd at Coachella.
He has a Michael Jackson "Thriller" jacket: "I've always wanted one of those 'Thriller' jackets my entire life, so now that can afford to have it made, I made myself one."
A fan once came up to CeeLo just to touch him: "The strangest thing that was ever done to me was I was walking in a mall and the guy was on his phone with his fingertip touching me, and he just says, 'I'm touching him, I'm touching him! I'm touching him right now, I promise!' He never spoke to me. He never said 'hello' or 'thank you' or 'call me later' or nothing."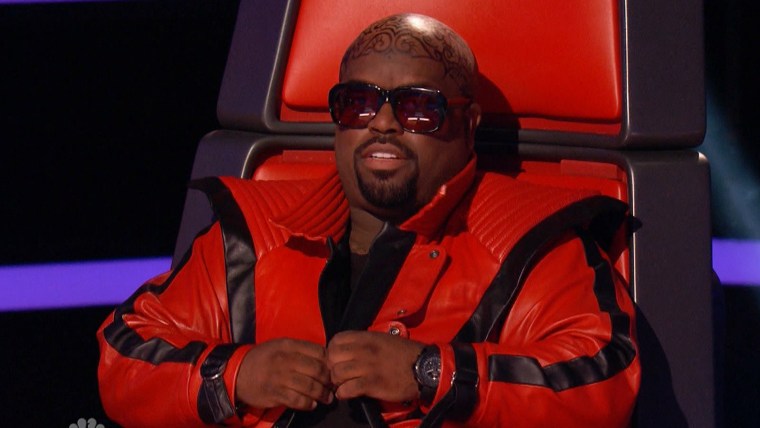 He only had his henna tattoo for 10 days: "The way that television is edited, it lasts for a month. But the tattoo lasted for about ten days so it was temporary, but it was a lot of fun. It was a test drive because I'd considered doing it for real. I have a couple little pieces (on my head). I really wanted one but management and everyone was like 'No, no, no.' They were thinking maybe it would limit me somewhere on down the line."
He wishes he could've gone drinking with Jim Morrison: "I would like to have hung out at The Whiskey (Ed note: The Doors were once the houseband at Whiskey A Go Go in Hollywood) with Jim Morrison. He'd drink me under the table though, I'm sure. Jim Morrison was just enchanted. Someone so sincere and sacred. He's just such an iconic energy with an enigmatic quality. He has this intangibility that any artist could just hope to obtain or have at all. He is a very special person and left behind a lot of great music."
See what else we've learned about celebs in the Orange Room, from Mindy Kaling to the stars of 'Chicago Fire.'