/ Source: The Associated Press
Whether you want to explore the depths of Donavan or revel in the genius of Ray Charles, there's a box set out there for you. And these make excellent holiday gifts as well. Is there a Billy Joel fan in your life? How about someone who just can't get enough of the Talking Heads? From Jelly Roll Morton to '60s girl groups, it seems that almost everyone has a box set these days. So why not indulge yourself.
Ray Charles, "Pure Genius — The Complete Atlantic Recordings (1952-1959)"
In a better world, the music industry would spend less time endlessly repackaging material decades old and more time cultivating young Ray Charles-type talent. It must be out there, right?
Then again, someone of Charles' caliber might find it impossible to break into the business today, because record labels and radio stations wouldn't know how to categorize and market such a genre-busting, multidimensional performer.
"Pure Genius" requires eight discs to capture the range of Charles' skill as a singer, pianist, saxophonist, writer, arranger and producer. Charles was still only in his 20s in the 1950s when he pioneered soul music, played dazzling jazz, sang the blues like few before or since and swung even on the most hoary tunes ("My Bonnie," "Swanee River Rock"). By the end of the decade, he was branching out into country, too ("I'm Moving On").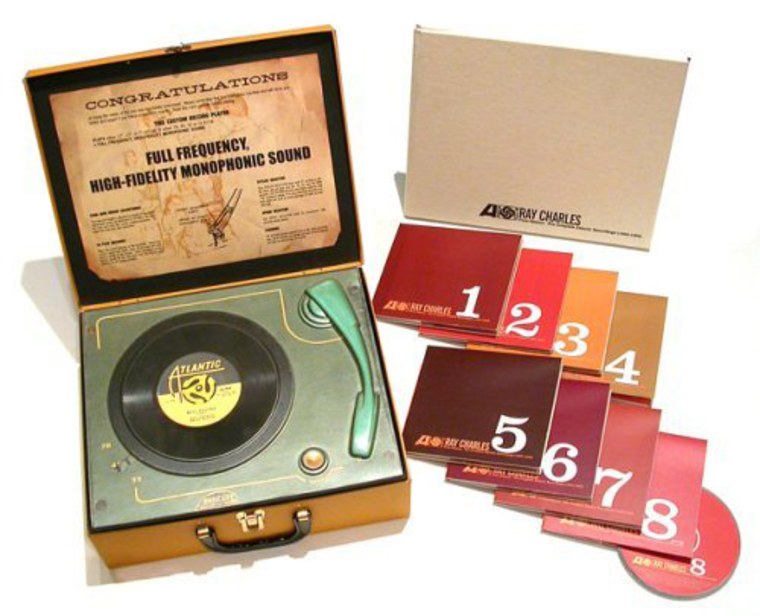 Rather than push for hits, Atlantic Records allowed Charles to follow his marvelous musical muse. "Our only job was to turn on the lights for him," co-producer Jerry Wexler said. "And as a friend pointed out, we didn't even have to do that."
The 164-track collection includes a disc of demos and rehearsal outtakes — at one point, Charles coaches saxman David "Fathead" Newman on how to play a specific note — and a DVD featuring a previously unreleased performance by Charles' group at the 1960 Newport Jazz Festival. Also included is an 80-page hardcover book with exhaustive liner notes.
A lot of the material duplicates Rhino's 1991 boxed set of '50s recordings, but that three-CD package focused on R&B tunes. This more comprehensive collection reflects Charles' refusal to acknowledge musical boundaries — and makes one wish the industry had room for such a performer today.—Steven Wine
Billy Joel, "My Lives"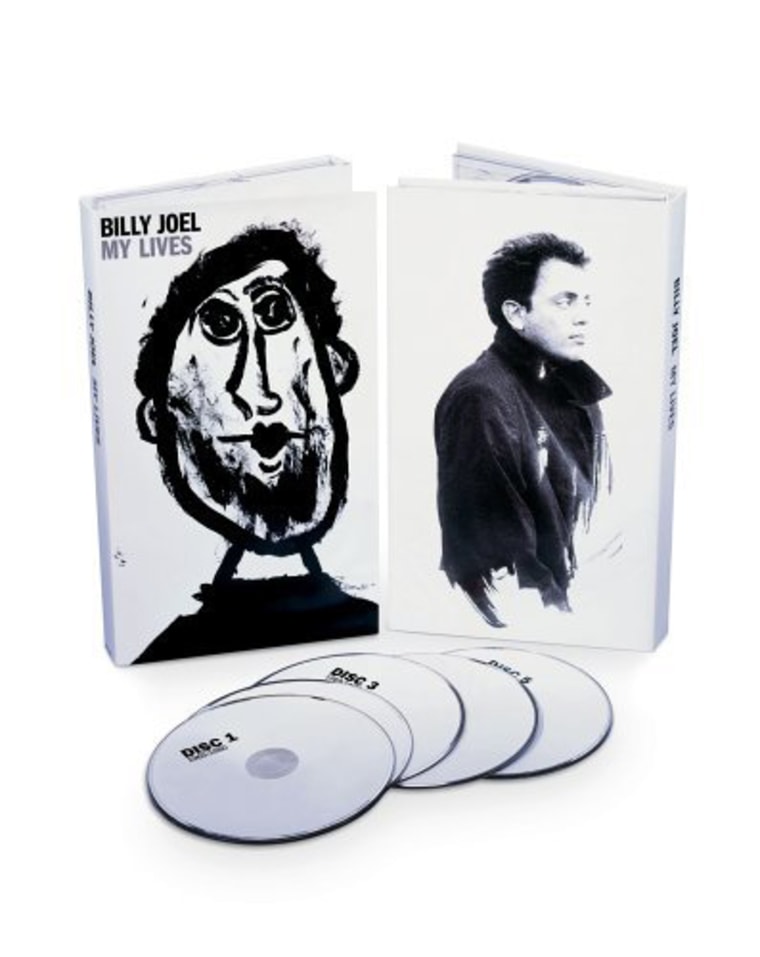 Fans of Billy Joel may believe they already have the complete set of his works: Maybe they have his entire album collection, or at least their favorite albums and his "Greatest Hits" collections. But, no. There's more.
"My Lives" is a sweeping five-disc (four CD, one concert DVD) assembly of music spanning Joel's four-decade career — from his bar-band days with The Lost Souls in the 1960s to the classic works he has embraced in recent years.
There is plenty here to excite listeners familiar with Joel, such as previously unreleased demos and alternate versions of his popular songs (you'll trip over your tongue trying to sing along to this "Piano Man). There's a good sampling of live performances of some of his well-known songs, especially his early hits and compositions that never hit it big on Top 40 radio (there's no "Uptown Girl" or "Just the Way You Are" here, thank you). Instead, we're treated to beloved pieces such as "Zanzibar," "Goodnight Saigon," "Los Angelenos" and yes, "New York State of Mind."
There also is the chance to hear Joel performing some of his favorite non-Joel songs like "Shout," "When You Wish Upon a Star," and "All Shook Up."
Billy Joel is one of those artists who will define our times. His voice reflects the everyman existence of our day. Though many of us may think we know him, this box set is a superb collection that enables us to know him, and ourselves, on a deeper, more personal level.—Michelle Morgante
The Band, "A Musical History"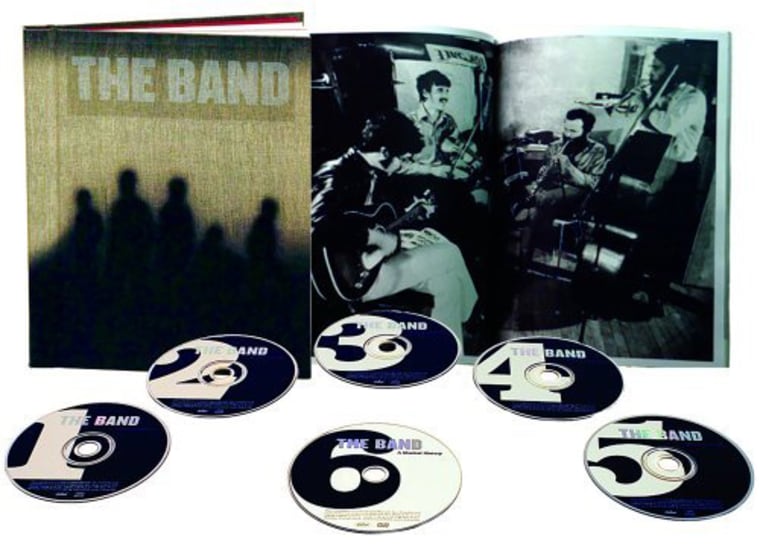 Belying its name, The Band consisted of five unique individual musicians.
Together they created an unparalleled sound that seemed to rise from the deepest roots of Americana even though all but one of their members was Canadian.
Appropriately, the box set chronicling their career is titled "A Musical Journey." That's exactly what it is.
Over five discs, assembled by primary songwriter and lead guitarist Robbie Robertson, the set tracks The Band's career backing Ronnie Hawkins, through famous turns with Bob Dylan, and then their own career ending with the famous Last Waltz concert in 1976.
A sixth disc provides about 45 minutes worth of rare studio and concert footage, including a 1976 appearance on Saturday Night Live just a month before the Last Waltz. The accompanying book is just that — 111 pages of richly illustrated, detailed text about the group and the music contained within.
More than a third of the 102 songs — 37 — are previously unreleased. Of the rest, there certainly are many repeats for any fan who bought all the originals and reissues through the years. But the inclusion of the "new" music, combined with the well-picked original tracks, makes for an absorbing and intoxicating listen.
An early take of "Twilight," clocking in at just 3:25, is almost worth the price of the entire box by itself. Robertson never sounded more vulnerable, or beautiful, in this hauntingly sparse and spine-tingling take of him alone at a piano.
It's individual moments like that, combined with the raw power of the band working together, that really shine in "A Musical Journey." There's Levon Helm's rockabilly rasp, Rick Danko's galloping bass and infectious warble, Robertson's distinctive guitar, Garth Hudson's church-music-on-acid organ playing and Manuel's eerie falsetto.
Listening to The Band is even more inspiring in these days when so much of what passes as music is concocted in the studio by performers who often times can't carry a note, let alone write anything as meaningful or long-standing as the songs Robertson and company produced.—Scott Bauer
Donovan, "Try for the Sun: The Journey of Donovan"
Sure, there's more to Donovan than "Mellow Yellow."
But does he merit a four-disc box set?
Given that one of the discs on "Try for the Sun: The Journey of Donovan" is a 40-minute 1970 film that is more like the singer's home movies from a trip to Greece than anything close to a documentary, that leaves just three with music. Keep in mind that there are already three greatest hits compilations for Donovan already in circulation, including one released just a year ago.
How many hardcore Donovan fans are there who will fork over the money for a box set that has just 12 previously unreleased songs, not counting the DVD?
I guess that all depends on how much Donovan means to you.
Long cast under the shadow of his superior stateside peer Bob Dylan, Donovan deserves to have his music remembered and listened to beyond his hits like "Mellow Yellow" and "Sunshine Superman." There's plenty of feel-good music here, and that's not all bad. It's easy to get sucked in by his infectious tunes, which paradoxically seem both dated and timeless at the same time.
For those with only a passing knowledge of Donovan, and are wondering where to start, this may not be a bad choice. But for anyone who already owns a Donovan compilation and feels satisfied, it's hard to justify picking up this set.—Scott Bauer
Talking Heads, "Talking Heads"Man, there's a lot of music on "Talking Heads" to work through.
Not that it's a chore or anything.
Listeners get all eight of Talking Heads' studio albums, complete with rarities and outtakes. Then on the other side of each disc is a DVD-A remix with the original release in 5.1 surround sound, plus more bonus audio and video, lyrics and photos.
At $150, it's not a package for the casual Talking Heads fan.
But for David Byrne fanatics, and other followers of his groundbreaking band, the box set offers a great opportunity to get all their music in one fell swoop. However, those without the ability to hear the surround sound remixes won't quite be getting their money's worth.
That said, there's plenty of wonderful music to take in. All the hits are there, of course, including "Burning Down the House," "Once in a Lifetime" and "Psycho Killer."
And while not all eight albums are of equal quality there's a certain uniformity of sound that comes through when listening to them in succession, even though each has its own unique personality. Even when not at their best, the Talking Heads are always interesting.
All told, there are 25 songs and videos that have never been officially released before. Taken together with the new remixes and other goodies, there's a fair amount to entice those who already have all the albums.
The less die-hard fans may be better served waiting for individual releases to pick and choose what they want. But for the others, "Talking Heads" may be calling out to them in their sleep.—Scott Bauer
Various Artists, "One Kiss Can Lead To Another: Girl Group Sounds, Lost And Found"When Little Eva sings "The Trouble With Boys" midway through Rhino's new anthology of '60s girls groups, she merely scratches the surface. Boys cause enough grief — and joy — to inspire four CDs of material for this 120-song package addressing affairs of the heart.
Rhino touts the boxed set as the first devoted to girls groups, and the label wisely decided against trying to collect the genre's biggest hits. Some of Phil Spector's best-known acts are missing because of licensing issues, and cuts from such top groups as The Supremes, Ronettes, Shirelles and Shangri-Las aren't their best-known tunes. But that's good: Those selections — along with songs by plenty of obscure artists — make the set much more than a mere parade of familiar oldies.
The marvelous Velvelettes set the tone on the first cut with handclaps, horns and "shoo-doop wah-dah" harmonies. The focus sometimes seems a little fuzzy, with such solo performers as Cher, Dolly Parton, Wanda Jackson, Connie Francis and Twiggy included. But the breadth of artists shows the girl-group sound went way beyond Spector's Wall of Sound — there's folk, country, doo-wop, soul and psychedelia in 2½-minute adolescent dramas that touch on such topics as dieting, teen pregnancy and violent death.
History may snicker at the bouffants and beehives the singers wore, but these acts broke down gender and color barriers while influencing subsequent generations of groups ranging from the Beatles to Sleater-Kinney.
The set includes original performances of tunes that later became hits for the Beatles ("Boys"), Herman's Hermits ("I'm Into Something Good"), the Everly Brothers ("Crying In the Rain") and Linda Ronstadt ("You're No Good"). Among the songwriters featured are Sonny Bono, Neil Diamond, Keith Richards, Randy Newman, Cat Stevens and Brian Wilson. Young guitarist Jimmy Page turns up on three cuts.
Rhino displays its characteristic flair in packaging. The set comes in a black, white and pink hatbox with CD packs that resemble makeup compacts — mirrors included — for this enchanting look back.—Steven Wine
Jelly Roll Morton, "The Complete Library of Congress Recordings by Alan Lomax"This might be the year's most significant boxed set because it illuminates the roots of 20th century American popular music. Jelly Roll Morton might not have invented jazz as he sometimes claimed, but he was present at its creation and made his mark as the first great jazz pianist and first jazz composer. In 1938, at the twilight of his career just three years before his death, Morton sought to reclaim his legacy in nine hours of interviews and performances at the Library of Congress with noted folklorist Alan Lomax, resulting in the first recorded oral history of early jazz.
This eight-CD set makes these recordings available for the first time in their original and complete running order, re-mastered to eliminate many of the pitch, background noise and sound problems that marred previous releases. It also includes some of the bawdier material that had been censored from past releases such as Morton's "Winin' Boy Blues." Morton's colorful tales of New Orleans gangsters and prostitutes, and his "The Anamule Dance" on which he talks over a recurring piano riff, almost predict rap music.
On seven CDs, Morton performs his best known compositions such as "King Porter Stomp, "The Crave," and "Original Jelly Roll Blues": plays spirituals, blues, and ragtime (Scott Joplin's "Maple Leaf Rag") to show some of jazz's influences; analyzes early jazz techniques with musical illustrations; and masterfully narrates tales about his early days as a musician and pool shark in New Orleans with its tradition of street parades, voodoo and Mardi Gras Indians. A bonus eighth CD includes Lomax's interviews with other New Orleans musicians. The piano-shaped package also includes a reprint of Lomax's biography "Mister Jelly Roll" and an 80-page booklet with an appreciation by jazz scholar John Szwed, excerpts from Morton's own writings, and many rare photographs.
These groundbreaking recordings not only are a must for devotees of early jazz, but serve as a powerful reminder of just how indebted American culture is to those neighborhoods devastated by Hurricane Katrina.—Charles J. Gans
Various Artists, "Progressions: 100 Years of Jazz Guitar"This four-CD set traces the evolution of the guitar in jazz from a barely heard secondary rhythm instrument to a full-fledged solo voice with a wide range of sonic choices. Nearly 80 guitarists are represented on the 75 tracks, compiled from more than 30 record labels, dating from banjoist Vern Ossman's ragtime "St. Louis Tickle" (1906) to Bill Frisell's boundary-stetching "Ron Carter" (2001).
Disc 1 covers the early years into the 1940s marked by the emergence of the first jazz guitar virtuosos, Eddie Lang ("Add A Little Wiggle"), Django Reinhardt ("Honeysuckle Rose"), and Charlie Christian ("Solo Flight"), who blazed a course for the electric guitar as a jazz solo instrument. Disc 2 finds the guitar entering the jazz mainstream in the 1950's and '60s through such masters as Barney Kessel ("On Green Dolphin Street"), Wes Montgomery ("Unit 7") and Kenny Burrell ("Midnight Blue"). Discs 3 and 4 take the jazz guitar into the modern era of free jazz, jazz-rock fusion and beyond represented by a pre-smooth jazz George Benson ("Clockwise"), John McLaughlin ("Birds of Fire"), Pat Metheny ("Bright Size Life") and James "Blood" Ulmer ("Church").
To their credit, the compilers have also included guitarists from other genres who influenced or were influenced by jazz:: western swing's Leon McAuliffe and Eldon Shamblin ("Twin Guitar Special"), country's Chet Atkins ("Mountain Melody"), bossa nova creator Joao Gilberto ("Waters of March"), and rockers Carlos Santana ("Europa") and Jimi Hendrix ("Manic Depression").
The accompanying 160-page booklet offers biographical sketches by jazz guitar scholar Charles Alexander, the responses of 25 guitarists identifying their jazz guitar heroes and favorite recordings, and nine solo transcriptions.
This is a collection that offers novices a broad overview of highlights in the history of jazz guitar, while experts should enjoy the chance to become acquainted with some guitarists who have faded into undeserved obscurity.—Charles J. Gans
Various, "The Great American Baseball Box"The October Classic is long past and the ball fields are frosting over, but for those hungry for a dose of the national pastime, there is hope — this four-disc collection of baseball's greatest songs, historic broadcasts, interviews and other pieces of audio memorabilia.
Musically, there's much more to baseball than "Take Me Out to the Ball Game," which is here in a 1949 recording. There's John Fogerty's "Centerfield," of course, and Terry Cashman's "Talkin' Baseball." But there's also Count Basie and Taps Miller with the fun, swinging "Did You See Jackie Robinson Hit that Ball?" and Bob Dylan's melancholy "Catfish."
Disc 2 is a time-trip back to broadcasts of 30 of the game's most important moments. You hear the ambiance of the crowd's roar and Russ Hodges' repeated exultation "The Giants win the pennant!" as Bobby Thomson hits "The Shot Heard Round the World" in the 1951 pennant race. For the '56 World Series, you hear the move-by-move description of Don Larsen's performance as he makes his way toward his perfect game — the drama building with each moment as the approaching feat goes unmentioned. On the flipside, there's Mookie Wilson hitting a bouncer through Bill Buckner's legs during the '86 World Series.
There are more than 40 recorded interviews dating back to the start of the century. There's also several gems among the auxiliary sound recordings such as a colorful reading of "Casey at the Bat" in 1909 by DeWolf Hopper, Abbott and Costello's "Who's on First," and a corny 1928 comedy exchange between Babe Ruth and Lou Gehrig. (Says Ruth to Gehrig: "You were so dumb you thought the St. Louis Cardinals were appointed by the church.") Funnier yet is Tommy Lasorda's censored response to an interviewer who was bold enough to ask for the Dodgers' manager's opinion about three homers hit by Dave Kingman of the New York Mets.
Yes, even in the dark, cold months of winter, this set will certainly keep baseball fans holding on until springtime.—Michelle Morgante
Various, "The Early Gurus of Electronic Music: 1948-1980"
Electronic music has become such a ubiquitous part of our modern lives that it's easy to forget that its days as a nascent, experimental art form are not so long ago.
This four-disc collection (three sound recordings, one DVD) is probably not for the casual fan of club music. This is a historic retrospective of the baby steps of the genre. On most of the recordings, there is little to dance to.
What this collection does do, however, is provide a fascinating, if not weird, listen to the groundbreaking recordings of artists who truly were "out there" in their quest to find beauty in the sounds of modern, industrial life.
For my biased, modern-dance ears, I must say I'm particularly fond of Pierre Schaeffer's 1948 recording "Etude aux Chemins de Fer" with its rhythmic train. And Raymond Scott's 1959 "Cindy Electronium" would work well over a hip-hop beat.
The set comes along with a 112-page book describing the context of the recordings and their creators. There's an interesting section by synthesizer pioneer Robert Moog on the creation of the Theremin which makes me wonder why we don't hear more of this odd but attractive instrument in today's music.
All in all, this collection may not have a good beat, or even be easy to dance to, but this box set is an intriguing bit of history for serious music lovers.—Michelle Morgante