Can "Community" actually achieve its "six seasons and a movie" aspirations? It's certainly getting an A for effort with its upcoming fifth season opener, which packs a lot of changes, surprises and even new characters.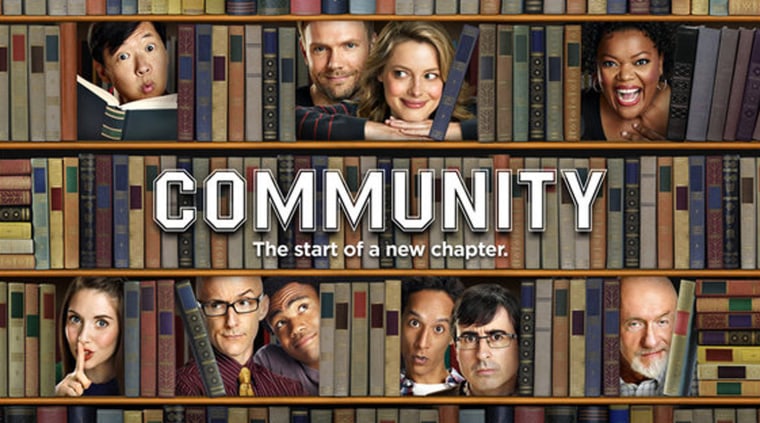 The "six seasons" internet meme was actually birthed from a joke in the show (about the short-lived superhero drama "The Cape") and has now become a wish that critics and fans alike want to see come true for the little-show-that-could.
A cult treat for four seasons, "Community" revolves around a tight-knit group of non-traditional students attending the equally quirky Greendale community college.
It's an acquired taste for many, the show's behind-the-scenes drama (the firing and then rehiring of creator Dan Harmon, the controversial comments of former cast member, Chevy Chase, etc) has sometimes eclipsed the merits of the on-screen action. But season five aims to reboot the series with an episode appropriately entitled "Repilot" that puts the characters back in focus as they return to Greendale, embracing what lies ahead.
Actress Alison Brie, who has played overachiever Annie Edison since the show began, told TODAY she and the cast are thrilled about how Harmon has advanced their characters this year.
"I think the theme of the season is all the characters are dealing with change, which is true for our characters, and ourselves in losing our showrunner and then him returning this year, and now with Jeff (Joel McHale) having graduated and becoming a teacher. The other characters are returning to school with a different perspective as well," explained the actress.
"We've also had a lot of changes in our cast," Brie said. "Chevy Chase (who played Pierce Hawthorne) is not returning to the show and Donald Glover (Troy Barnes) only did five episodes. But we do have amazing people like Jonathan Banks (Mike on "Breaking Bad"), John Oliver (Professor Ian Duncan) did more episodes than ever, and Jim Rash (Dean Pelton) and Ken Jeong (Chang) have become a bigger part of the group than ever before."
Aside from Jeff shifting gears from lawyer to newly minted professor at Greendale, the rest of the former study group are also finding new paths as they spent the hiatus attempting to move outside of the group, but they get sucked right back in.
"For Annie, we see a more mature side this season. She is wearing pants!" Brie joked about Annie's former penchant for skirts.
We also discover that Annie attempted to go into hospital administration with disappointing results that has simply fueled her ambition.
"I love this more mature Annie, and there's some great empowerment moments this season. We've watched this character growing up from the time she was 18, and really just coming to college and learning to interact with other people and make friends. We've seen her get distracted by boys and get distracted by the social side of being in college. This year she is back to being responsible and she's a really positive role model for women ... most of the time," she laughed.
As for Annie's besties, crusader and intended psychologist Britta Perry (Gillian Jacobs) has landed a bartending job listening to the problems of drunks. It's not exactly a realization of her grandiose ambitions.
The same can be said about former stay-at-home mom and fledgling sandwich shop entrepreneur Shirley Bennett (Yvette Nicole Brown), who shockingly finds her dream in ruins.
In a conference call with Joel McHale and Jim Rash, McHale explained that the odd departure of Chase's character from the series will be addressed more thoroughly this season.
"From season four, I think there were a lot of unanswered questions," he said. "Pierce's departure was abrupt and it needed to be addressed. The way (Harmon) handles it is masterful, and it really answers all the questions the fans will have."
Rash also revealed that the eternally enthusiastic but subverted Dean Pelton will get some respect back.
"I think we get back to the authority figure side of the Dean," Rash revealed. "Although he's well intentioned and makes mistakes, he loves the school. He's giddy that Jeff is back, both as an entity and also to help save the school, which is once again in jeopardy and continues to be. This year leads up to something big in the sense of the loss the Dean would feel with the school not being around him."
The bromance between roommates Abed (Danny Pudi) and Troy will also make a dramatic shift with Glover's exit.
Rash said, "Troy's departure evolves the study group's connections. You get to figure out who Abed is without Troy. I think they do a very good job of watching this guy transition into the next chapter of his life without his best friend." McHale added with enthusiasm, "You thought Danny Pudi was awesome before, but he is incredible with this character who is socially different, but dealing with all of these emotions."
Lastly, McHale passionately teased the introduction of new series regular, Banks (hot off "Breaking Bad's" final season), who will play criminology professor, Buzz Hickey. "Jonathan Banks' presence in the show is absolutely out-of-this-world, tremendous. He's an incredible actor and really funny. It's a whole different, wonderful vibe."
See for yourself when "Community" returns Jan. 2 at 8 p.m. on NBC.