We get it. You were too busy living your life as it happens to keep up with every pop-culture phenomenon of 2014. You'll catch up later, you say, and guess what? Now is later.
The benefits of living a pop-culture life on your own time are manifold. You don't need to wait for next week's episode if the show is now all there to be binge-watched. You don't need to fork over for a hardcover if the book's free at the library, or head out to the theater if the once-hot movie is now available on-demand.
Here's a list of 2014 entertainment highlights you can catch up on now, just as 2015 looms.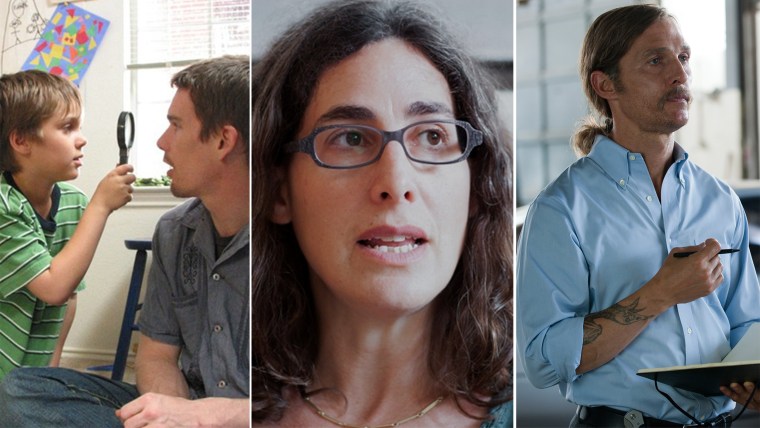 Podcast: 'Serial'
"Serial" brought many Americans into the podcast world, and now you don't have to wait impatiently for the next Thursday installment. Got a big road trip coming up? The miles will fly by if you download all 12 episodes of Sarah Koenig's dissection of a 1999 Baltimore murder case that may not be all it seemed. A second season, with a new topic, is on the way.

TV: 'True Detective'
If you've heard "time is a flat circle" but don't know the context, it's time to catch up on season one of the Woody Harrelson-Matthew McConaughey eight-episode drama "True Detective." If you have HBO, you can catch up via HBOGo. But if you don't, you can buy single episodes or the whole season on streaming services such as iTunes. Prefer DVDs still? "True Detective" came out in June. And if you love it, get ready for a second season, with an entirely different story and cast (featuring Colin Farrell, Vince Vaughn, Taylor Kitsch and Rachel McAdams) coming in October.

Movie: 'Boyhood'
"Boyhood" is the top-rated 2014 movie according to Rotten Tomatoes, with 210 "fresh" reviews and only 3 "rotten" write-ups. Even President Obama proclaimed it his favorite film of the year. Star Ellar Coltrane was just 7 when filming began, and 19 when the movie came out — he literally grows up onscreen. The film didn't play everywhere, and its length (2 hours, 45 minutes) may have scared some viewers away. But now you can catch it on streaming services or DVD (and on-demand in January), so you can nod knowingly when it lands the inevitable Oscar nominations.

Book: 'The Goldfinch' by Donna Tartt
Fans of Donna Tartt's 1990 marvel "The Secret History" have been waiting for this one. (We just ignore Tartt's ambitious, but underwhelming "Little Friend.") "The Goldfinch" is the first-person tale of Theo Decker, and how a tragic childhood museum trip, and a famous painting, change his life forever. ("Secret History" fans, look for a quick two-mention visit from Francis Abernathy.) The book was actually published in late 2013, but it won the Pulitzer Prize for Fiction in April. It can seem daunting in its 784-page length, but it's spellbinding once you dive in. A paperback version is coming in April, and the seemingly eternal library hold lists are shrinking too.
Online: 'Manos: The Hands of Fate,'RiffTrax Live version
Back in 2012, Kevin Murphy, Mike Nelson, and Bill Corbett, all "Mystery Science Theater 3000" alums now working together as RiffTrax, revisited one of MST3K's classic movies. RiffTrax put a whole new, equally hilarious spin on this MST favorite, a film made by a fertilizer salesman and featuring a huge-thighed manservant named Torgo. (Read our interview with Nelson, Corbett and Murphy from before the show aired.) The "Manos" remake was performed live onstage and beamed out to theaters, but good news for those who couldn't make it out that night. As of early 2014, "Manos" is now available on DVD or for streaming online (along with dozens of other Rifftrax movies and shorts). This is the king of bad movies, but the riffs make it not-to-be-missed.
Gael Fashingbauer Cooper is the co-author of "Whatever Happened to Pudding Pops?" and "The Totally Sweet '90s." Follow her on Google+.