Carrie Underwood is set to take the stage at Tuesday night's American Music Awards, and the pregnant performer has already shown that she's ready for the big event.
On Monday, Underwood shared a photo that gave her fans and followers a glance at her rehearsal process — and a peek at her growing baby bump, too!
In the pic, the "Cry Pretty" singer stands before a microphone, wearing her long, blond locks in a top-knot bun while decked out in a denim chambray shirt and matching jeans.
But it's that baby bump that steals the spotlight in the beautiful photo — at least for fans who've been thrilled for the 35-year-old ever since she revealed the happy news that she and husband Mike Fisher, 38, are expecting a baby.
Or, as she put it during the August announcement, they're "adding another little fish" to their pond.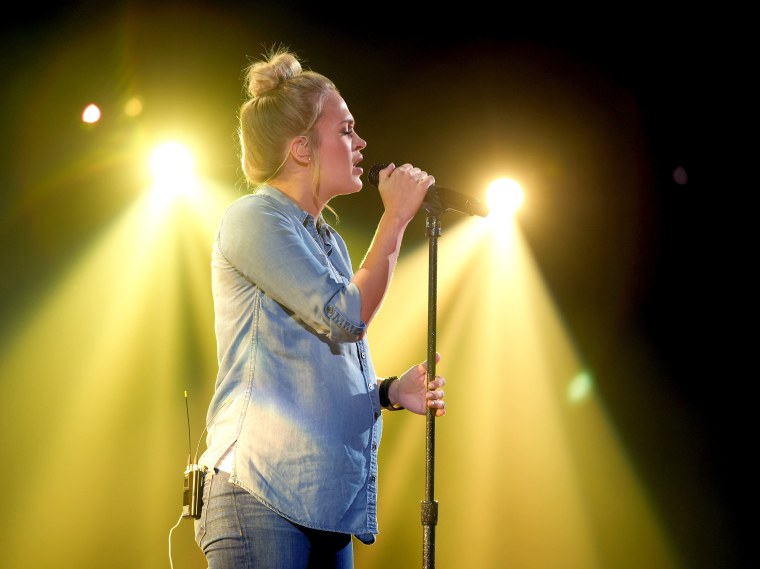 However, for Fisher, it wasn't the bump that caught his attention when his wife posted the AMAs rehearsal pic to social media. His eyes were firmly focused on her denim duds.
"Love the Canadian tuxedo babe!!" he ribbed her. In Underwood's defense, she wears double-denim well.
Her latest Instagram pic makes for the second lovely photo she's shared in recent days. On Friday, she proudly posted a flashback shot from the set of her "Love Wins" music video, which was released just last month.
That selfie not only showed the star's stunning makeup from the video, but it also gave her fans a closer look at the scar she was left with after she suffered an injury that required more than 40 stitches to her face last November.
As for the baby on the way, he or she will be No. 2 for the couple, who married back in 2010. They also have a 3-year-old son, Isaiah.