Carrie Underwood's mom and dad have been married for not one, not two, but five decades of marriage.
Marking her parents' incredible 50 year wedding anniversary, the country superstar posted a sweet message on Instagram:
(Be sure to swipe through to see all the adorable photos!)
Underwood clearly has a lot of love for her parents. In fact, the singer of the NFL anthem "The Champion" once told the Nash Country Daily that her parents, along with her husband ice hockey player Mike Fisher, are her own personal champions.
After all, her parents supported her as she rose to fame after winning "American Idol" season four in 2005. Here's a cute photo of them more than a decade ago: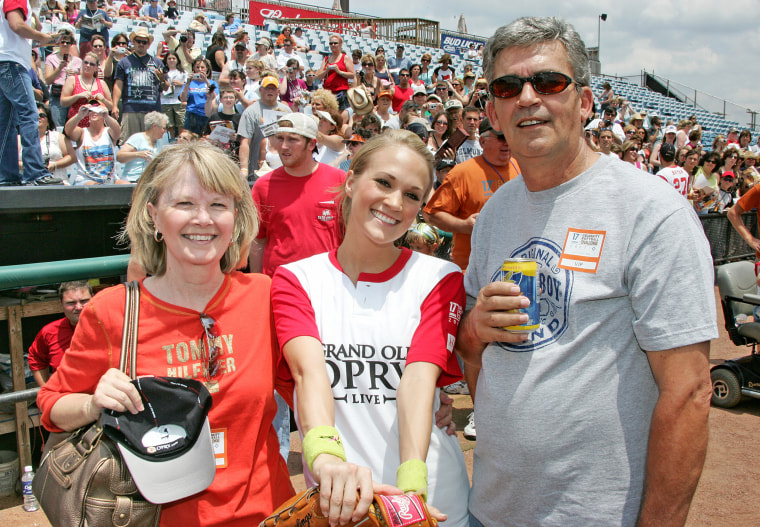 Talk about marriage and parenting goals!
Underwood and her hubby, who plays for the Nashville Predators, have been married seven years and have a 3-year-old son, Isaiah Michael.
The pair post tributes to each other as they celebrate their own wedding anniversaries, complete with current pics and throwback shots from their 2010 wedding at the Ritz Carlton Reynolds Plantation in Greensboro, Georgia.
We can definitely imagine these two celebrating a golden wedding anniversary someday, as they've been through several ups and downs together since meeting at one of Underwood's concerts in 2008. One of their most joyous moments was the birth of their son "Izzy" in 2015, though the couple has had many others.
Times have been tough too, however. Last March their home was hit by a tornado, but thankfully everyone was OK. This past November, the "Cry Pretty" singer suffered a terrible accident when she tripped on the steps outside her home while walking her dogs.
Underwood had a broken wrist and needed 40 stitches in her face. She worried that the outcome of her fall would be permanently disfiguring, though fans assured her she looked as beautiful as ever when she made her return to the stage at the ACM Awards last week.
Through it all, they've had each other's backs. Here's wishing this couple the same longevity of love that her parents have shared — for 50 years and beyond!