Instead of finding a panda among snowmen or an owl among cats, the latest puzzle tantalizing the Internet puts an Oscars-style spin on the visual brainteaser just ahead of Sunday's Academy Awards.
Created by illustrator Mike Rogalski for Mental Floss, the puzzle asks you to find the golden Oscar statuette among a crowd of C-3POs with his updated red arm seen in the blockbuster "Star Wars: The Force Awakens." Can you find the Oscar?
RELATED: Mom, daughters re-create best-picture Oscar nominees for 2016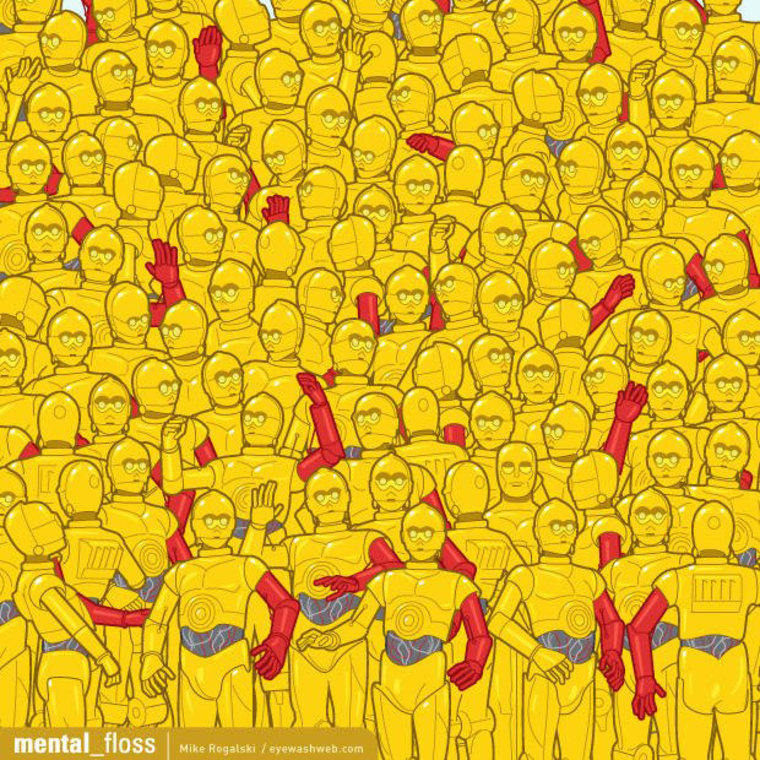 Rogalski's brainteaser comes on the heels of two wildly popular visual puzzles created by Hungarian comic artist Gergely Dudas, better know as the Dudolf. The first involved a "Where's Waldo?"-style puzzle of a panda in a sea of snowmen, followed by one with an owl buried in a herd of cats.
RELATED: Are you smarter than this 12-year-old? Take a Mensa sample quiz
Give up yet? Like most of these types of teasers, it's all about focusing on the faces.
[SPOILER note: Still need help with the answer? Use our slider tool below, just take care when hovering over the interactive if you're still interested in finding Oscar on your own!]
Follow TODAY.com writer Scott Stump on Twitter.