Caitlyn Jenner provided TODAY with a peek into her new life in an exclusive clip from her upcoming cable documentary.
The scenes show Jenner, who made her debut in a Vanity Fair photo spread she called "over-the-top great," in a robe applying makeup, talking to the camera in front of a mirrored vanity lined with various cosmetics and hair extensions.
"You start learning the pressure that women are under all the time about their appearance," she says while applying lip gloss. Jenner also describes "what a difference" it made to have a professional come in for the first time to apply her make up.
The clips are part of "I Am Cait," the E! network's eight-part documentary detailing Jenner's new life as a woman after spending 65 years being known as Bruce Jenner. Caitlyn made her dramatic debut in a photo spread for Vanity Fair that was released Monday and has since seen by an estimated 46 million people.
"How many people go through and just waste an entire life because they never deal with themselves, to be who they are?" Jenner says.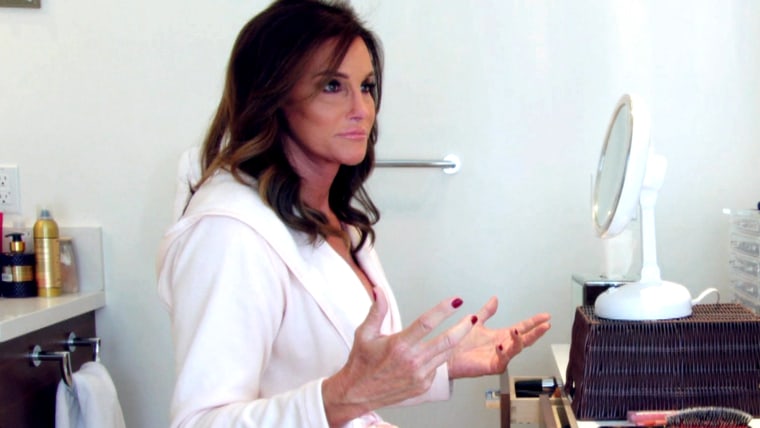 Later, while driving through the city, she wonders excitedly about the new life she has begun.
"Isn't it great that maybe someday you'll be normal?" she says. "Just blend into society."
"You are normal," the passenger next to her insists.
To which Jenner responds: "Put it this way, I'm the new normal."
Gabriel Blau of the Family Equality Council said Jenner's coming out has created a "teachable moment" for families.
"What Caitlyn has done is given us a blueprint for seeing and celebrating compassion and acceptance," Blau said. "This is not about her outward appearance as much as it is about her honesty."
Jenner hopes to continue sharing those lessons.
"Maybe this is my greatest calling in life. Be honest to myself and be honest to my family."