The latest optical illusion sweeping the internet will have you wondering why you can't see straight.
Check out the blue lines in this illusion created by magic entertainer and illusion artist Victoria Skye.
Do they appear slanted or straight?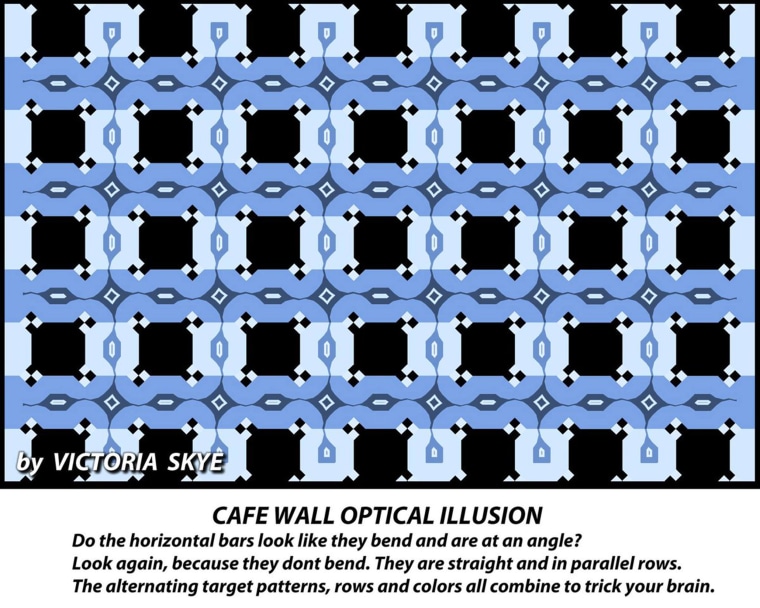 It seems obvious that the lines are slanted, but in reality they are perfectly parallel. A look at the black-and-white diamonds at each intersection of the lines shows that they are perfectly straight.
"The contrasting colors, angles and edges all go into deceiving the eye," Skye, 58, from Roswell, Georgia, explained on Twitter.
The Cafe Wall illusion goes all the way back to 1979, when it was noted by Richard Gregory and Priscilla Heard from the University of Bristol in England.
They detailed the phenomenon in a research paper, noting how they first noticed it on a checkerboard pattern on the facade at a local cafe near the university.
Skye credited Gregory for inspiring her to create the illusion, one of 50 that she made before declaring this one her favorite.
The Cafe Wall illusion follows on the heels of the Coffer Illusion, which tantalized the internet last week.
Follow TODAY.com writer Scott Stump on Twitter.