We've heard of wearing your heart on your sleeve, but Busy Philipps is tweaking the old saying by wearing her anxiety around her neck.
The actress took to Instagram to share a photo of a custom-designed necklace that reads "Anxiety" in 14-karat gold script.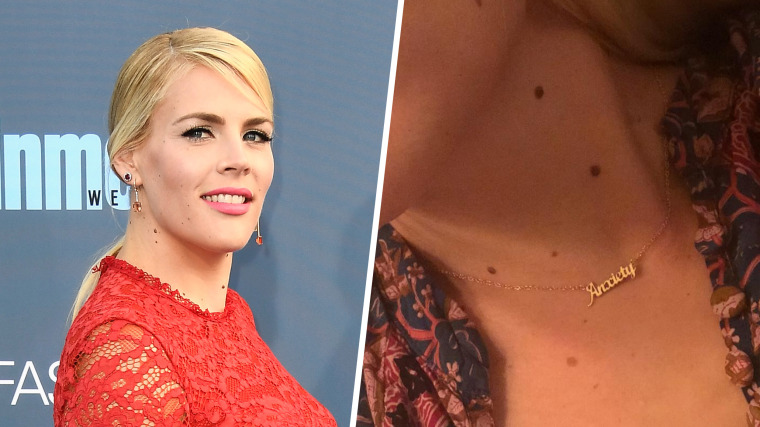 Philipps, 38, has always been open on social media about her struggles with anxiety, especially after the birth of her eldest daughter, Birdie. She's also talked about the topic on "We're No Doctors," the podcast she co-hosts with comedian Steve Agee.
"Talking about these things helps. At least I know it's helped me," she wrote on Instagram. "And if it helps someone else to hear it in that moment, that's great, too."
"I'm proud to wear my anxiety around my neck for everyone to see. I work very hard daily to push through it and not let it get the best of me. Some days it does, some days it doesn't," she continued. "But really, truly, I know now even when I'm in it, I'm not alone."
The statement piece is part ban.do's new Jen Gotch x Iconery collection, which aims to bring awareness to and reduce the stigma surrounding mental illness. (The other necklace reads "Depression.") Both necklaces sold out on the site within a day of launch, but they're supporting a worthy cause: All proceeds will be donated to Bring Change to Mind, a nonprofit organization devoted to mental health.
"I hope (these necklaces) can also serve as a conversation starter for people to be more open about what's going on in their minds," said designer Jen Gotch.